China-Australia Tensions Escalate as Beijing Warns They Must Recognize 'Highly Sensitive' Taiwan Issue
The tensions between China and Australia have escalated after Beijing warned that Australia must recognize the "highly sensitive" issue over Taiwan.
While speaking to reporters on Monday, Chinese foreign ministry spokesperson Wang Wenbin said, "We are willing to do our best to strive for the prospect of peaceful reunification, but we will never leave any space for 'Taiwan independence' separatist activities in any form.
"It is hoped that the Australian side will fully recognize that the Taiwan question is highly sensitive, abide by the one-China principle, be prudent in its words and deeds, avoid sending any wrong signals to the 'Taiwan independence' separatist forces, and act in ways beneficial to peace and stability in the Taiwan Strait and conducive to China-Australian relations."
The comments by Wenbin come shortly after Australia's defense minister Peter Dutton suggested that the possibility of a conflict involving China and Australia over Taiwan should not be discounted, amid reports of China having plans to expand its military authority in the region.
While speaking to ABC's Insiders, Dutton was asked about a potential "battle over Taiwan," to which he responded by saying, "I don't think it [conflict] should be discounted."
"China has been very clear about the reunification, and that's been a long-held objective of theirs. They have been very clear about that goal," Dutton said. "People need to be realistic about the activity. There is militarization of bases across the region. Obviously, there is a significant amount of activity, and there is an animosity between Taiwan and China."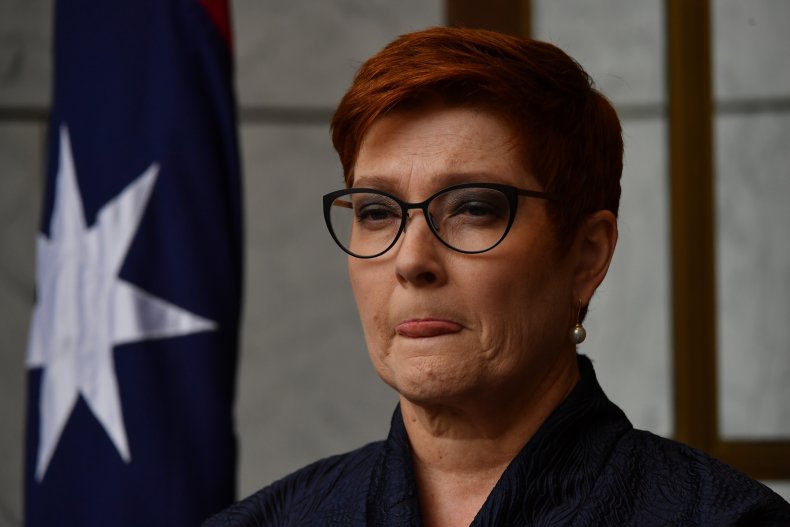 Dutton went on to state that Australia is nevertheless focused on maintaining "good relations" with China.
"We have good relations with a number of countries, including China, a very important trading partner. We have an incredible diaspora community here in Australia, people who have contributed to our country over generations that are incredibly important Australians. But we do have a difference of opinion with the ideals of the Communist party of China. Let's be very frank about it," he said.
Tensions also grew after Australia called for an international investigation into the origins of COVID-19, which was first reported in the Chinese city of Wuhan. The calls for a probe also prompted Australia to end trade agreements with China.
China has long claimed Taiwan as its own territory, but Taiwan has operated as an independent country with the help of Western nations such as the U.S. and Australia. Taiwan recently reported that 25 Chinese military jets breached its air defense zone, and the Chinese government warned Western nations "not to play with fire."
Prior to the comments from Dutton and Wenbin, the chief of the Australian defense force, General Angus Campbell, warned that an outbreak of war over Taiwan would be "disastrous" for Australia and urged that "all work to avoid" conflict.
Newsweek reached out to the Chinese foreign ministry and the Australian defense ministry for comment but did not receive a response in time for publication.