China Backs Cuba in Saying US Should Apply Sanctions To Itself
China has supported Cuba's argument that the United States should consider applying sanctions to itself for alleged human rights abuses before taking on other countries.
Speaking Friday at a press conference in Beijing, Chinese Foreign Ministry spokesperson Zhao Lijian asserted that his country "firmly supports the efforts of the Cuban government and people to maintain social stability" as President Joe Biden doubles down to pressure Cuba in the wake of historic protests in the island nation.
The latest measures, unveiled Thursday, included sanctions against the head of the Cuban armed forces and a division of the Interior Ministry in response to their suspected roles in cracking down on the demonstrations. The U.S. leader warned that "this is just the beginning" and that "the United States will continue to sanction individuals responsible for oppression of the Cuban people."
Zhao lashed out against the approach the following day.
"We resolutely reject any external interference in other countries' internal affairs, imposition of unilateral sanctions, and attempt to gang up on other countries under the pretext of 'freedom,' 'democracy' and 'human rights,'" Zhao said.
And he referenced earlier remarks on Twitter by Cuban Foreign Minister Bruno Rodríguez, who dismissed the "unfounded & slanderous US gov. sanctions" and suggested that the country "should rather apply unto itself the Magnitsky Global Act for systematic repression & police brutality that took the lives of 1021 persons in 2020."
The legislation has been used by the White House to roll out restrictions on finances and travel for individuals accused of corruption and human rights abuses. But Zhao said it was Washington that fit this bill.
"The U.S. should first and foremost examine its own human rights issues," Zhao said, "instead of wielding the big stick of sanctions, grossly interfering in other's internal affairs and creating division or confrontation."
He then issued a plea for Washington to remove its decades-long trade embargo on Havana.
"China maintains that mutual respect, fairness, justice and win-win cooperation are the right way to conduct state-to-state relations," Zhao said. "At present, Cuba is at a critical moment in its fight against COVID-19 and in its efforts to alleviate people's suffering. The U.S. must immediately and completely lift unilateral sanctions against Cuba in compliance with the purposes of the U.N. Charter and basic norms governing international relations, and do more to improve U.S.-Cuba relations and contribute to international and regional stability."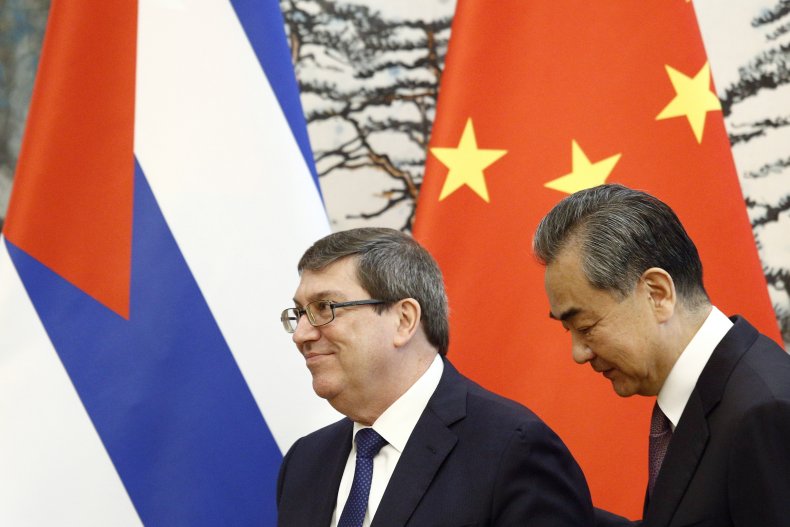 Sanctions against Cuba date back to the Cold War at a time when revolutionary Fidel Castro adopted communism shortly after his 1959 revolution. The uprising took place a decade after founding of the People's Republic under Chinese leader Mao Zedong. Washington would not recognize Beijing either until three decades later.
U.S. trade restrictions against Cuba were briefly eased during the administration of former President Barack Obama, who President Joe Biden served under as vice president, but were later reinstated under former President Donald Trump. The measures remain in place today despite Biden's past support for rapprochement with Havana.
The Biden administration has set out to conduct a review of its Cuba policy and has yet to release the results. The latest messaging, however, indicates an even tougher stance against Cuba to come.
But by the State Department's own acknowledgement, there has been little sign of a change in the Cuban government's behavior.
"We haven't seen that kind of response," Secretary of State Antony Blinken told MSNBC on Friday. "The regime tends to double down in these situations. But again, this is not about us."
What Havana has done is lay the blame for social rest on largely U.S.-based social campaigns and attribute economic shortcomings on Washington's embargo, which has received global condemnation, including in the form a near unanimous 184-2 United Nations General Assembly vote last month, with only the U.S. and Israel voting against. Brazil, Colombia and Ukraine abstained.
"Pres. Biden does not support the Cuban people," Cuban President Miguel Díaz-Canel tweeted Friday alongside a video of an anti-embargo demonstration in New York City. "His government maintains the policy responsible for the economic shortages and suffering of millions of Cuban families. The coercive measures that seek to render our people out of hunger and necessity will not subdue #SoverignCuba."
Blinken, for his part, called it the wrong way to address the situation.
"I think one of the big mistakes the regime makes is to try to point the finger at the United States, saying we're responsible for these protests. We're not," Blinken said Friday. "These are the Cuban people. They are speaking up. They're speaking out. They're standing up. And a regime that doesn't understand that and that lacks the confidence to allow the voices of its own people to be heard I think is making a very, very big mistake."
Beijing too has accused Washington of meddling in its affairs, and on Friday the Chinese Foreign Ministry also released a statement criticizing U.S. sanctions on officials attached to the central government's liaison office to Hong Kong, a semi-autonomous special administrative region that the Biden administration, like that of Trump before it, has steadily lost its self-rule after a crackdown on mass protests cheered on by the West.
The ministry said it "firmly opposes and strongly condemns" the latest move by Washington.
"The US has concocted the so-called "Hong Kong Business Advisory" to groundlessly smear Hong Kong's business environment, and illegally imposed sanctions on several officials of the Liaison Office of the Central People's Government in the Hong Kong SAR," the ministry said. "These acts gravely violate international law and basic norms governing international relations, and severely interfere in China's internal affairs."
And in response, it expanded its own countercampaign of economic restrictions, targeting seven academics and former officials critical of the People's Republic.
"I would like to stress once again that Hong Kong is China's Special Administrative Region and its affairs are an integral part of China's internal affairs," the statement said. "Any attempt by external forces to interfere in Hong Kong's affairs would be as futile as an ant trying to shake a big tree."
The move comes two days before Deputy Secretary of State Wendy Sherman was set to arrive in China Sunday for talks. State Department spokesperson Ned Price recently said she would come "from a position of strength" and cover potentially "competitive elements, the adversarial elements, but also the potentially cooperative elements" of their bilateral relationship.
Zhao rejected this framing on Friday as "defining China as a competitor, stoking confrontation and containing and suppressing China's development." He also said "the position of strength" motto reflects U.S. "arrogance and bullying."
"China always believes that China-U.S. relations should be based on mutual respect, equality and mutual benefit, rather than one side taking the benefit only," Zhao said. "The development of China-U.S. relations needs a 'guard rail,' but it cannot be defined by the U.S. unilaterally. The U.S. should stop interfering in China's internal affairs, stop smearing China and harming China's interests."
When Shermon does arrive, he said Beijing "will continue to elaborate on China's principled position on developing China-U.S. relations and firmly safeguard sovereignty, security and development interests."