China to Ban Certain Karaoke Songs That 'Harm National Unity' in Crackdown on Music
The Chinese Ministry of Culture plans to create a centralized list of banned karaoke songs that the government views as subversive, inciting hatred or harming national unity.
The ministry put forward a plan to compile the list of forbidden tracks in a document published to its website late last week, Hong Kong-based South China Morning Post reported on Friday.
The document explained that songs will be banned if they are deemed to "endanger national unity, sovereignty or territorial integrity, or harm national security, honour or interests." Tracks that the government views as inciting "ethnic hatred" will be added to the list.
Karaoke venues and their managers would be expected to monitor the list and remove banned songs from their databases available to customers. The ministry's document said that only tracks that "promote positive energy" and are "healthy" should be allowed going forward, according to the SCMP report. Those managing karaoke shops are also asked to push songs that support the Chinese government's goals and agenda.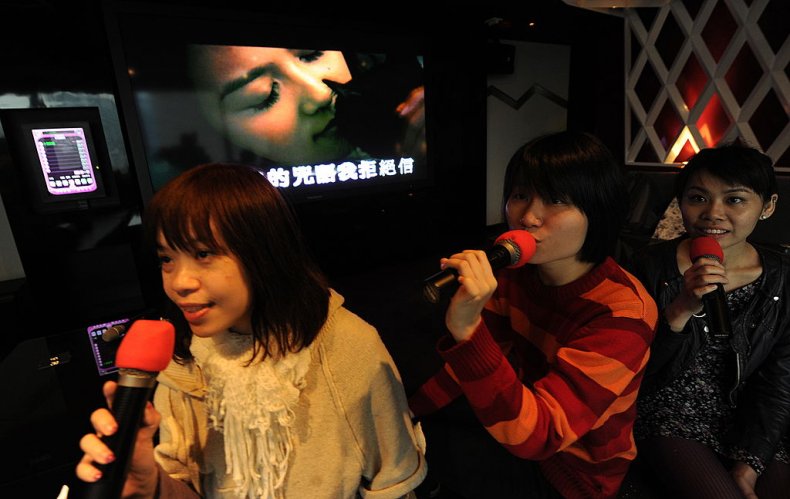 Although the centralized list represents a new crackdown on songs, China has previously taken steps to forbid tracks from being performed at karaoke venues. In October of 2018, China forbade karaoke spots from allowing customers to sing more than 6,600 tracks, the Australian Broadcasting Corporation (ABC) reported at the time. Many of those songs were from popular Taiwanese and Hong Kong artists, dating to the early 2000s and 1990s.
In 2015, China banned some 120 songs from the internet in the country because the government deemed them to be "immoral." At the time, the culture ministry said the forbidden tracks "trumpeted obscenity, violence, crime or harmed social morality."
"Targeting karaoke song libraries is part of a broader attempt to extend the Chinese government's vast information control system into every facet of the entertainment industry," Angeli Datt, a senior research analyst for China, Hong Kong and Taiwan at Freedom House, told SCMP.
Human rights groups have repeatedly called out China for its continued crackdown on freedom of expression.
"Authorities detained and prosecuted numerous netizens for online posts and private chat messages critical of the government, charging them with crimes such as 'spreading rumors,' 'picking quarrels,' and 'insulting the country's leaders,'" the 2021 Human Rights Watch World Report on China said.
The report noted that the Chinese government "expanded their internet censorship regime to suppress content not in line with 'core socialist values.'"
Amnesty International's 2020/21 world human rights report shared a similar assessment. The year 2020 in China "was marked by harsh crackdowns on human rights defenders and people perceived to be dissidents, as well as the systematic repression of ethnic minorities," it explained.
Newsweek reached out to the Chinese Ministry of Culture for further comment.