Is China Behind Cuba's Protests Being Censored? How Beijing Could be Linked
Many Cubans have seen their internet access cut off, according to multiple news reports, amid large-scale anti-government protests across the Caribbean Island.
The communist Caribbean Island has been seeing its biggest protests in decades.
Thousands marched in downtown Havana and elsewhere on the island on Sunday to demand President Miguel Diaz-Canel step down, shouting slogans like "freedom" and "unite."
There were also a smaller number of pro-government protesters that were chanting "Fidel," referring to Fidel Castro, Cuba's former long-time communist head of state.
Special forces jeeps with machines on the back were seen in the capital on Sunday night, with a heavy police presence even hours after most of the demonstrators went home in accordance with a 9 p.m. street curfew.
The demonstrations take place against the backdrop of the country's raging COVID-19 epidemic and its worst economic crisis since the fall of the Soviet Union, its old ally.
U.S. sanctions imposed during Donald Trump's presidency have further crippled the Latin American country's economy. Cubans have taken to the streets in the capital, as well as San Antonio de los Baños and Palma Soriano, to complain about food shortages and high prices amid the COVID-19 crisis. Clashes between demonstrators and police have been reported across the country.
There have been reports of Cubans' internet service being cut off across the country, potentially in order to allow authorities to limit the spread of videos of the protests.
The Associated Press reports that Cuban authorities shut down internet service throughout the afternoon. Amnesty International's Americas Director, Erika Guevara-Rosas, has also cited reports of internet outrages. Newsweek has approached the human rights organisation for comment.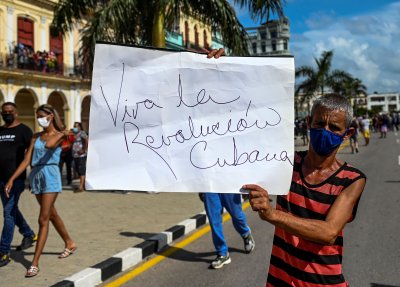 Florida Senator Marco Rubio warned on Sunday that the Cuban regime would block internet and cell phone service to prevent the spread of information about the protests.
"Expect the regime in #Cuba to block internet & cell phone service soon to prevent videos about what is happening to get out to the world," the Republican tweeted.
He later wrote: "I warned about this earlier today. It is happening and will continue. By the way, they use a system made, sold & installed by #China to control and block access to the internet in #Cuba. #SOSCuba #PatriaYVida."
China's involvement has never been officially confirmed, but some investigations have said Chinese code has existed in Cuba's internet infrastructure.
A report by the Institute For War & Peace Reporting released last December noted that Etecsa, the sole company in Cuba that provides internet access, has three primary technology provides that are all Chinese: Huawei, TP-Link, and ZTE.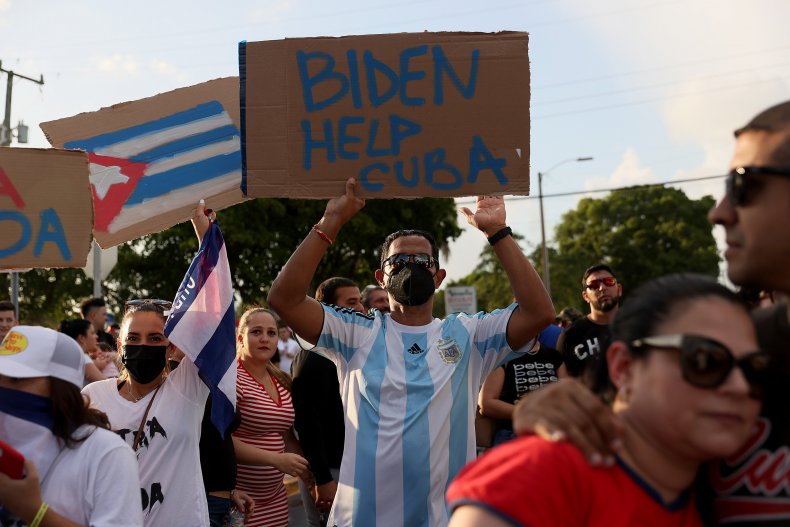 Another report in 2017 by the Open Observatory of Network Interference (OONI), a global internet censorship watchdog, found traces of Chinese codes in both the surface and the interfaces used for wi-fi access portals in Cuba.
"Etesca's login portal - through which Cubans access the internet - appears to have been written by Chinese developers, since its source code contains comments written in Chinese. This indicates that Etesca likely hired Chinese developers to implement the portal," the report said.
Swedish internet security NGO Qurium, also published a report last June that noted a possible presence on Cuban networks of a Huawei product used for "web filtering." The presence of HTTP header V2R2C00-IAE/1 is associated with Huawei's eSight, a network management software for routers, switches and firewalls.
The Chinese foreign ministry has been asked for comment. Newsweek tried to reach the Cuban foreign ministry, but its website was down.
Cuba's internet access has long-been restricted and the government is known for regularly blocking media that is critical of the regime. Most Cubans didn't have access to the internet until 2015 and it was only 2018 when Cubans were allowed to use the internet with mobile data.