China Calls on U.S. To End 'Toxic' Trump-Era Visa Rules for Students
China's state newspaper has said that visas for hundreds of Chinese postgraduate students to study at top U.S. universities have been rejected in a move of "discrimination and repression."
It puts into the spotlight legislation enacted under the Trump administration that aimed to curb students connected to what it described as Beijing's "military-civil fusion strategy."
China Daily, a Chinese Communist Party (CCP) mouthpiece, accused Washington of playing a "hypocritical" role by encouraging American universities to enroll Chinese students, but then not granting visas to over 500 students who got offers in majors in so-called "STEM" (science, technology, engineering and math) subjects.
The students had been accepted for doctorates and master's degrees at universities including Harvard, Yale, Johns Hopkins and the Massachusetts Institute of Technology (MIT), the paper said on Tuesday. The students were rejected under the Immigration and Nationality Act and Presidential Proclamation 10043, the report said.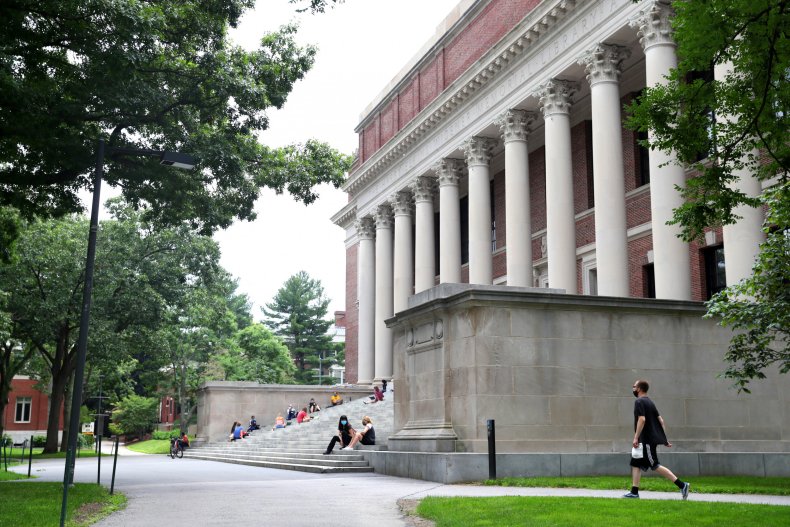 The visa rules were introduced in May 2020 under former President Donald Trump, whose administration accused Beijing of using students to acquire "sensitive United States technologies and intellectual property," with the aim, in part, of boosting the "capability of its military, the People's Liberation Army (PLA)."
But China Daily said around a quarter of Chinese students denied visas had won scholarships, and most of them had submitted visa applications after the new administration of President Joe Biden had taken office.
The paper reported that those affected have co-signed a letter urging the U.S. government "to tackle this discrimination and suppression issue targeting Chinese students."
It said that given that U.S. embassies and consulates in China resumed operations for student visa applications in early May, Washington made it look like it was trying to help meet the universities' wish to attract Chinese students.
And yet, the Biden administration "continues the Trump administration's erroneous policy of suppressing Chinese postgraduate students and scholars," the paper said.
Meanwhile, Chinese foreign ministry spokesperson Zhao Lijian called on the Biden administration to ease the visa restrictions, "which continued the toxic legacy of the Trump administration."
"This is inconsistent with the US side's claims that it welcomes Chinese students," Zhao said, adding that Beijing had lodged a "solemn representation with the U.S. side."
Zhiqun Zhu, professor of political science and international relations at Bucknell University in Lewisburg, Pennsylvania, said he did not expect the visa policy for graduate STEM students to change any time soon, "as long as the Biden administration continues to portray China as the 'existential threat' to US national interest."
However, it "may face increasing pressure from both China and higher education institutions within the U.S. to reverse the Trump-era policy," Zhu told Newsweek.
"As long as the U.S. and China are engaged in technological rivalry, the Biden administration or any future administration is likely to keep the restrictive visa policy for these students. "
"On the other hand, if the U.S. is perceived as an unwelcoming country, more Chinese students may seek alternative destinations for study abroad," he added.
U.S. lawmakers, especially China hawks among the Republicans, have long expressed concerns about whether Beijing is imposing an unwelcome influence on American campuses.
In February, a group of GOP lawmakers criticized the Biden administration for withdrawing a proposed rule requiring campuses to disclose links to the Confucius Institute U.S. Center, which they accused of promoting Chinese propaganda.
The center says it simply helps with Chinese language and cultural courses in hundreds of K-12 schools and dozens of colleges across the U.S.
Newsweek has contacted the White House for comment.