China Reports More New COVID-19 Cases in Beijing Amid Second Wave Fears
Cases of the novel coronavirus in China are approaching nearly 84,600, with at least 27 new infections confirmed in the country by Friday, China's National Health Commission confirmed.
Of the latest new infections, 22 were reported in the Chinese capital of Beijing, where a new cluster of cases has been linked to the Xinfadi wholesale food market.
The sprawling food complex is over 20 times larger than the seafood market in Wuhan, the central Chinese city where the outbreak was first reported late last year.
Figures from the recent outbreak of new cases in Beijing, the capital's first in several months, have surpassed the peak numbers seen in early February, Reuters reported.
Testing has been expanded across the city. Tests are being done on all the tens of thousands of food and parcel delivery workers in the city, state-backed Beijing News reported.
Food delivery firm Meituan Dianping confirmed Friday that all of its Beijing delivery workers would be tested. Those who carried out deliveries in high-risk areas would be temporarily taken off duty to be tested and quarantined at home for 14 days.
All couriers in Beijing are expected to be tested by next week, according to Beijing News.
The city's health officials said over 360,000 tests have been conducted in Beijing over recent days.
The Chinese capital has seen at least 625 confirmed domestic cases, including nine deaths and 411 patients who were discharged from hospitals after recovery, the state-run Xinhua news agency reported.
Around 174 imported cases have been confirmed so far in Beijing, with one remaining hospitalized, while 17 asymptomatic cases are under medical observation. Beijing's new 22 cases on Friday were domestically-transmitted, not imported.
Fears over a potential second wave of the outbreak in China heightened following a resurgence of new infections in recent days.
"The risk of the epidemic spreading is very high, so we should take resolute and decisive measures," Xu Hejiang, spokesperson for the Beijing city government, said at a press conference Monday.
Last Saturday, China reported 58 new cases on June 13, its highest daily case count since around mid-April.
The total number of new cases climbed past 100 by the end of June 14. The country has reported a total of at least 266 new infections since June 13, according to data compiled by Johns Hopkins University.
On June 11, Beijing reported its first new domestic case in nearly two months after a 52-year-old man tested positive for COVID-19. The capital has seen more than 200 locally transmitted cases since June 11, Reuters reported.
While new cases continue to emerge, the chief epidemiologist at China's Center for Disease Control and Prevention, Wu Zunyou, said at a press briefing Thursday: "The epidemic in Beijing has been brought under control."
"When I say that it's under control, that doesn't mean the number of cases will turn zero tomorrow or the day after," Zunyou continued.
"The trend will persist for a period of time, but the number of cases will decrease, just like the trend that we saw [in Beijing] in January and February."
Earlier this week, quarantine measures were placed on around 90,000 residents across 22 medium risk residential neighborhoods in Beijing in a bid to contain the spread of infection.
All residents in Beijing's high risk neighborhoods were banned from leaving the city. Outbound taxi and car-hailing services were also suspended, according to state media.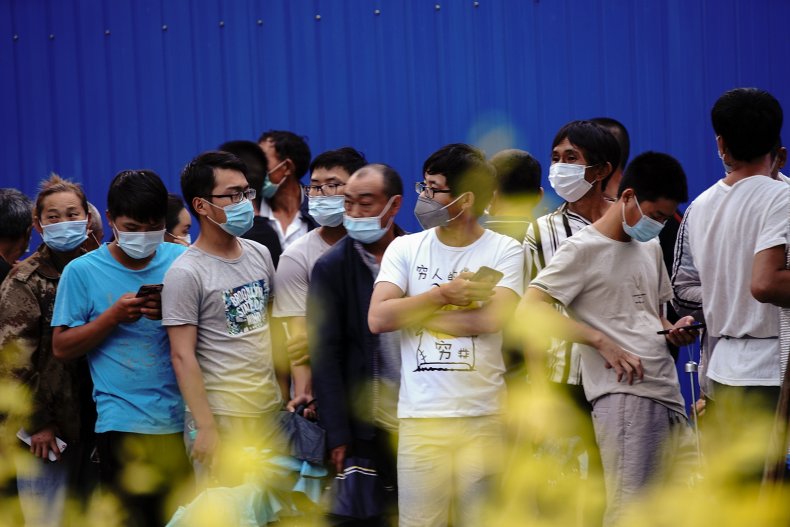 The novel coronavirus has infected more than 8.6 million people across the globe. Over 460,500 have died following infection, while more than 4.2 million have reportedly recovered from infection as of Saturday, according to the latest figures from Johns Hopkins University.
The graphics below, provided by Statista, illustrate the spread of COVID-19 in the U.S. and the worst-affected countries.