China Offers Joe Biden Advice As He Enters Office: Act 'Rational, Objective'
China has issued incoming President Joe Biden words of advice on the day of his inauguration, calling for a more balanced approach to bilateral relations between the world's two top powers.
As Biden prepared to succeed President Donald Trump, who adopted a particularly tough position against the People's Republic, Chinese Foreign Ministry spokesperson Hua Chunying offered Beijing's desired prospects for the new administration.
"We hope the new administration could meet China halfway, properly handle differences in the spirit of mutual respect, and conduct mutually-beneficial cooperation in broader areas," Hua said. "This is the expectation of both peoples and the whole world."
She also called on the 46th president to "serve the wishes of the people, view China in a rational and objective light." The goal, Hua said, should be to "put China-U.S. relations back on the track of healthy and stable development as soon as possible."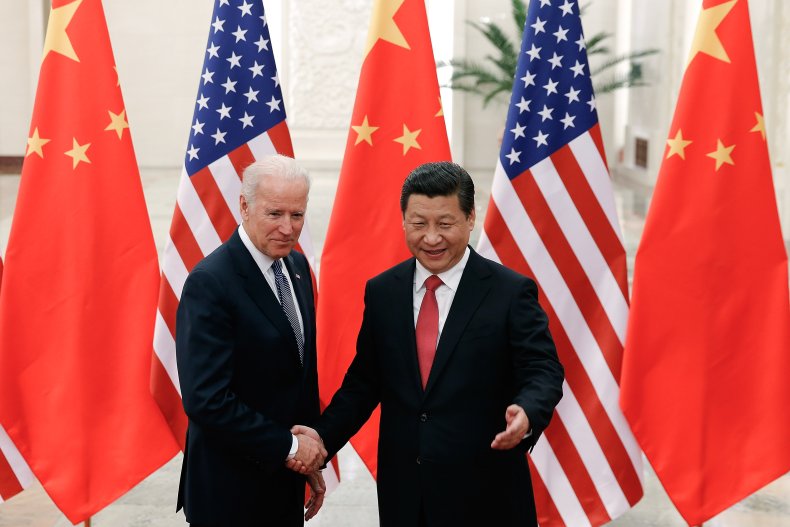 Biden inherits troubled ties between Washington and Beijing, against whom the Trump administration took measures over accused trade, human rights and geopolitical abuses. In the final weeks at his post, Secretary of State Mike Pompeo ramped up criticism of China and its ruling Communist Party, issuing sanctions and labeling the mass internment of Muslim Uighurs in the Chinese province of Xinjiang as a "genocide."
Hua dismissed this stance, and called on the new administration not to follow in the steps of its predecessor.
"We are all victims of the lies, rumors and poison that have been unleashed by Pompeo and a few other politicians in Washington over the years," Hua said. "So I think we are on the same page here."
She called for a new approach.
"What Pompeo accused about Xinjiang is simply non-existent," she said. "Then there are those who are simply buying the rumors spread by this U.S. administration and lack a basic understanding of the facts."
The Chinese Foreign Ministry later announced sanctions against Pompeo and other 27 other Trump administration officials in relation for a perceived campaign to damage U.S.-China relations and interfere in Chinese internal affairs.
Though Biden has been largely critical of Trump's policies, his remarks and those of his appointees appear to signal a willingness to maintain a degree of pressure on Beijing. On the eve of his inauguration, his pick for top diplomat backed Pompeo's take on the situation in Xinjiang.
"That would be my judgment as well," nominated Secretary of State Antony Blinken said of the designation at a confirmation hearing Tuesday.
"I think we're very much in agreement," he said. "The forcing of men, women and children into concentration camps; trying to, in effect, re-educate them to be adherents to the ideology of the Chinese Communist Party, all of that speaks to an effort to commit genocide."
He also offered a partial endorsement of Trump's overall hardline take on China.
"President Trump was right in taking a tougher approach to China," Blinken said. "I disagree very much with the way that he went about it in a number of areas, but the basic principle was the right one, and I think that's actually helpful to our foreign policy."
Biden himself has said he was no in rush to immediately turn back Trump-era policies on China, but would focus on working with U.S. allies to handle China.
But China's rapid rise, which has defied COVID-19 setbacks delivered to the rest of the world, has challenged U.S. dominance like never before, and even Washington's allies have largely opted for cooperation rather than confrontation with Beijing.
In the weeks leading up to Biden's swearing-in, the European Union defied bipartisan U.S. reservations in signing a major investment deal with China, which surpassed the U.S. as the EU's top trading partner last summer.
A survey among 11 European countries released Tuesday by the European Council on Foreign Relations also showed that majorities wouldn't back the U.S. in a potential clash with China, and were increasingly seeing Washington as an unreliable partner, with Beijing likely to surpass it in power over the next decade.
This is a developing news story. More information will be added as it becomes available.