China is in the process of building a barbed-wire wall along its 1,300-mile southern border with Myanmar to prevent illegal crossings, according to recent reports.
Social media images from the town of Wanding and the city of Ruili—both in China's southwestern Yunnan Province—show 6- to 9-foot barbed-wire metal fences separating the two countries, U.S. government-funded Radio Free Asia (RFA) reported Monday.
While media reports in China say the boundary fence has helped prevent illegal crossings and by extension COVID-19 outbreaks, the RFA report said it could also keep Chinese dissidents from fleeing the country.
Last month, Burmese news site The Irrawaddy said the Myanmar military and officials in Kokang, a self-administered zone in northern Shan State, had both lodged objections with Beijing over the proximity of the fence to the demarcation line. The infrastructure was built without any prior notice given to Yangon, the report said.
A Twitter post cited by RFA said the giant undertaking, which has been codenamed the "Southern Great Wall," began this year. It currently stretches 410 miles following the completion of its first phase.
China plans to restrict its entire 1,300-mile boundary with Myanmar by October 2022, with key crossings to be fortified with high-voltage fences, surveillance cameras and infrared sensors, according to the Twitter account quoted by RFA.
The account run out of Kokang, which is largely inhabited by Chinese descendants, is administered by members of the local military and not affiliated with the regional government, a spokesperson told Newsweek.
Chinese media reports about the border wall say its construction has helped prevent imported cases of COVID-19. It has also deterred smuggling.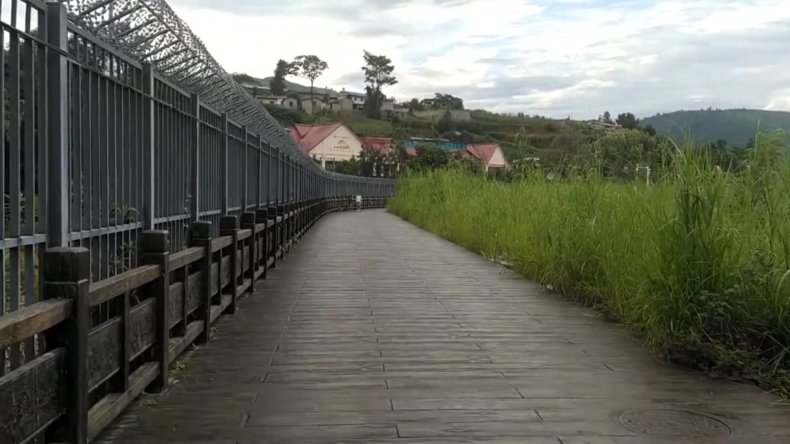 Protests by the Myanmar government and by local leaders in the Kokang Self-Administered Zone have fallen on deaf ears, the spokesperson said.
Two experts cited by RFA said the border wall would serve other purposes than pandemic control.
"The decision to build this border wall was not taken in a day. It's the result of strict planning," a scholar on Myanmar-China relations, identified only as "Siling," was quoted as saying.
The expert said the wall would stop Chinese citizens from frequently crossing into Myanmar and Vietnam to do business—some choosing never to return.
"China's building of this wall will also stop Chinese nationals from escaping. China doesn't want this trend to continue," Siling said.
The second expert, identified by his last name Wang, said the border wall would prevent Chinese dissidents from fleeing to Southeast Asia.
"Since Xi Jinping came to power, he's not only prevented citizens from leaving, he's also tried to kidnap Chinese abroad to bring them home," Wang said.
Newsweek has contacted the U.S. Embassy in Burma for comment.
RFA, which began with U.S. government grants in 1996, has been reporting extensively about human rights abuses in Xinjiang through its Uyghur Service.
In October, its Mandarin Service reported that China was constructing a wall along its southern border with Vietnam to stop the flow of Chinese migrant workers smuggling themselves across the border to find work at the height of the pandemic.