China Calls Attempts to Break Up Russia Relationship 'Doomed to Fail,' Touts Partnership
China is publicly solidifying its partnership with Russia ahead of a meeting between Russian President Vladimir Putin and American President Joe Biden that some are hoping will ease tensions in their nations' relationship.
As relations with the United States have deteriorated, China and Russia have grown closer, bonding over their problems with sanctions imposed on them and their disdain for international criticism. The relationship between Russia and China has drawn concerns about maintaining world order, and Biden's Wednesday meeting with Putin could be a strategic move in dealing with China and threats it poses to the United States.
However, in the days leading up to the NATO summit, China made it clear that when it comes to Russia, Beijing and Moscow are on one side and the United States is on the other.
"China and Russia are united like a mountain, and our friendship is unbreakable," Foreign Ministry spokesperson Zhao Lijian said Tuesday. "We have to tell those who try every means to drive a wedge between China and Russia that any attempt to undermine China-Russia relations is doomed to fail."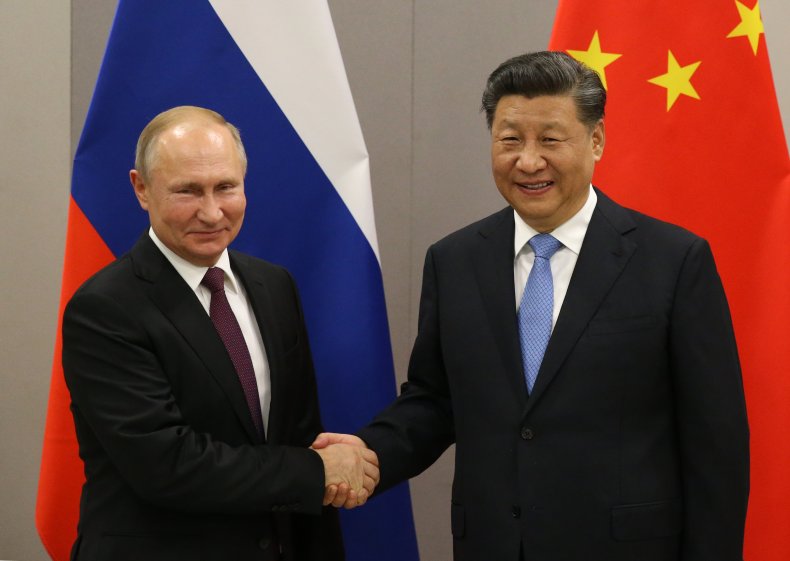 Days earlier, the Global Times, a state-run Chinese newspaper, pushed Russian Ambassador to China Andrey Denisov on where Russia stands with regards to the United States and China. The paper asked Denisov if the Biden administration could "alienate" Russia from China, a view the ambassador dismissed as not plausible and "shortsighted."
The Global Times also sought to draw a connection between the timing of Russian officials' meeting with American officials and their meetings with Chinese officials, asking Denisov what "signal" the timing sent. However, the ambassador chalked up the timing to "pure coincidence," given the time and preparation needed to arrange the visits.
In an attempt to get a more blunt assessment of the relationship between China and Russia, the Global Times asked Denisov which side Russia would take if an armed conflict broke out between China and the U.S. Denisov declined to answer the hypothetical question because he said he didn't believe it would happen. But he noted that Russia's position is "clearly much closer to China's" with regard to the international situation and major issues.
Russia and China don't have an official alliance or military pact and have instead referred to their relationship as a "strategic partnership." During a recent interview with NBC News, Putin touted the relationship as being steeped in "trust and cooperation in all areas," adding that China is not seen as a threat to Russia.
"China is a friendly nation. It has not declared us an enemy, as the United States has done," Putin said. "We can see attempts at destroying the relationship between Russia and China. We can see that those attempts are being made in practical policies."
China and Russia have conducted joint military drills, raising concerns about a potential alliance. While both countries have denied there are plans for a military relationship, Beijing and Moscow have kept the door open to the possibility of one.
Zhao thanked Putin for his "positive remarks" on the relationship, saying that the "sky is the limit" for the partnership between the two countries.