China Calls GOP Bill to Sanction Country 'Highly Immoral,' Says U.S. Is Trying to 'Deflect Responsibility' For Coronavirus
Chinese Foreign Ministry spokesperson Zhao Lijian criticized a Senate bill that would allow President Donald Trump to sanction China over the coronavirus outbreak and claimed Republicans were using it to deflect blame.
Asked about the bill during Wednesday's briefing, Zhao told reporters the proposed legislation, which pushes for investigations based on the "presumption of guilt," was "highly immoral" and a way to "shirk responsibility for the U.S. fumbling response to China." He advised politicians to focus on the outbreak instead of "racking their brains to distract attention and deflect responsibility."
Senator Lindsey Graham introduced the legislation, formally titled the COVID-19 Accountability Act, on Tuesday. It would authorize Trump to impose sanctions on China if the country fails to "provide a full accounting of the events leading up to the outbreak" of the new coronavirus.
Under the legislation, Trump would be required to confirm within 60 days that China had provided a complete accounting in any investigations led by the U.S., its allies or United Nations Affiliates. He would also have to confirm that China closed all "operating wet markets" that could potentially expose humans to health risks and released all Hong Kong pro-democracy advocates arrested in "post-COVID-19 crackdowns."
Failing to certify these items would enable Trump to impose a range of sanctions, including freezing assets, travel bans, visa revocations and barring Chinese companies from being listed on American stock exchanges.
Newsweek reached out to Graham for comment but did not receive a response before publication.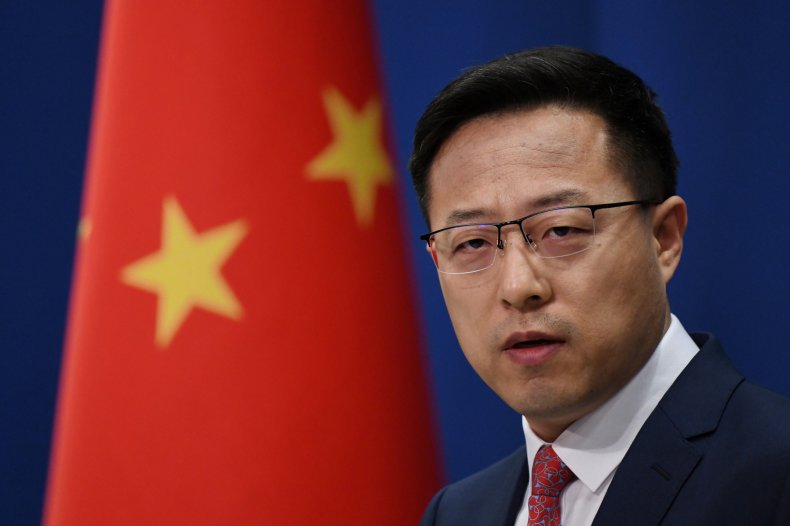 The pandemic has infected nearly 4.3 million people worldwide, and America is bearing the brunt of the outbreak, with 1.37 million cases and 82,461 deaths. Reporters have long questioned China's transparency on its outbreak, and with cases surging in the U.S., U.S. officials have accused the authoritarian state of failing to be entirely honest.
China, with the backing of the World Health Organization, has rejected charges that it has not been informative, and Zhao said the country has been acting in an "open, transparent and responsible way" since the outbreak began. He cited China's communication with the WHO and the recognition China received from the "international community."
Australian officials also expressed concerns about China's transparency, and Germany's foreign minister, Heiko Maas, told the Funke media group that China's response to how the virus originated will show "how transparent it wants to be." However, a March report from the WHO-China Joint Mission, a group of 25 international experts, praised China's response for being unprecedented and helpful in reducing the virus's spread.
In announcing his bill, Graham rejected the idea that China was successful in its response, saying he was convinced that without the "Chinese Communist Party deception the virus would not be here in the United States."
"It's time we push back against China and hold them accountable," Graham said. "More than 80,000 Americans are dead and millions more are jobless today because of China's failure to contain and prevent the spread of the virus."
Eight other Republican senators co-sponsored Graham's legislation, a move that Zhao claimed was coming out of the National Republican Senatorial Committee playbook. He cited a Politico article from April 24 that referenced a memo from that committee. The April memo pushed three main messages: that China caused the pandemic by lying, covering it up and hoarding supplies; a politician's opponent is "soft on China" and "can't be trusted to take them on; and a Republican will stand up to China, push for sanctions and bring back jobs.
Zhao claimed that the Americans' "screenplay" of blaming China was "laid bare so badly" that "there is no point in going ahead with it."