China Calls Partnership With Russia 'Solid as a Rock' After Russia Denies Alliance Against U.S.
China and Russia have both denied there are plans for a military alliance between the two countries, but a Chinese official is standing by the strength of their partnership, calling it "solid as a rock."
China and Russia are growing closer as ties with the United States have deteriorated, raising questions about a potential military alliance between the two superpowers. Despite concerns on the part of America and its allies, Russian Foreign Minister Sergey Lavrov denied the goal is to mount a joint effort against the United States.
Asked Monday about a potential alliance against the U.S., Lavrov told Argumenty i Fakty (AIF), a Russian newspaper, that Russia and China are "satisfied" with the "current format of cooperation." However, he left the door open for that to change, just as China has.
Chinese Foreign Ministry spokesperson Zhao Lijian told reporters on Tuesday that China's partnership with Russia has "grown as solid as a rock." The two nations' adherence to "non-alliance" is part of what has allowed the relationship to withstand "the test of a changing international landscape," according to Zhao, and to become a "stabilizing force" in the modern world.
China also denied plans for a military alliance. Ni Lexiong, a Shanghai-based military expert, told the South China Morning Post it's not advantageous for the two country to make that announcement.
"Today, only countries that intend to wage war announce plans for military alliances," Ni said. "You push yourself into a corner when you do that, cutting out any room for negotiation. It's not in China's interests."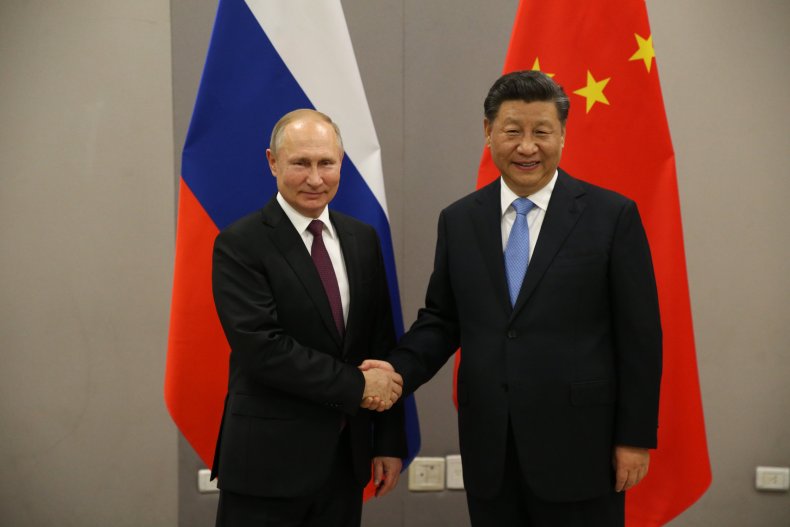 Russia and China have championed their "strategic partnership," and the possibility that the two countries are sharing intelligence can't be dismissed. Both nations have also held joint war games with their armed forces, and Russian President Vladimir Putin said last October that Russia has shared military technologies with China to help boost its military potential.
A military alliance wasn't necessary at that time, according to Putin, but he added that it was "quite possible to imagine it." Chinese officials, meanwhile, have said there's "no limit" to how far the partnership with Russia could go.
With Russia's ties to China at a high point, American and Russian officials are attempting to repair a broken relationship. Sanctions, cyberattacks and diplomatic retaliation have all contributed to dragging the U.S.-Russia relationship down to post–Cold War lows, but a recent meeting between Lavrov and Secretary of State Antony Blinken was a positive sign about the countries' ability to move forward.
That meeting may have paved the way for an in-person meeting in June between Putin and President Joe Biden, and Lavrov said Russia is ready to be "friends with the West." He qualified that view with the statement that such a development must come with a "sense of our own dignity."
Reestablishing diplomatic relations between the two countries will likely not be an easy process, but Lavrov told AIF that without a full-fledged dialogue, it's "very difficult" for the international community to "confront cross-border challenges and threats."