China Calls Trump's Trade Adviser 'Habitual Liar' Over Op-Ed Saying Country 'Exploited' Pandemic
In the latest back-and-forth between China and America over the new coronavirus pandemic, China's foreign ministry fired back at Peter Navarro, President Donald Trump's top trade adviser, for a Fox News op-ed he wrote.
The coronavirus pandemic increased tensions between the U.S. and China as the two countries sparred over who was to blame for the large-scale outbreak. On Sunday, Navarro argued in an op-ed that China "exploited" the pandemic to advance its own agenda and a pro-authoritarian government narrative.
"Based on this behavior—including China's attempt to snuff out democracy in Hong Kong—let's consider whether COVID-19 might better stand for China On to Victory In Death by 19 ways," Navarro wrote.
When asked at Tuesday's briefing about Navarro's op-ed, China Foreign Ministry spokesperson Hua Chunying said, "We all know what kind of person Mr. Navarro is." Hua advised Trump's adviser to "stop playing his old trick of blame-shifting because it will only lead to greater self-inflicted humiliation and further expose his nature as a habitual liar."
Navarro reiterated sentiments from his op-ed to Newsweek and said China is "using the chaos of the pandemic to sink Vietnamese ships, invade India, steal America's intellectual property for a vaccine and grind its jackboots into Hong Kong's democracy."
In response to China's behavior toward the U.S. and Hong Kong, Trump announced in May that the U.S. was taking action. He suspended the entry of certain foreign nationals from China looking to study or conduct research in America, who his administration identified as "potential security risks." Hong Kong will also lose its special treatment, as China's influence no longer meant it was an autonomous region.
In his op-ed, Navarro said the Chinese Communist Party had a "long history of exploiting crises" to advance its dominance and he's not alone in his opinion. Bonnie Glaser, director of the China Power Project at the Center for Strategic and International Studies think tank in Washington, D.C., told Vox that when China "sees opportunities," it "moves to exploit them" and we're in a moment when "the Chinese definitely see opportunities."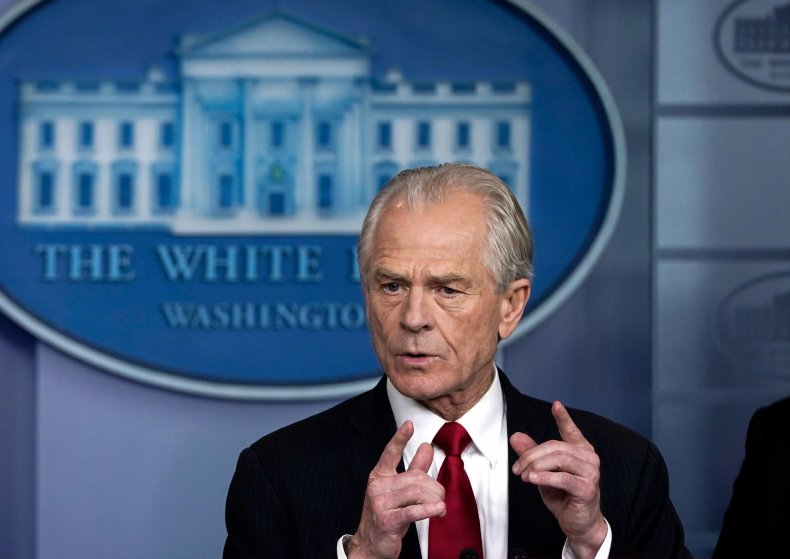 Among the opportunities China took was increasing its funding to the World Health Organization after Trump pulled America's financing. China's $30 million is a "drop in the bucket," Michael Sobolik, an expert on China at the American Foreign Policy Council, told Vox.
"If they wanted to contribute more, they absolutely could contribute more. But it's really a signal to the White House and the world that the U.S. may not have as much clout as it thinks," Sobolik said.
Unlike in 1962, when China invaded India while America was "distracted" with the Cuban Missile Crisis, Navarro wrote in his op-ed that people aren't "buying it" this time around. He added that the Chinese Communist Party was "on notice" that they know exactly what they're "attempting to do."
Navarro framed his op-ed as a time line of events. He highlighted Dr. Li Wenliang sending a warning to a group chat about how the virus spread, China's hoarding and profiteering of personal protective equipment (PPE), and the country hiding the virus from the world.
Hua pushed back on Navarro's criticism of China, saying during the briefing that "the whole world bears witness to the sacrifices and achievements" the country made in the process. She advised Navarro to read the document, "Reality Check of U.S. Allegations Against China on COVID-19" that was published on state-run media on May 10.
The document claims Li wasn't a whistleblower and wasn't arrested. After screenshots of his message to his group chat were leaked, he was called into the police station on January 3. Officers reprimanded him and forced him to sign a statement promising he would not commit additional "unlawful acts." Li, who worked at Wuhan Central Hospital, contracted the virus and passed away on February 6.
His decision to speak out about the virus made him a national hero and tributes to the doctor flooded social media following his death. In May, Senators Marco Rubio, Tom Cotton, Ben Sasse and Marsha Blackburn introduced legislation to rename the street outside the Chinese Embassy in Washington as "Li Wenliang Plaza."
China's foreign ministry said pushing the narrative that Li was a hero was "purely political manipulation with no sense of decency."
The document addressed the criticism that China capitalized on the world's need for PPE, saying it provided medical supplies to other countries to the best of its ability. It also refuted the charge that the country delayed sharing information about human-to-human transmission.
"The messages from China and the World Health Organization have been timely and strong," China's Foreign Ministry said. "The U.S. knows about the danger of the virus all along."
In quoting former Chinese Communist Party leader Deng Xiaoping, Navarro told Newsweek if we "seek truth from facts" the facts will back up the claims in his op-ed about the virus' origin, China's response and Li's death.