China Calls U.K. Decision to Ban Ambassador 'Shortsighted, Reckless and Cowardly'
China has told the U.K. Parliament told "rein in" its lawmakers after its new ambassador was barred from attending events on parliamentary grounds over Beijing's sanctions against British citizens and elected officials.
In a response to the ban, the Chinese Embassy in the U.K. called the decision "shortsighted, reckless and cowardly." In a statement on its website, it said the sanctions on British citizens in March were "completely justified and reasonable."
"It was a necessary response to these people who spread slanderous rumors and disinformation about China's Xinjiang and to the unilateral sanctions on relevant personnel and institutions in China by the U.K. side on the pretext of Xinjiang-related issues," it added.
Chinese envoy Zheng Zeguang, who was appointed to the post in June, was due to attend a summer reception hosted by the All-Party Parliamentary China Group (AAPG) on Wednesday evening.
The event at the House of Commons, on the Terrace Pavilion overlooking the River Thames, was cancelled after both lower and upper house speakers decided Zheng should not be allowed onto the parliamentary estate while sanctions remained on British MPs and others.
Britain has—along with Canada, the United States and European Union—coordinated sanctions against four senior officials and one entity in Xinjiang over what it described as "gross human rights violations" against Uyghur Muslims and other minorities in northwestern China.
Beijing has hit back with punitive measures of its own. Among 10 British citizens banned from entering China or doing business with Chinese companies were Conservative MPs Tom Tugendhat, Iain Duncan Smith, Neil O'Brien, Tim Loughton and Nusrat Ghani, as well as Labour's Helena Kennedy and crossbencher David Alton of the House of Lords.
In respective letters to Commons Speaker Lindsay Hoyle and Lord Speaker John McFall last week, the parliamentarians asked for Zheng's attendance to be reviewed and reconsidered.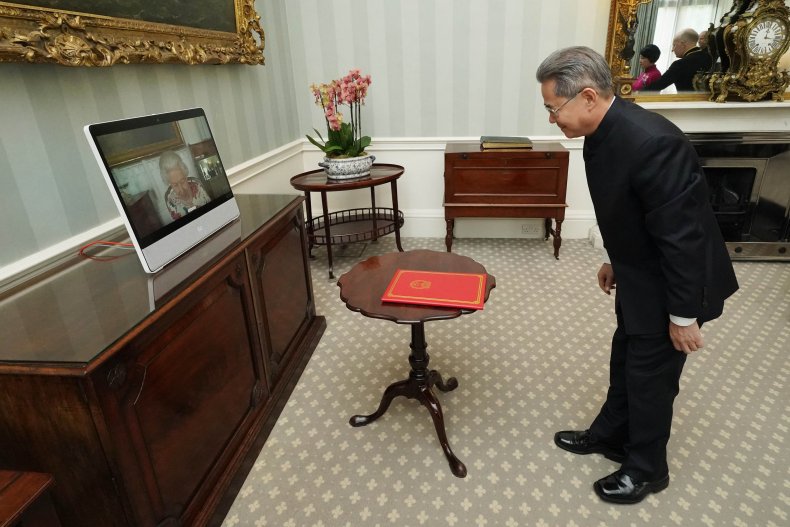 Hoyle told The Daily Telegraph on Tuesday that it was not appropriate "for the ambassador for China to meet on the Commons estate and in our place of work when his country has imposed sanctions against some of our members."
"If those sanctions were lifted, then of course this would not be an issue. I am not saying the meeting cannot go ahead. I am just saying it cannot take place here while those sanctions remain in place," he added.
A separate statement by McFall's spokesperson, carried by Reuters, said: "The Speakers of both houses are in agreement that this particular APPG China meeting should take place elsewhere considering the current sanctions against members, including two members of the Lords."
On Wednesday, China's Foreign Ministry spokesperson Zhao Lijian repeated the embassy's assertion. "China demands that the British Parliament immediately revoke its wrong decision and sincerely rein in the words and deeds of some of its members," Zhao said.
A spokesperson for the U.K.'s Foreign Office told the BBC: "Parliament is independent of government. It is for the Speaker to decide who is allowed on the parliamentary estate."
Tugendhat, who chairs the parliamentary Foreign Affairs Select Committee, told Hong Kong's South China Morning Post: "Parliament welcomes all those who come as friends. Sadly the Chinese ambassador represents a regime that has tried to silence our democracy and bully those freely elected by the British people."
"The speaker defends the liberties of all members of parliament to speak freely and that means making clear that some are not welcome here," he added.