China Calls U.S. a 'Country of Shooting' After Brooklyn Subway Attack
China has offered its condolences to the victims of a bloody attack on a Brooklyn, New York, subway line, but took the opportunity to criticize what it saw as hypocrisy from the United States as the shooting took place the same day Washington released a report condemning the human rights record of other world governments, including that of Beijing.
Speaking at a daily press conference on Wednesday, Chinese Foreign Ministry spokesperson Zhao Lijian said his country "always oppose and condemn acts of gun violence, and express our sympathies to the injured and their families."
And while he also confirmed that the Chinese consulate in New York has received no reports of Chinese nationals being among up to 23 people injured when a perpetrator was said to have detonated a smoke bomb and opened fire on the R train during the Tuesday morning rush hour of the most populous borough of the largest city in the nation, he urged "Chinese citizens in the U.S. to raise security awareness and protect their safety" given their host country's history of gun violence.
"Tragedies like the shooting at the Brooklyn subway station have been happening time and again, which has to do with the endemic of gun proliferation and gun violence in the U.S.," Zhao said. "Gun violence is a grave, persistent human rights problem in U.S. society."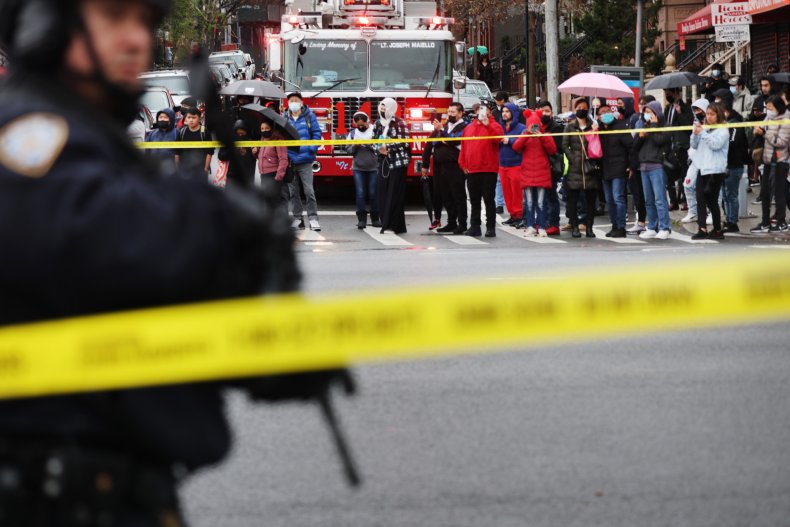 Zhao called attention to the State Department's 2021 Country Reports on Human Rights Practices released hours after the shooting occurred, noting how it made "groundless accusations about other countries' human rights conditions throughout" without any "mention of the deteriorating human rights situation at home," which he said included "systemic racial discrimination, violent law enforcement and other serious issues."
Citing the Gun Violence Archive website, he counted more than 10,000 people killed in the U.S. this year alone by firearms, including in 131 mass shootings and asked, "Aren't the numbers staggering enough to alert the U.S.? Isn't the life and security of its own people worth the attention of the U.S.?
"The U.S. is undoubtedly a country of shooting," Zhao said. "We sincerely hope such tragedy as shooting at the Brooklyn station will not happen again, and the American people can truly live without gunshots, discrimination and fear.
"The U.S. government can by no means lecture others on human rights," he added. "What it should do is stop passing judgment on other countries' human rights conditions and do something concrete to improve the poor human rights conditions within its borders."
Zhao's remarks came as a nationwide manhunt ensued for the shooter. While the New York Police Department has named 62-year-old Frank R. James as a "person of interest" in the attack, authorities have yet to identify him as the alleged perpetrator.
The incident came just a day after President Joe Biden sought to crack down on an increase in gun violence in major cities by rolling out measures against untraceable, so-called "ghost guns" and by nominating former federal prosecutor Steven M. Dettelbach to head the Bureau of Alcohol, Tobacco, Firearms and Explosives.
A White House readout released Monday said "President Biden made more progress on executive actions to reduce gun violence than any other President during their first year in office" and called on Congress "to do its job by passing this budget and other essential legislation to reduce gun crime."
The Biden administration has also acknowledged systemic racism in the U.S., including an ongoing wave of attacks against individuals of Asian descent, and has taken steps to address the problem.
But the president and his top officials have also been vocal critics of alleged abuses taking place in China, which the White House views as the U.S.' top competitor on the world stage.
The State Department's annual human rights report released Tuesday included a lengthy list of alleged violations committed by China, including "genocide and crimes against humanity" conducted "against predominantly Muslim Uyghurs and members of other ethnic and religious minority groups in Xinjiang." Other allegations involved various forms of arbitrary imprisonment and execution, political, legal and cultural repression and corruption granting Chinese officials impunity from crimes and abuses.
China has defended its use of detention facilities officially known as "vocational education and training centers" alleged by the U.S. to hold up to millions of people, mostly from the Uyghur minority. The practice was established in 2017 after years of insurgency waged by Uyghur separatist groups such as the East Turkestan Islamic Movement, which Washington delisted from its Terrorist Exclusion List amid deteriorating U.S.-China relations in November 2020, alleging the group was no longer active.
Last year, a State Department official acknowledged to Newsweek, however, that "Uyghur terrorists fighting in Syria and Afghanistan are members of the Turkistan Islamic Party (TIP)," a group that China and other countries, as well as the United Nations, have classified as an adaptation of ETIM. The U.S. disagrees with this view, though it has not designated TIP as a terrorist organization on any of its lists either.
In remarks accompanying the report's release, Secretary of State Antony Blinken also accused China of committing "genocide and crimes against humanity" in Xinjiang, as well as other abuses in other Chinese territories, including "to erode fundamental freedoms and autonomy in Hong Kong, and to carry out systematic repression in Tibet."
Reacting to these accusations on Wednesday, Zhao said that they "misrepresent facts, confuse right with wrong, and are deluged with political lies and ideological bias."
"The Chinese people can tell better than others how the human rights situation in China is and the international community has long come to a conclusion about China's governance.," Zhao said. "Such facts cannot possibly be denied by a report or the remarks of certain people."
"The U.S. government smears and denigrates China and attacks other places in the world by releasing the report every year, in an attempt to style itself as a 'judge' and 'role model' on human rights," he added. "This only serves to reveal its hypocrisy and double standards."