China Calls U.S. Uighur 'Genocide' Designation 'Piece of Wastepaper'
China dismissed outgoing Secretary of State Mike Pompeo's labeling of China's treatment of its minority Uighur population as "genocide," describing the designation as a "piece of wastepaper."
Pompeo said in a Tuesday tweet that he had "determined" that China "is committing genocide and crimes against humanity" against Uighurs, a predominantly Muslim minority group located mainly in the nation's in Xinjiang province. The outgoing Trump administration official added that China's "genocide" targeted other religious groups and minorities as well.
A spokesperson for China's Foreign Minister said that Beijing didn't put any stock in Pompeo's accusation.
"In our view, Pompeo's so-called designation is a piece of wastepaper. This American politician, who is notorious for lying and deceiving, is turning himself into a doomsday clown and joke of the century with his last madness and lies of the century," Hua Chunying, the spokesperson, told reporters on Wednesday, the Associated Press reported.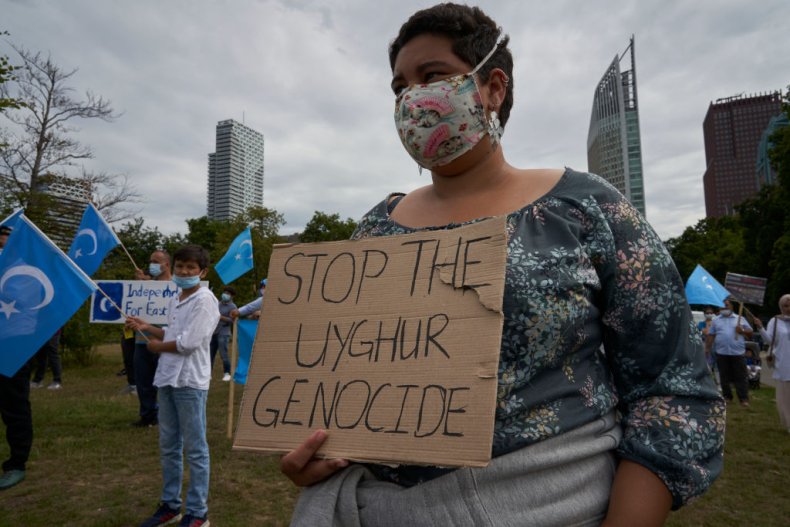 While the Chinese official attacked Pompeo's genocide designation, President-elect Joe Biden's secretary of state nominee, Antony Blinken, said during a Senate confirmation hearing on Tuesday that he agreed with the outgoing Trump administration official's assessment.
"That would be my judgment as well," Blinken said when asked if he agreed with Pompeo.
"I think we're very much in agreement," the Biden nominee added. "The forcing of men, women and children into concentration camps—trying to, in effect, reeducate them to be adherents to the ideology of the Chinese Communist Party—all of that speaks to an effort to commit genocide."
Activists and analysts have estimated that from 1 million to 2 million Uighurs and other minorities have been held in detention centers in China. There have been widespread reports of forced sterilization, torture, sexual abuse and extrajudicial killings. China has repeatedly dismissed international criticism and condemnation of its treatment of the Uighurs and other minority groups.
Newsweek reached out to the Chinese Embassy in Washington, D.C., for comment but did not receive a response before publication.
Activists and American Muslim groups welcomed Pompeo's designation on Tuesday.
"We welcome our government's decision to finally and officially declare China's heinous actions against Uighurs Muslims as genocide," the Council on American-Islamic Relations' national executive director, Nihad Awad, said in a statement to Newsweek.
"China's egregious actions in Xinjiang amounts to a gross and ongoing violation of human and religious rights. China continues to disregard international law and United Nations treaties to which it is a party," Awad said.
Iman Awad, deputy director of Emgage Action, an American Muslim advocacy organization, shared similar sentiments in a statement to Newsweek. "This genocide designation is long overdue—as it comes only during the final hours of Trump's presidency. Recognizing the atrocities perpetrated by the Chinese state against the Uighur population is a necessary step in order to hold those complicit accountable," she said.
She added that the organization hopes the Biden administration will hold China accountable.