China Cancels Flights, Closes Schools and Quarantines Travelers in Beijing
Over 1,000 flights to and from Beijing were canceled on Wednesday amid fears of a resurgence of the coronavirus which have sparked authorities in the Chinese capital to raise their emergency response.
Although there was was no official government announcement, aviation data providers revealed the extent of the disruption, with 1,255 flights being scrapped at Beijing Capital International Airport and Beijing Daxing International Airport, comprising around two-thirds of incoming and outgoing air traffic, CNN reported.
The country's flag carrier Air China, announced on social media outlet Weibo that 297 flights going to and from Beijing Capital International Airport would be scrapped and that warned of "mass delays and cancelations" although it did not say if it was acting under orders from the authorities.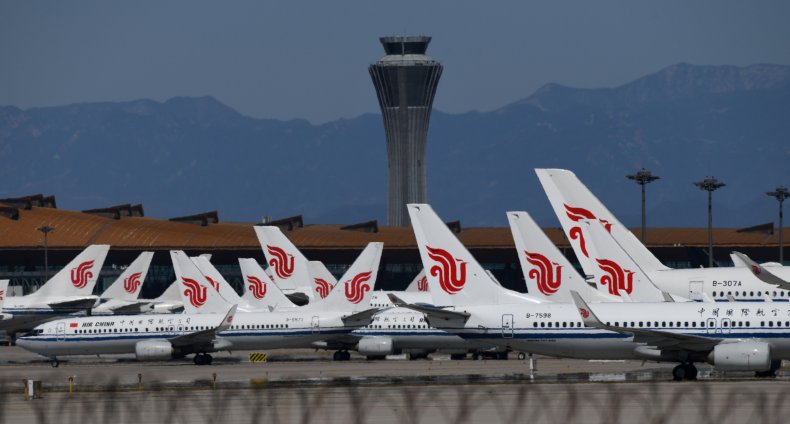 "It is recommended that you check the rescheduling and flight status through self-service channels," the airline's message said.
The measures follow 31 new COVID-19 cases being reported on Tuesday, with new infections over the last six days hitting 137, the Associated Press reported, in the worst flare up of the disease since the pandemic was mostly brought under control three months ago.
Beijing has raised its emergency response from level three to level two, meaning those who want to leave the capital have to prove that they have had a negative COVID-19 test within the previous seven days. Those living in medium or high-risk neighborhoods cannot leave the city, nor can anyone connected to the Xinfadi market, where the latest flare up is linked to.
In announcing the restrictions, Chen Bei, Beijing municipal government's deputy secretary general said according to the government-run Global Times newspaper that the capital's situation "is still grim."
The publication said that 29 residential communities were locked down and four large districts had been put into "wartime mode." Over the last three days, 276 food markets had been disinfected, 11 underground and semi-underground markets closed and over 200,000 people screened.
"That makes it the most serious outbreak in China since February, dragging local citizens about to embrace normal life back to caution mode which they underwent four months ago," the Global Times said.
Although companies and factories are staying open, those who can work from home are urged to. Meanwhile kindergartens, primary and secondary schools have been closed with students having to return to online studying, a practice that had been undertaken between February and April during the initial coronavirus outbreak. There are also restrictions on access to parks and indoor public spaces like museums and libraries.
The graphic below provided by Statista lists the countries with the most COVID-19 cases as of June 17.