As China Celebrates Eileen Gu, Weibo Suspends Accounts Over Another Athlete
Two U.S.-born athletes competing for China in the Winter Olympics had vastly different reactions to their recent performances at the games. The country celebrated freestyle skier Eileen Gu's gold medal win, while figure skater Zhu Yi faced backlash on Chinese social media over her poor showing.
The two athletes with connections to both China and the U.S. were in the spotlight this week at the games, whose lead-up was marked by tensions between the nations. Among other issues, the U.S. has accused China of committing genocide against the ethnic Uyghurs and seen governmental resistance to efforts to investigate the coronavirus's origins.
On Tuesday, Gu placed first during her big air competition, which led to Chinese social media site Weibo being overwhelmed. The popular platform's servers were temporarily overloaded as Gu became half of the top 10 trending topics following her big win, the Associated Press reported.
"Gu Ailing is a genius young woman right?" was a trending topic that referenced her Chinese name, the AP said.
"Dad was Harvard, Mom was Peking University, Stanford, Grandmother was an athlete. She's beautiful and classy," said one post, which was seen about 86,000 times.
The reaction was much different for another U.S. athlete who competed for China after giving up her U.S. citizenship to do so. Zhu was under attack on social media following her performance in the team figure-skating competition. In the short program, Zhu crashed into the wall, and she placed last in the free skate program after she had several falls, after which she broke down in tears.
Her performance knocked China out of the bronze medal position, and the team ultimately finished fifth. The Russian team won the event, with the U.S. taking silver and Japan winning the bronze.
"I'm upset and a little embarrassed," Zhu said after her performance, according to Reuters. "I guess I felt a lot of pressure because I know everybody in China was pretty surprised with the selection for ladies' singles, and I just really wanted to show them what I was able to do, but unfortunately I didn't."
Users on Weibo didn't hold back on their disappointment with Zhu's performance. The hashtag #ZhuYiFellOver had 230 million views before being deactivated. Another hashtag, #ZhuYiMessedUp, remains active with over 80 million views, France 24 reported.
"This is such a disgrace," one commenter on Weibo wrote.
"Zhu Yi, how ridiculous your performance is!" another user said, according to USA Today. "How dare you skate for China? You cannot even hold a candle to an amateur!"
Weibo ended up suspending at least 93 accounts and deleted 300 posts about Zhu containing vicious comments, the AP reported. Zhu told the Xinhua News Agency on Monday she felt pressure reading the harsh comments on Chinese social media.
"I wanted to prove myself because I didn't do so well yesterday and what everyone said on the internet really affected me," she said. "I have trained very hard. The problem now is psychological. I will try not to be affected by the outside world."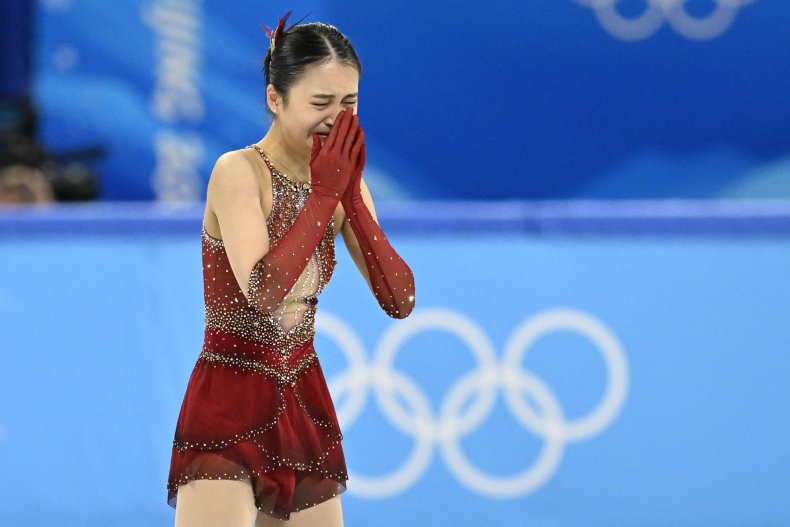 Update 02/08/2022, 10:45 a.m. ET: This story was updated with more background and information.