Christians in China Must Replace Jesus With Pictures of Xi Jinping or Lose Social Services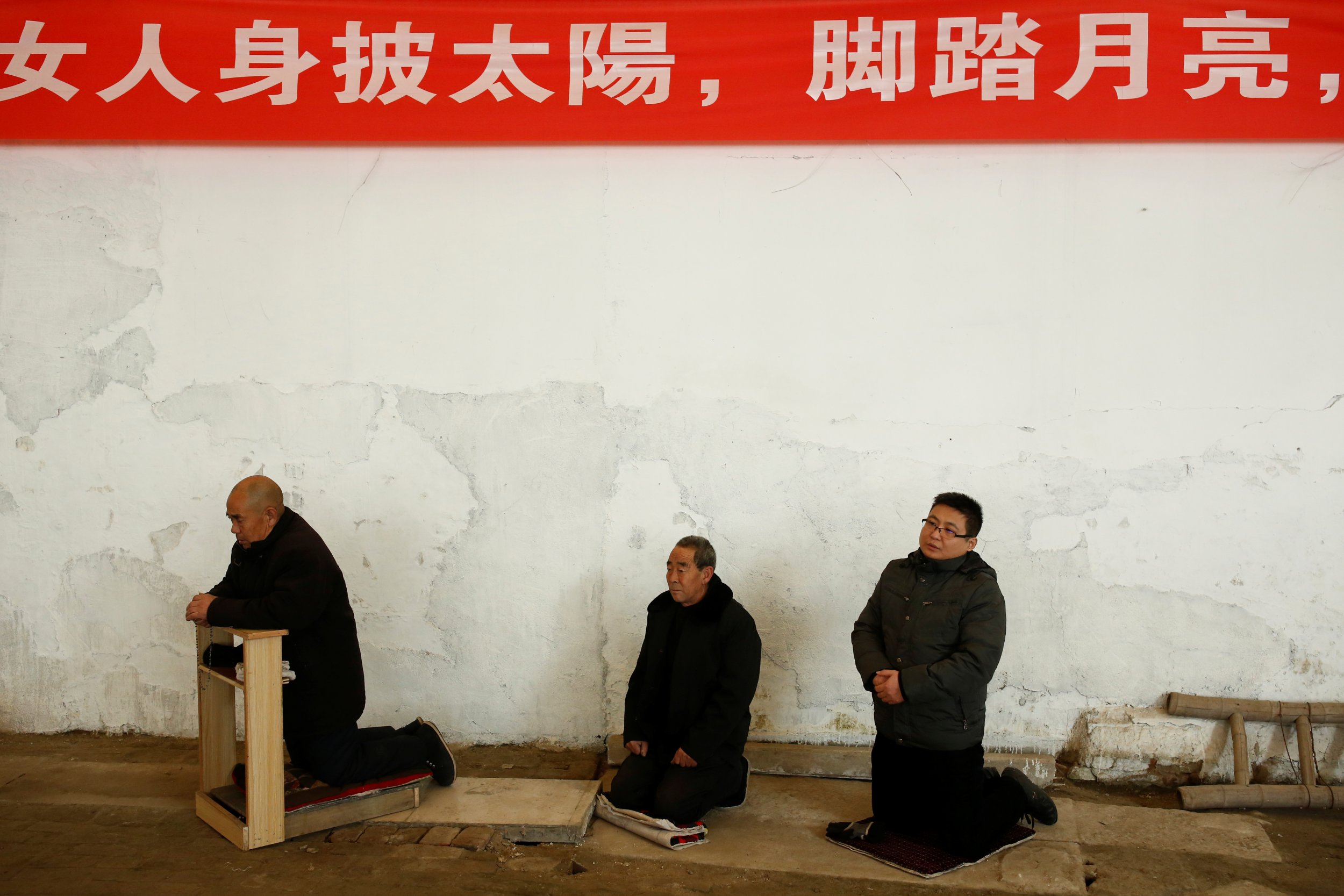 Christians in an impoverished Chinese province have to remove images of Jesus and replace them with pictures of Communist Party Chairman Xi Jinping if they want to receive government assistance, part of a government-sponsored plan to discourage religious practice.
Thousands of Christians in an impoverished region of southeast China have already removed crosses and images of Jesus Christ from their homes and replaced them with pictures of China's leader, according to a local social media account, participating in a government effort to "transform believers in religion into believers in the party." The campaign reportedly began in March.
Around 10 percent of the region's 1 million inhabitants are Christian, and a similar percentage of the population lives below the poverty line. The Communist Party's effort to link poverty reduction with the party-sponsored atheism is a coercive part of the government's effort to control every aspect of Chinese society, critics say.
"Of course, they didn't want to take [the pictures] down. But there is no way out. If they don't agree to do so, they won't be given their quota from the poverty-relief fund," one of the township's residents confirmed to the South China Morning Post.
Xi recently cemented his position as head of the Communist Party, by far the most powerful role in China. During the Chinese Communist Party's national congress in October, Xi spoke at length about making religion more Chinese and instilling it with socialist values. Now, Christians in Yugan county, Jiangxi province are learning that those socialist values can best be represented by Xi's face.
People in China frequently used to hang pictures of Communist leader Mao Zedong at the center of their homes. Xi recently modified his official image to look more like the now famous headshot of Mao, a sign that he is attempting to build a personality cult similar to that of the founding father of the People's Republic of China.
Religion is not officially banned in China, but it is discouraged. Nevertheless, Christianity has been spreading quickly in China since the end of Mao's Cultural Revolution four decades ago. Unofficial churches and places of worship have even popped up in people's homes, and some estimates suggest that there are now more Christians in China than Communist Party members.
Around one-third of believers, or 100 million residents in China, however, belong to religious groups that face high levels of persecution, a Freedom House report discovered.
"Dozens of Christians are barred from celebrating Christmas together. Since early 2014, local authorities have intensified efforts to stem the spread of Christianity amid official rhetoric about the threat of "Western" values and the need to "Sinicize" religions," the report noted.
"As the larger of the two main Christian denominations in China, Protestants have been particularly affected by cross-removal and church-demolition campaigns."
Communist Party officials in Yugan said this recent campaign was carried out "voluntarily" and was meant to show villagers that only the party can help them.
"Many poor households have plunged into poverty because of illness in the family. Some resorted to believing in Jesus to cure their illnesses," said Qi Yan, chairman of the Huangjinbu people's congress. "But we tried to tell them that getting ill is a physical thing and that the people who can really help them are the Communist Party and General Secretary Xi."