China Commissions New Long-Range Precision Missiles for Striking Warships
China's People's Liberation Army Rocket Force (PLARF) commissioned a new brigade of intermediate-range ballistic missiles, according to official media.
The Dong Feng-26 (DF-26) Intermediate Range Ballistic Missiles can strike medium to large targets on land and at sea, China Central Television (CCTV), a state TV broadcaster, reported on Monday. The development will likely boost Beijing's presence and combat capabilities in the South China Sea.
After first emerging at a military parade in 2015, the PLA Rocket Force has been working to further improve the domestically developed weapon's nuclear counterattack capabilities and medium-to-long range precision strikes.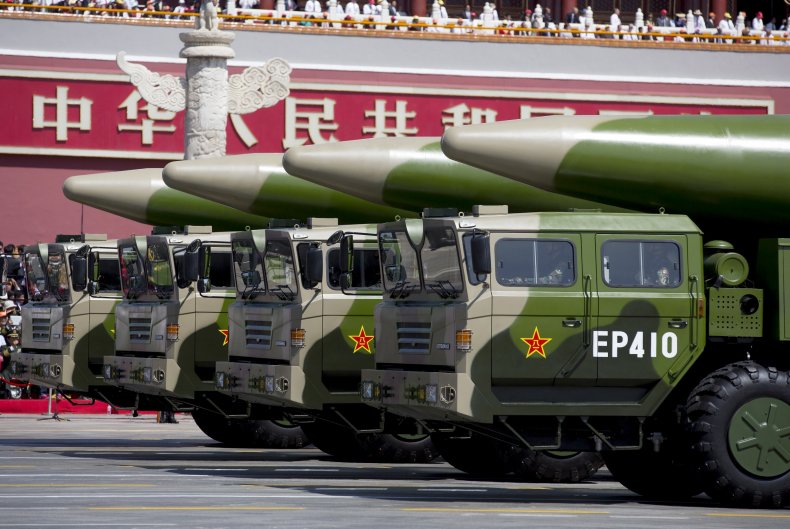 "[It is now more] combat ready, and launches on time and causes serious damage," CCTV said.
Zhang Junshe, a senior research fellow at the PLA Naval Military Studies Research Institute, told state-run Global Times that Beijing has been focused on developing counterattack capabilities to prevent nuclear threats that may arise from conflicts in the future.
In 2017, Ren Guoqiang, a Ministry of National Defense spokesperson, said the weapons were for national defense purposes and would not be used on a third country.
"The rocket force is the core of China's strategic deterrence, the pillar of China as a great power and the cornerstone of national security. It is normal and necessary for the rocket force to develop and upgrade its weapons. And it's also normal for other countries to modernize their militaries," Ren said.
The DF-26, which was manufactured by the China Aerospace Science and Technology Corporation (CASC), has a range of 1,900 to 2,500 miles. It is capable of reaching American military bases in Guam, which prompted citizens to call it the "Guam Express" or "Guam Killer." It is rumored to have become operational by September 2015, when it was first publicly unveiled at a parade in Beijing celebrating the 70th anniversary of peace since WWII ended.
"DF-26 is an intermediate-range ballistic missile which is capable of conducting conventional and nuclear precision strikes against ground targets," the U.S. Department of Defense said, in its 2017 report on China's military.