On Thursday, all 15 of the remaining pro-democracy lawmakers in Hong Kong resigned from the Legislative Council after staging a noisy protest in the legislature's chamber.
The day before, the government of the Hong Kong Special Administrative Region of the People's Republic of China had expelled from the body four legislators labeled "infamous" by Global Times, a Communist Party publication, for their opposition views.
Moments before the expulsions, the HKSAR government, as it is called, had received authorization, in the form of a "Decision" from the Standing Committee of the National People's Congress, the legislature of the Chinese central government.
Specifically, the Standing Committee decided that a member of Legco, as the Hong Kong legislature is known, does not meet the legal requirements for holding office if such legislator advocates or supports "Hong Kong independence," refuses to recognize China's sovereignty over Hong Kong, seeks interference in the HKSAR affairs by foreign countries or external forces, or commits other acts endangering national security.
The Decision essentially gave Hong Kong Chief Executive Carrie Lam, the territory's most senior political official, the power on her own to determine who meets the legal requirements to serve in the Legislative Council.
In effect, Beijing, for all intents and purposes, ended representative governance in Hong Kong on Wednesday.
Lam had already been exercising near-dictatorial powers to support China's interests. For instance, she delayed for a year the Legislative Council elections scheduled for September 6. She said she was trying to prevent the spread of coronavirus, but a motivating factor was protecting pro-Beijing forces from getting clobbered in the voting. China's allies had been clobbered the previous November in District Council elections.
As Jamil Anderlini of the Financial Times put it on Wednesday, "China's 'Recolonization' of Hong Kong Could Soon Be Complete."
Britain "handed over" Hong Kong to China on July 1, 1997. Beijing, in the Sino-British Joint Declaration of 1984, promised the territory "a high degree of autonomy" for 50 years under the "one country, two systems" formula. China has since repudiated that treaty, claiming deceitfully that it is no longer applicable.
And Beijing has worked hard to dishonor its promises, most notably enacting on June 30 the National Security Law, which essentially ends law in Hong Kong by allowing Chinese officials to do whatever they want.
The new measure followed Beijing's unsuccessful attempt last year to pass an extradition bill. China failed to push through that bill due in large part to months of street protests beginning in March. One such protest attracted an estimated two million people, more than one-quarter of Hong Kong's population.
What happens now that China has just closed off the only peaceful means of change in Hong Kong by expelling elected representatives?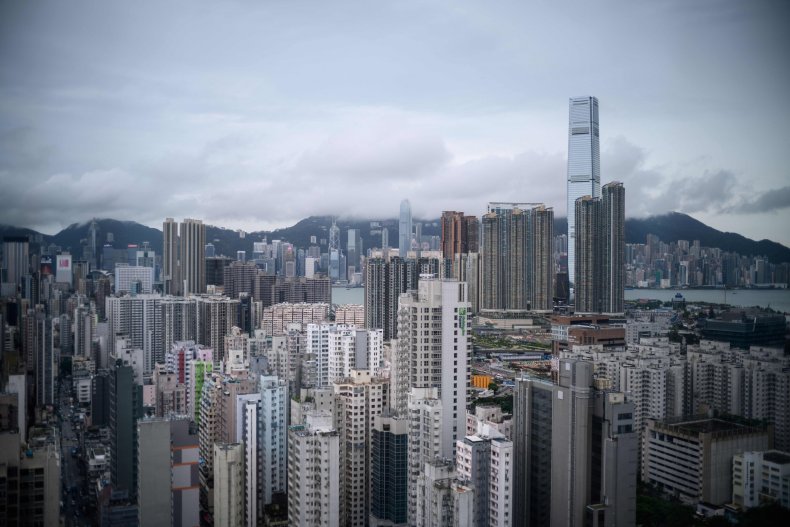 Youthful demonstrators in Hong Kong—as well as peaceful middle class denizens who turned out for the mass protests—will continue to resist China. As American war correspondent Michael Yon tells Newsweek, Beijing faces not just sporadic expressions of unhappiness in Hong Kong, but an "insurgency."
Insurgencies can go quiet for a time, he says, but they almost always come back, as they adapt by "changing form."
"Courageous Hong Kongers continue to fight," Yon, who spent seven months chronicling the movement there, says. "America must stand with them."
Americans have every reason to do so. Chinese ruler Xi Jinping may have chosen this time to go after Hong Kong because he believes the United States is distracted by election turmoil. If President Trump does not respond, Xi will surely feel he can hit other targets—such as the U.S. itself. In any event, his regime has intensified attacks not only on America's democracy, but also, more fundamentally, the concept of representative governance itself.
The anti-American propaganda barrage from central government and Communist Party media outlets has been unrelenting, especially as Beijing seeks to use the uncertainty following the November 3 election as proof that its form of governance is superior. "The U.S. is in degradation," tweeted Hu Xijin, the editor of Global Times, on America's election day. Moreover, the paper itself ran an editorial pointing out "systemic problems" in the American political system. "It is time U.S. elites say goodbye to political arrogance and engage in collective reflection," the Global Times stated.
Xi's move on the last vestiges of Hong Kong's representative governance, therefore, is part of a broad-based challenge to free societies.
Given the comprehensive nature of Xi's assault, President Trump should exercise his powers under the Hong Kong Human Rights and Democracy Act of 2019 and 2020's Hong Kong Autonomy Act to designate Xi and the other members of the Politburo Standing Committee for their role in undermining Hong Kong's promised autonomy. This legislation sanctions individuals who have been so designated, and authorizes sanctions on financial institutions that do business with them.
A decisive act from Trump would show Beijing that America is not afraid of China. China's bad acts are directed from the top of the Chinese political system, and Trump should forthrightly say so.
Xi thinks he has, with his bold moves this week, taken over Hong Kong once and for all. If he does not pay a price, he will intensify his assault on America's democracy next.
Gordon G. Chang is the author of The Coming Collapse of China. Follow him on Twitter: @GordonGChang.
The views expressed in this article are the writer's own.