China Conducts Largest Military Exercise of Its Kind as Troops Train to Challenge U.S. Overseas
Chinese official media reported Thursday that the country's armed forces have conducted the largest military exercise of its kind, moving thousands of troops across the country in an unprecedented show of force.
The drill, which reportedly began Monday, saw over 10,000 marines travel more than 1,240 miles to arrive at army training bases in the Yunnan and Shandong provinces. The personnel traveled by air, water, rail and motor and engaged in combat drills upon arrival at the bases.
Related: China says it is testing world's first railgun at sea, confirming leaked photos of electromagnetic weapon
The Chinese navy reported that more than 1,000 marines trained Thursday in the southeastern Fujian province that overlooks China's rival government in Taiwan. Beijing has repeatedly attempted to take back the disputed island by force and President Donald Trump's signing of a Travel Act with Taiwan on Friday was likely to further upset relations. During Thursday's military exercises, some of the personnel also reportedly drank cow blood, not unlike some U.S. military practices.
"Performing tasks outside the country can greatly enhance the marines' combat capability such as emergency and rapid response skills," an unnamed military expert told ruling Chinese Communist Party outlet The Global Times in an article also posted Thursday by the Chinese military's official website.
The expert also noted that such skills could be implemented in Chinese marine deployments overseas, where Beijing's push for greater economic and political ties has called for greater defenses.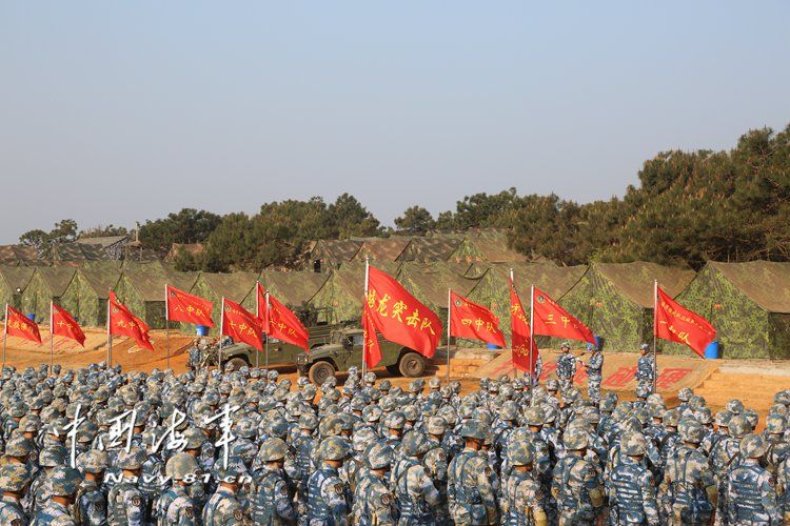 The Hong Kong–based South China Morning Post reported in January that a number of Chinese personnel would be assigned to guard their country's two overseas naval bases in Djibouti and Pakistan. China's presence in Djibouti has irritated the U.S., which also had a military installation in the east African country.
Former Secretary of State Rex Tillerson—whose Africa tour was quickly cut short by his own firing—attempted to improve President Donald Trump's image, after Trump reportedly referred to African nations as "shithole countries," and to counter growing Chinese influence on the continent. But several local leaders defended Beijing from claims by the now-ex-top diplomat and by U.S. military officials looking to boost the Pentagon's budget.
"Djibouti's development needs all its friends and strategic partners," Djibouti Finance Minister Ilyas Dawaleh said Wednesday, according to Bloomberg News. "At the same time, no one can dictate to us who we should deal with."
Chinese Foreign Ministry spokesman Lu Kang accused the U.S. of "playing such tunes as 'its strategic interests being threatened'" during a press conference Friday, saying Beijing would continue to cooperate with African partners despite Washington's complaints. Prior to Tillerson's aborted tour, Chinese Foreign Minister Wang Yi embarked on his own five-day visit in January, making this year the 28th in a row that Chinese foreign ministers have chosen Africa for their first visit abroad.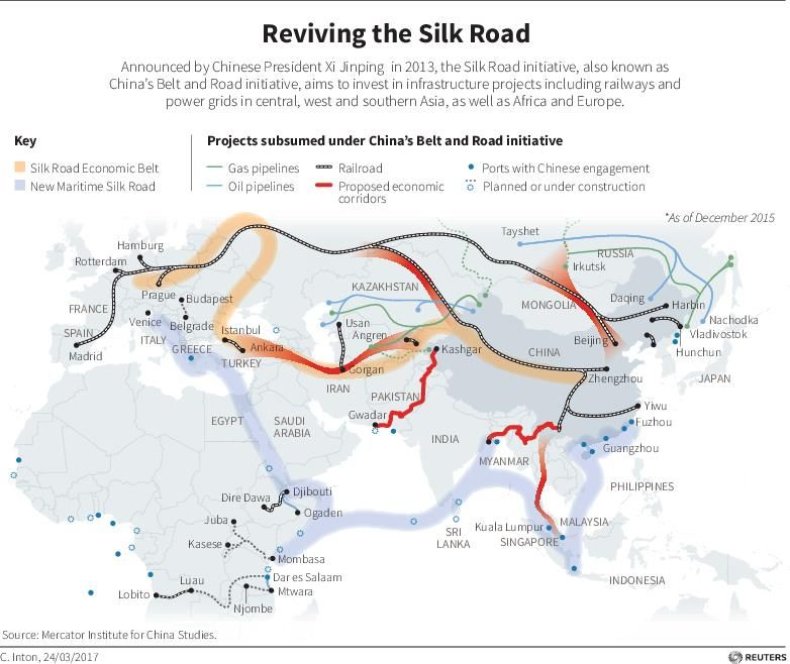 Chinese President Xi Jinping has expanded the global nature of China's economic rise by establishing new trade routes and bolstering old ones as part of his "One Belt, One Road initiative," which has seen China invest in construction, infrastructure and resource-gathering projects worldwide. With this massive endeavor has come far-reaching reforms to the world's largest standing army, which include boosting its elite marines unit from about 20,000 personnel to 100,000 and preparing troops for more international posts to defend Chinese interests abroad.
By consolidating Xi's control over the country's military and security forces as well as abolishing his term limits, the Communist Party of China has allowed Xi a level of national influence not seen since revolutionary founder Mao Zedong. Trump singled out China, along with Russia, as leading U.S. rivals in December's "America First" National Security Strategy, which China and Russia criticized as having a "Cold War mentality" and "imperial nature," respectively.