China Confirms First Coronavirus Death Outside of Epicenter of Disease Outbreak
An 80-year-old man is the first death of the coronavirus outside of the disease outbreak's epicenter, China's National Health Commission confirmed Thursday.
The man, who has not been identified, stayed in Wuhan, the city where the coronavirus outbreak started, for two months. He recently returned to his home in the Hebei province, over 600 miles away from Wuhan, where he began showing symptoms. The man died Wednesday, however, officials didn't confirm the cause of death until Thursday.
Since the outbreak began, at least 18 people have died. Another 557 people are confirmed by the World Health Organization (WHO) to have been infected by the coronavirus, though experts at the Imperial College London put the figure closer to 4,000 infected. In response to the outbreak, Chinese officials locked down at least three cities: Wuhan, and the nearby Huanggang and Ezhou. The cities have a combined population of over 18 million.
In Beijing, 715 miles from Wuhan, major events have been cancelled indefinitely, including fairs for the Lunar New Year, according to the Associated Press. Beijing's Forbidden City museum announced it is also closing indefinitely to prevent the spread of the disease.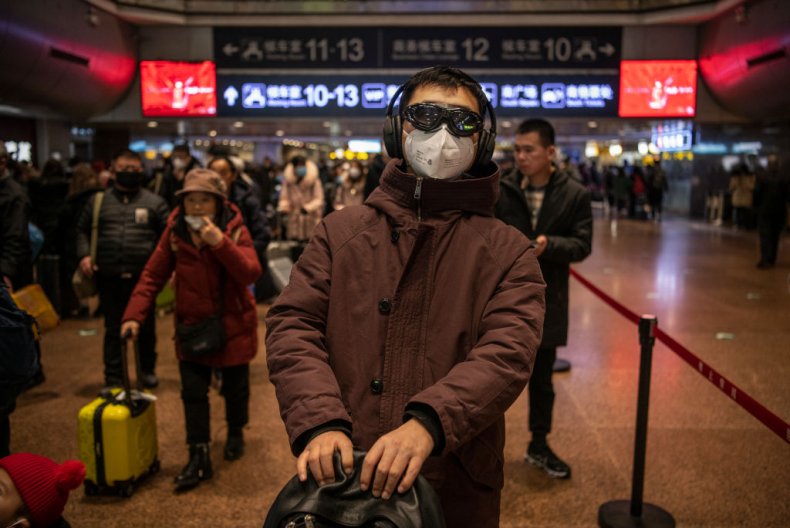 The WHO has yet to declare a global health emergency, however the group plans to meet again in 10 days to reassess the situation. Several WHO members believed it was "still too early" to declare an emergency, according to a press release. The WHO also praised China's efforts to contain the outbreak.
Symptoms of the new coronavirus include fever, cough and shortness of breath. There is an incubation period—the time between contracting the disease and showing symptoms—of about two weeks. This means it's possible for a person visiting Wuhan to be infected, but not show symptoms until they return home. Two cases have been discovered in the United States: one in Seattle, Washington, discovered Tuesday, and another in a Texas A&M University student, discovered Thursday.
The disease is believed to have originated at a seafood market in Wuhan. It is believed the coronavirus came from snakes.
"The virus has already been detected in both bats and snakes prior to this outbreak and the strains in both bats and snakes are similar to each other and the strains from human cases. Human cases are more like the strains in snakes so that is the more likely," Paul Hunter, a professor in medicine at the U.K.'s Norwich School of Medicine, told Newsweek.
The coronavirus is part of a family of viruses, which includes the common cold as well as more serious diseases like Severe Acute Respiratory Syndrome. No vaccine exists, however, the U.S. National Institutes of Allergy and Infectious Diseases is working on one, though it could take more than a year for it to be released.