After shuttering its factories earlier in the year, China is showing optimistic signs of a recovery from the financial damage wrought by the coronavirus pandemic, according to a barometer of the country's economic health.
A measure of the mood among services and construction firms has shown that last month saw the fastest growth in China's non-manufacturing sector for more than a year and a half, while other data showed the fastest expansion in manufacturing in nearly a decade.
The non-manufacturing purchasing managers' index (PMI) for August was 55.2, according to China's National Bureau of Statistics (NBS) on Monday—a jump of one point from the previous month and the highest rate of expansion since January 2018, the South China Morning Post reported.
PMI readings gauge sentiment among factory owners and purchasing managers. A number above 50 shows an expansion, and a figure of less than 50, a contraction.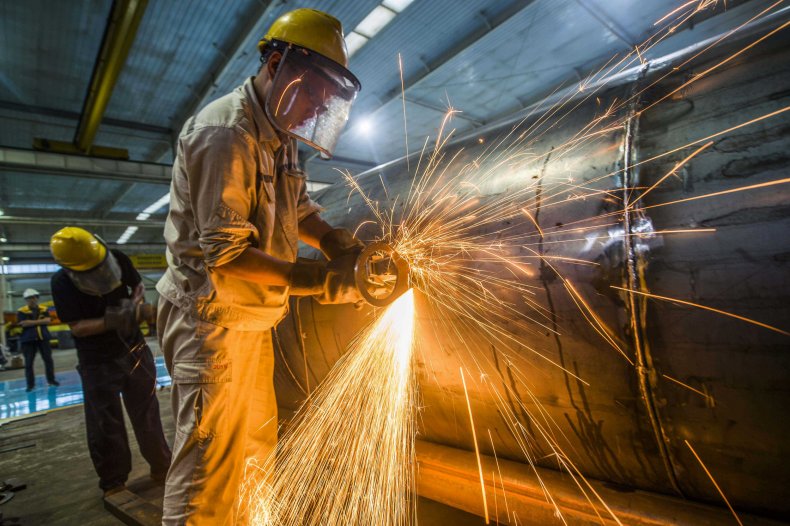 Meanwhile, a private survey showed that manufacturing last month expanded in China at the fastest rate in nearly a decade, with China's Caixin/Markit manufacturing PMI rising to 53.1 from July's 52.8, Reuters reported.
This is the biggest rate of expansion since January 2011, although more sober numbers emerged from the NBS, from its polling of big businesses and state-owned companies, showing a PMI of 51.0, compared with 51.1 in July.
This was slightly less than the 51.2 that had been predicted by experts polled by Reuters, as heavy floods in south China affected the supply of raw materials and the production of goods, CNBC reported.
"If China is exporting more and its factories are busier, that has an impact on the rest of the globe. You are seeing demand pick up and you are seeing predictability over the next few months improving," said Chris Beauchamp, chief market analyst for IG Group.
"If you have an environment where China is exporting, they are clearly looking to Q3 and Q4 and beyond, and pointing towards an expectation of continued improvement. It is a very strong sign," he told Newsweek.
"The U.S. has made less of a recovery than you would have hoped from the world's largest economy, but where China goes, you would expect Europe and the U.S. to follow in terms of the data.
"That is what we are hoping for in terms of maybe the U.S. will do this in a few months' time," he added.
After the Chinese economy was left reeling earlier in the year as factories closed during coronavirus lockdowns, the NBS has painted a rosier picture, saying that demand for pharmaceuticals, electrical machinery and equipment was growing—as were exports.
China's economy contracted by 6.8 percent in the first quarter but an official growth rate of 3.2 percent in the second quarter looks set to be followed by positive Q3 numbers.
China's government's stimulus measures increased investment in infrastructure, and products like medical supplies have been in high demand. Also manufacturing required less social distancing and so has rebounded more quickly.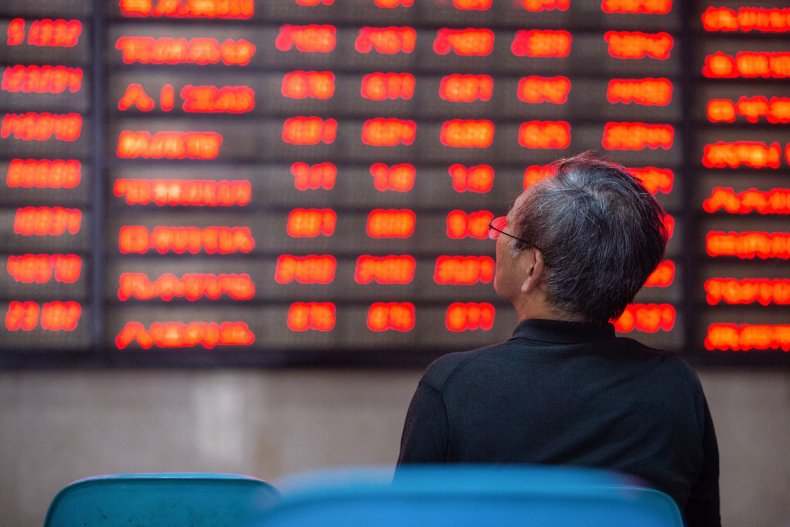 "The headline data is encouraging, but the sub-index of inventories increased in August, which inflated the headline numbers," said Iris Pang, chief economist, Greater China, for ING Wholesale Banking.
"Increase in inventories could be due to overproduction or there could be delay in delivery of orders. This could happen as COVID-19 cases have come back in some major economies," she told Newsweek, adding, "That's why the PMI headline number should be read with care."
South Korea and India have also reported improved PMIs on Tuesday, suggesting that that Asia-Pacific economies had a decent August.
However, renewed waves of infections and an inability to fully reopen economies could delay a sustained rebound throughout the region and the pent-up demand enjoyed after lockdown measures were lifted may diminish.
"We can talk about a recovery but it does not yet have the nicest shape, namely consumption-driven growth," Alicia Garcia Herrero chief economist for Asia-Pacific at investment bank Natixis, told Newsweek.
"At the same time, though, retail sales growth was lower than expected. In other words, the consumer is not yet back but the recovery is underway," she added.