China Could Launch Third Aircraft Carrier Within Six Months, Study Shows
China has made steady progress on its next generation aircraft carrier, which researchers estimate could launch in the next three to six months.
The as yet unnamed ship—the country's second domestically built carrier—is designated Type 003 and is likely to be the last non-nuclear powered People's Liberation Army Navy aircraft carrier in the Chinese fleet.
A report published on Tuesday by the Washington, D.C.-based Center for Strategic and International Studies (CSIS) think tank featured satellite imagery analysis of Jiangnan Shipyard in Shanghai, where the PLA Navy's second-generation carrier is being put together.
The report, authored by researchers Matthew Funaiole, Joseph Bermudez and Brian Hart, studied a satellite photograph from October 23 which showed two large openings on the ship's deck had been sealed shut sometime after September 18, signaling the installation of large internal components such as the engines and power plants.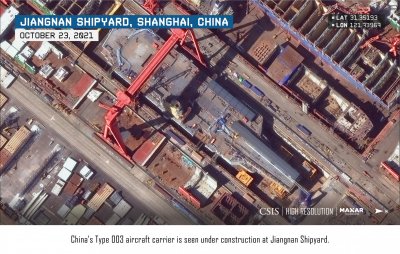 Estimates show the Type 003 to be more than 1,000 feet in length, with a displacement of up to 100,000 tons—matching that of the U.S. Navy's Gerald R. Ford-class of nuclear-powered supercarriers.
The PLA Navy's first carrier, Liaoning, began life as a Soviet-era Kuznetsov-class ship. China launched its first domestically built aircraft carrier, Shandong, in 2017 before it entered service two years later. Both warships launch aircrafts using a ramp known as a ski-jump, but the Type 003 will use a Catapult Assisted Take-Off But Arrested Recovery —or CATOBAR—system, the authors said.
The Chinese navy's lead ship will launch carrier-borne aircraft with heavier payloads and more fuels, the CSIS report said, thanks to a rumored electromagnet launch system similar to the one in use by the U.S. Navy's latest carriers.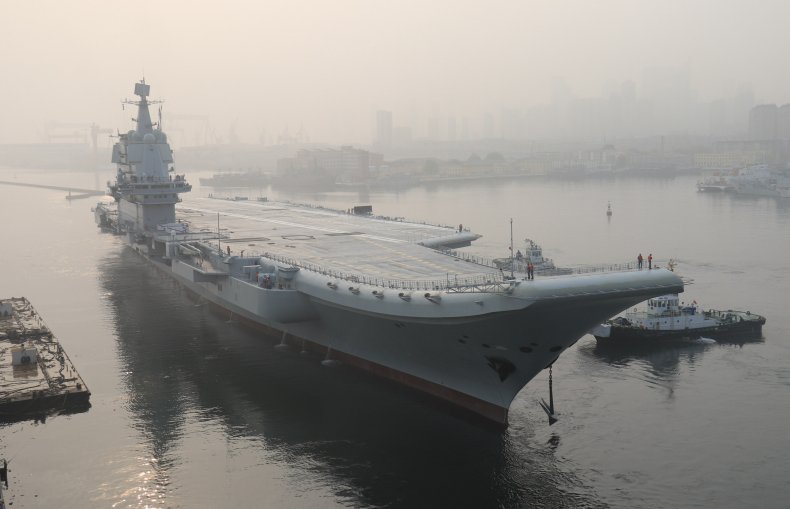 Last week, the Defense Department's annual China Military Power Report said the PLA Navy expects the Type 003 to enter service in 2024, marking a significant addition to its multi-carrier battle force.
The Pentagon estimates the PLA Navy has a maritime force of 355 ships and submarines—numerically the largest navy in the world—145 of which are classed as "major surface combatants."
The Chinese naval fleet will number 420 ships by 2025 and 460 by 2030, said the report titled "Military and Security Developments Involving the People's Republic of China."
Taiwan's biennial National Defense Report, published on Tuesday, said the Chinese military was continuing research and development programs for new catapult-launched carrier-based aircraft and unmanned aerial vehicles, with an eye on the Type 003's arrival.
"In the future, the [PLA Navy] will develop its capabilities of global force projection and multipronged force application, so as to transform itself as a credible naval power with strategic defense capabilities," the white paper said.