China's One Billion COVID Infections Explained
China's explosive COVID-19 outbreak appears to be outpacing private-sector predictions and high estimates from its own specialists, with one official placing the country's infection count at nearly double the current number of total cases worldwide.
In a social media post on the eve of the Lunar New Year on Saturday, Wu Zunyou, chief epidemiologist at the Chinese Center for Disease Control and Prevention, said the first nationwide wave had swept through roughly 80 percent of China's 1.41 billion people since early December.
Wu's estimate of 1.13 billion infections in just six weeks far exceeds the global case count of 669 million as of Wednesday, according to data compiled by Johns Hopkins University. Public health experts believe worldwide infections and fatalities—currently 6.8 million—are both undercounts.
The mass migration of the Lunar New Year period, which could see the Chinese public make some 5 billion trips, could spread the pandemic to the countryside, the China CDC official wrote on Weibo. But the high infection number means "the likelihood of a large-scale nationwide rebound or a second wave is slim" in the next two to three months, he said.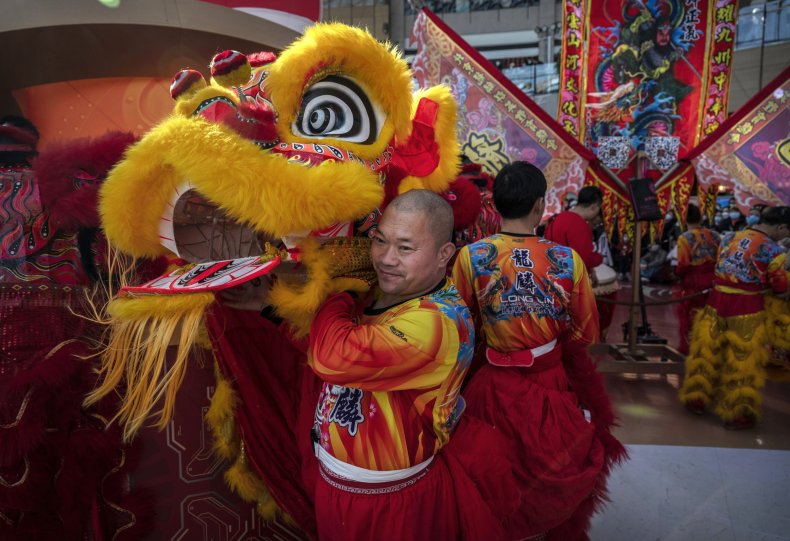 Wu's assessment, based on an outbreak dominated by highly transmissible Omicron subvariants such as BF.7 and BA.2.76, was a revision of his earlier estimate. In mid-December, he said China's winter wave could infect up to 30 percent of the population by the end of February and lead to three waves in as many months.
On December 8, the day after Beijing began dismantling its yearslong zero-COVID policy, former China CDC No. 2 Feng Zijian told an audience at Beijing's Tsinghua University that 60 percent of the population, or 840 million people, could contract the virus in the first wave, in what was an alarming forecast at the time.
China has published three tranches of COVID-related data in the past weeks under the urging of the World Health Organization, which has struggled to make meaningful risk assessments and provide the same to other governments in the region and beyond.
A China CDC report released on Wednesday painted Beijing's first official picture of the outbreak, which health authorities said was already passed its peak.
Data covering a 46-day period from December 9 to January 23 showed positive COVID tests topped out at about 7 million on December 22 and had dropped to 15,000 by Monday. The report noted a decline in nationwide PCR testing capacity over the same period, from 150 million on December 9 to just 280,000 by January 23.
The surge graph coincided with visits to outpatient fever clinics, with demand peaking at 2.8 million on December 23 and reaching a low of 110,000 by Monday. The pattern was repeated in urban and rural hospitals, with only one day between respective peaks, suggesting no geographical divide in the nationwide outbreak.
Yanzhong Huang, a senior fellow for global health at the Council on Foreign Relations, said the viral wave appeared to hit China's urban and rural areas at about the same time.
"The government clearly never really managed to cut the local transmission chain in many localities despite the draconian lockdown measures," he told Newsweek. "We're talking about a highly transmissible variant.
"Secondary, it also shows an immunologically naive population provides no impediment to the virus. It spreads like wildfire, whether in the countryside or in the cities. It seems population density doesn't really matter."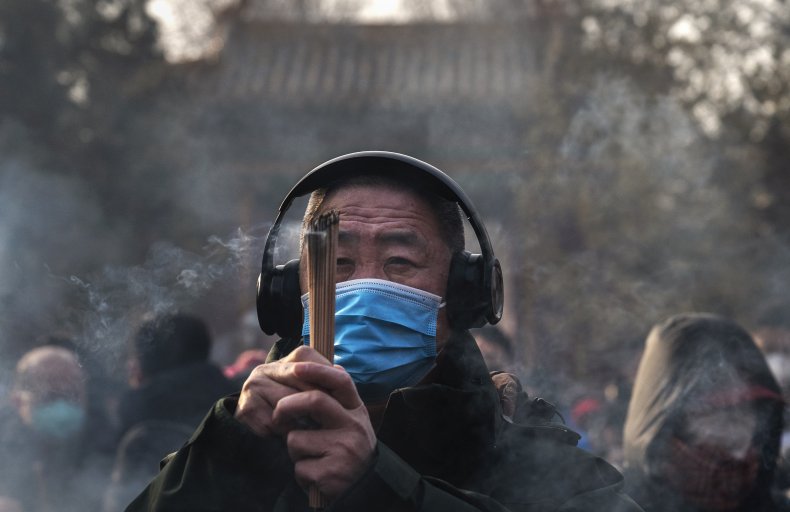 China's two-course inoculation rate is above 90 percent, but analysis suggests a combination of waning immunity and Chinese vaccines that are only effective at three to four shots could be contributing to higher numbers of infections and fatalities.
The China CDC report said COVID deaths in hospitals peaked at 4,273 on January 4 and numbered 896 by Monday. The mortality figures followed two other recent disclosures that put virus-related fatalities between December 8 and January 19 at about 72,500.
About 11 percent of the deaths were attributed to COVID-induced respiratory failure, while the remaining patients died with a combination of other illnesses, excluding them from China's official pandemic death toll of around 80,000 since late 2019.
The WHO says the definition is too narrow, while experts believe the number vastly underrepresents the true scale of the outbreak because it doesn't include those who died at home, or account for doctors who are discouraged from reporting COVID deaths.
"WHO has not yet conducted an independent analysis of the COVID-19 pandemic situation in China as we await detailed data from China disaggregated by week of reporting," the U.N. special agency told Newsweek.
For total infections to reach Wu's estimated 1.13 billion in one and a half months, COVID cases would've had to hit an average exceeding 25 million a day. The semi-authoritative assessment seemed to reflect anecdotal evidence on the ground, but there remained "a mismatch between COVID-related deaths and the actual number of infections," said Huang of CFR.
Airfinity, a British health analytics firm, said China was likely experiencing 4.55 million daily COVID infections and 35,780 daily deaths to the virus at the peak of the first wave. The spread of the pandemic has been hastened by the Lunar New Year holiday, adding more pressure to the country's health care system, it said in an updated report on Thursday.
The company estimated that China had seen 919,000 cumulative COVID deaths since December 1, a figure that could eventually reach 1.7 million by the end of the current wave.
"It is not possible to predict or say how variants will mutate and emerge, but Omicron sub-lineages have dominated for approximately a year now, and if that continues, countries including China could see more waves this year," Tishya Venkatraman, an epidemiologists at Airfinity, told Newsweek.
China is in the midst of an unexpectedly rapid reopening after three years of isolation. In a bid to encourage economic activity and especially foreign investment to offset a year of slow growth in 2022, its officials have downplayed the possibility of another COVID resurgence and likewise have sought to allay fears that its post-pandemic transition could be slow.
Senior health officials in the country have suggested that the final stages of China's COVID exit could be better gauged by comparing excess deaths. But observers aren't confident that the data will paint a meaningful or accurate picture, given the political implications of admitting what is likely more than a million deaths.
Do you have a tip on a world news story that Newsweek should be covering? Do you have a question about China? Let us know via worldnews@newsweek.com.