China Faces 840 Million COVID Infections in 'First Wave': Ex-CDC Official
Up to 840 million people in China could be infected with COVID-19 at the height of the coming wave, a senior health adviser has said, projecting a figure that would surpass the current worldwide case count by nearly 200 million.
Beijing took the first step in exiting its stringent zero-COVID policy this week by scrapping regular testing and prohibiting lengthy lockdowns. "No matter what form policy adjustments take, most of us will inevitably experience an infection," said Feng Zijian, former deputy director of the Chinese Center for Disease Control and Prevention.
"According to mathematical models, when the large-scale impact of the first wave reaches its peak, the infection rate in the population could reach around 60 percent," Feng said at a discussion organized by Beijing's Tsinghua University on Tuesday. "After that, it will gradually plateau. In the end, 80 to 90 percent of the population could be infected."
Since anti-government protests erupted in late November, state media have been bracing the public for the realities of coexisting with the virus, which is now portrayed as milder than the flu rather than an existential threat just weeks ago. Meanwhile, leading health officials are urging calm while speaking candidly for the first time about the price of reopening China.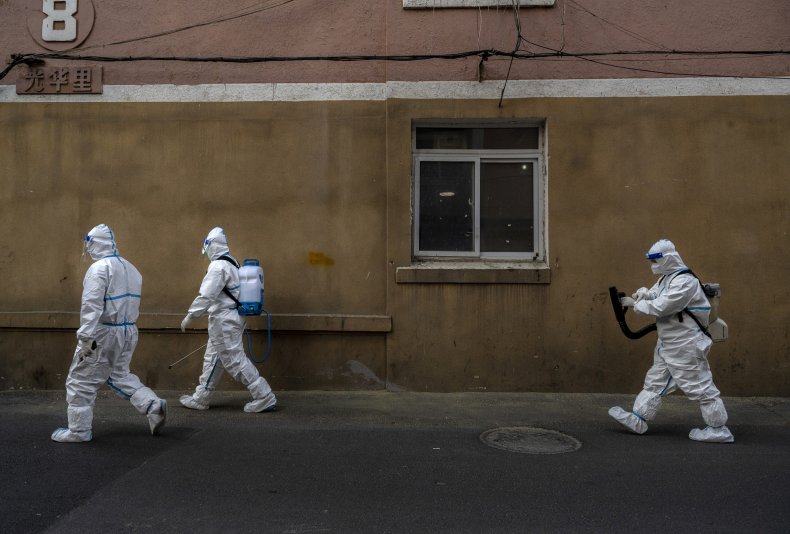 The underreporting of cases has affected many countries with insufficient testing capacity. As China winds down its mass testing requirements, too, it's unclear whether Feng's prediction would be reflected in the government's official figures.
A recent study by public health experts at Harvard, Yale and Stanford estimated that 94 percent of the United States' population had been infected by COVID at least once as of early November, according to a preprint hosted on medRxiv.
Tsinghua's students shouldn't blame themselves if they inadvertently infect their roommates or classmates, said Feng, who serves as a senior adviser on China's COVID task force. "Infections will be a very common phenomenon in the future. This is something none of us can avoid."
Feng's advice for addressing China's Omicron wave was similar to that recommended in the West in 2020: flatten the curve. The public should reduce social gatherings, dining in, and recreational activities, and work from home when possible. Treatment protocols should also be established to avoid overwhelming the health care system, he said.
Daily figures published by China's National Health Commission show more than 90 percent of positive cases involved mild or no symptoms. Coupled with the country's above-90 percent vaccination rate, Feng said an infection could act as a "mild booster" to achieve what is known in the field as "hybrid immunity."
But after years of Communist Party propaganda instilled in the public a sense of dread and stigma associated with COVID, the thought of hundreds of millions of infections may be hard to take.
Responding to Feng's talk on social media, many were also taken aback by what Chinese experts likely knew but didn't say: that a certain number of infections was always necessary as part of China's post-pandemic rite of passage.
There are more uncertainties ahead. Despite China's high vaccination rate, some 21 million people over the age of 80 haven't received a booster, while 8 million in the age group remain unvaccinated, according to official statistics. Among those over 60 years old, 32 million have yet to accept one shot.
China's continued reluctance to approve Western mRNA vaccines—shown to reduce disease and hospitalization—will also be scrutinized. Resources that should've been spent on a concerted vaccine campaign were instead poured into building testing booths and centralized isolation facilities.
Its virus death toll remains at just over 5,000—nothing short of a feat among countries of comparable size. But a projection by advisers at Wigram said daily fatalities could peak at 20,000 in mid-March, while the winter could claim more than 1 million lives, the Financial Times reported on Wednesday.
Wigram predicted an additional summer wave that could see about 4,000 deaths every day at its height, FT said.
A study published in Nature Medicine in May, based on vaccination rates in March, said a reopening could lead to 1.55 million deaths over a three-month period when unvaccinated people would account for 77 percent of the fatalities.
"China's zero-COVID strategy also means the population has almost no naturally acquired immunity through previous infection," said a report last month by analysts at Airfinity. Extrapolating data from the Hong Kong outbreak in February, the group said China's exit from pandemic controls risked between 1.3 and 2.1 million lives.
Do you have a tip on a world news story that Newsweek should be covering? Do you have a question about China's COVID response? Let us know via worldnews@newsweek.com.