China Creates Solar Farm in Shape of Giant Panda; Hundreds More Planned
Nestled deep in the hills of Datong, in China's Shaanxi Province, is a sight that lovers of the film Kung Fu Panda will instantly recognize: A giant panda, China's national animal, covers a hillside, bringing power to millions of people.
This panda is not made of flesh and bone. Instead, it's constructed from solar panels, and it is the first "panda power plant" to be built out of 100 planned.
The first giant panda solar farm was connected to the grid on June 29.
As part of an effort to promote renewable energy across China, the UNDP and China Merchants New Energy launched the Panda Solar Stations. Each power plant will cover 248 acres. The black portions of the panda are monocrystalline silicone, while the gray and white sections are thin-film solar panels.
When fully connected, the Panda-shaped solar station will have capacity of 100MW, and will provide 3.2 billion kWh of green electricity over 25 years. China's plan? To reduce carbon dioxide emissions by 2.74 million tons using these giant pandas.
When President Donald Trump pulled the U.S. out of the Paris climate agreement last month, China stepped up to take the renewable energy mantle. In January, a report released by the Institute of Energy Economics and Financial Analysis (Ieefa) found that China is investing more than ever in renewable energy resources. Ieefa found China had made 13 investments in green energy in 2016 worth $32 billion in total, representing more than a 60 percent jump from 2015.
Tom Buckley, director of Ieefa, told The Guardian that China is overtaking the United States when it comes to investing in renewable energy resources.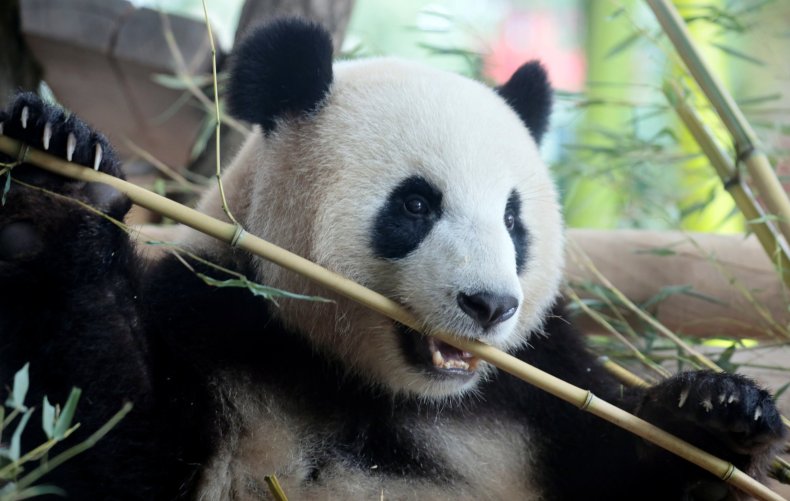 "At the moment China is leaving everyone behind and has a real first-mover and scale advantage, which will be exacerbated if countries such as the U.S., U.K. and Australia continue to apply the brakes to clean energy.
"The U.S. is already slipping well behind China in the race to secure a larger share of the booming clean energy market. With the incoming administration talking up coal and gas, prospective domestic policy changes don't bode well," Buckley told The Guardian.
Panda Green Energy is also trying to get young people involved and interested in green energy. The energy company will put on summer camps to help kids understand solar energy.
"Designing the plant in the shape of a panda could inspire young people and get them interest in the applications of solar power," Panda Green Energy's CEO, Li Yuan, said last year, the Telegraph reported.