Chinese Drug Dealers Are Being Sentenced to Death in Sports Stadiums and Public Squares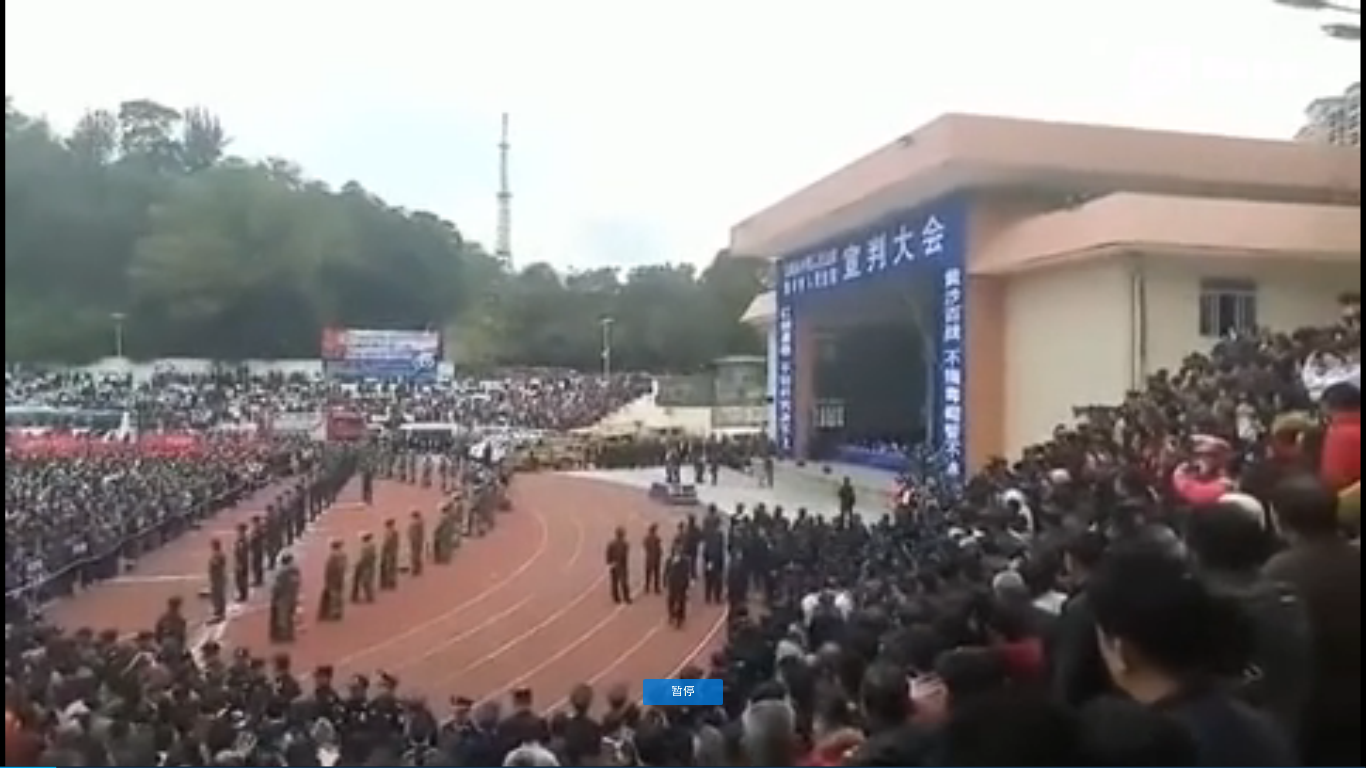 Chinese authorities sentenced 10 men to death, mostly on drug-related charges, at a sports stadium in the southern city of Lufeng in front of thousands of onlookers, before they were taken away and executed, local media reported.
Chinese-language publication The Paper described how the men were bought to the stadium in police vans, with sirens blaring, for the extraordinary public trial. Police lined the accused on the stage, with four officers in dark glasses guarding each convict. The convicts were then led, one after the other, onto a small platform set up on what is usually a running track to have their sentences read, as shown in a video of the incident.
Thousands of people crammed into the stadium to watch the demonstration, and live video footage showed that young students in their school uniforms were among those in attendance. Seven of the 10 executed were convicted for drug-related crimes, while the others were found guilty of murder and robbery.
Four days prior, on December 12, the Lufeng City Court issued an official notice on social media inviting residents to attend the sentencing.
The bizarre sports stadium trial was not the first. Five months ago, a similar public "conviction meeting" was held at the same People's Sports Square. Eight people were sentenced to death in front of 10,000 people, according to the South China Morning Post.
In 2014, at a stadium in China's majority Muslim Xinjiang province, a mass sentencing of 55 individuals was attended by approximately 7,000 people.
China executes more people than the rest of the world combined, according to a report by Amnesty International released in April. Last year, the country carried out approximately 2,000 death sentences, according a report titled "2016 Global Review of the Death Penalty." That's compared to 1,032 executions total among the other countries that have the death penalty.
"China wants to be a leader on the world stage, but when it comes to the death penalty, it is leading in the worst possible way: executing more people annually than any other country in the world," said Salil Shetty, secretary-general of Amnesty International.
"The Chinese government has recognized it is a laggard in terms of openness and judicial transparency, but it persists in actively concealing the true scale of executions. It is high time for China to lift the veil on this deadly secret and finally come clean about its death penalty system," Shetty said.