China to Cut Ties to U.S. Businesses Selling Weapons to Taiwan: 'Cancel the Arms Sales Immediately'
China announced it will blacklist U.S. businesses selling weapons to Taiwan, a breakaway island nation over which Beijing claims sovereignty.
Addressing a regular press briefing Friday, Chinese Foreign Ministry spokesperson Geng Shuang condemned the recent $2.2 billion sales of M1A2T Abrams Tanks and Stinger man-portable air defense systems to Taiwan. He called on the U.S. "to abide by the one-China principle and the three China-U.S. Joint Communiques"—through which Washington pledged decades ago to forego formal diplomatic contacts with Taipei in favor of Beijing and to decrease military ties.
Based on this, Geng said the U.S. must "cancel the arms sales immediately and cut its military ties with Taiwan." He argued that Washington was in violation of its pledges and announced new consequences.
"In order to safeguard national interests, China will impose sanctions on U.S. companies involved in the arms sales to Taiwan," Geng told reporters.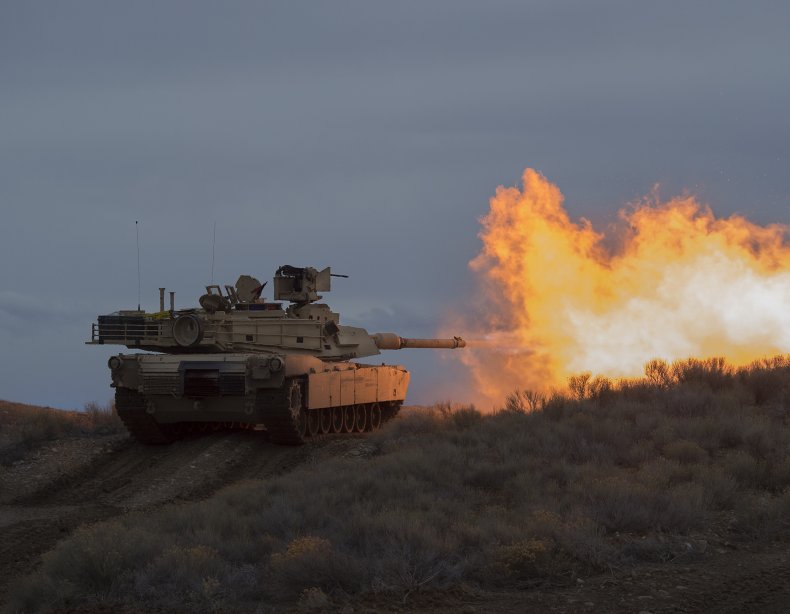 Also on Friday, People's Daily — the official newspaper of the ruling Chinese Communist Party — slammed the arms sale as a "flagrant interference in China's domestic affairs." In an editorial, the organization argued that such a move "harms China's sovereignty and security interests, poisons the development of military relations between China and the U.S., and gravely undermines the cross-strait relations and the peace and stability across the Taiwan Strait."
The revolutionary Communist Party essentially won China's bloody civil war in 1949 when it drove the nationalist Kuomintang government off the mainland and onto Taiwan, where a new government was formed and initially seen as the legitimate representative of China. In the decades since, however, global recognition has overwhelmingly shifted toward Beijing, which has held China's United Nations Security Council seat since 1971 and has never relinquished territorial claims to Taiwan.
Chinese ambassador to the U.S. Cui Tiankai also weighed in Friday, tweeting: "#Taiwan is part of #China. No attempts to split China will ever succeed. Those who play with fire will only get themselves burned. Period."
Under President Donald Trump, however, the U.S. has expanded contacts with Taiwan, whose leader arrived Thursday in New York as part of a four-day visit that has infuriated China. Geng said Friday that the U.S. must "not allow Tsai Ing-wen's transit and stop the official exchange with Taiwan."
The visit has further angered China at a time when Washington and Beijing were already locked in a trade war of tit-for-tat tariffs. Trump has declared 25 percent import tariffs on up to $200 billion worth of Chinese goods and has threatened to do the same, or perhaps a smaller 10 percent tariff, on to up to $300 billion more.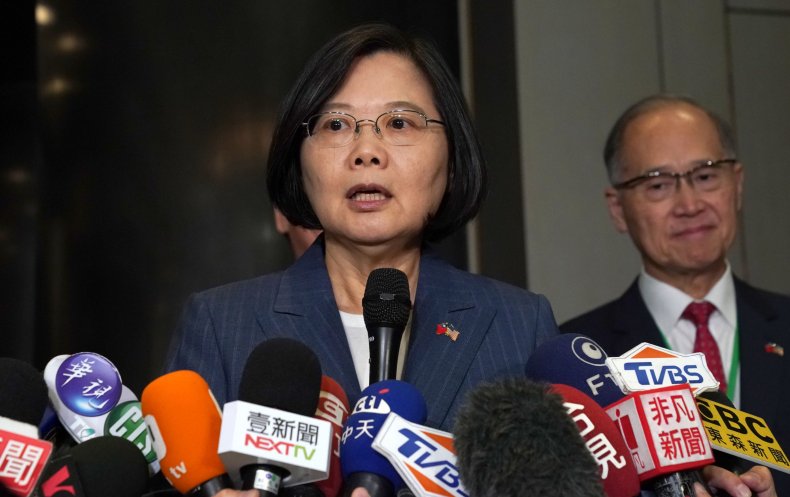 The U.S. has also targeted China's defense industry with sanctions in the past. In the first-ever use of the 2017 Countering America's Adversaries Through Sanctions Act, the Trump administration hit China's Central Military Commission over its acquisition of Russia's "Su-35 combat aircraft and S-400 surface-to-air missile system-related equipment."
The move drew negative reactions from both Moscow and Beijing, which has been reportedly considering purchasing more Su-35s. Russian President Vladimir Putin and Chinese President Xi Jinping have increasingly united against what they viewed as Trump's attempts to impose U.S. world order economically, politically and militarily across the globe.
Trump did, however, meet with both men at the recent Group of 20 (G20) summit in Osaka, Japan, and appeared to have made some progress on trade talks. Chinese Vice Premier Liu He spoke Tuesday with U.S. Trade Representative Robert Lighthizer and Treasury Secretary Steven Mnuchin in a bid to accelerate negotiations.
Update: (2:00 p.m. 7/12/2019) This article has been updated to include a tweet by Chinese ambassador to the U.S. Cui Tiankai.