China's defense minister Li Shangfu is reportedly under investigation for corruption and has been removed from his post. The general was last seen in public on August 29.
Unnamed U.S. officials believe he is at the center of an investigation, according to a report in the Financial Times. Li withdrew from a defense meeting in Vietnam at the 11th hour last week, with Beijing blaming a "health condition," according to a Reuters report citing unnamed officials.
He was appointed defense minister in March and joins a growing list of senior officials to disappear from public view recently in China.
He was last seen on August 29, where official images show he gave a keynote address at the China-Africa Peace and Security Forum in Beijing. His name still appears on the Ministry of National Defense of the People's Republic of China official website, which reported on the event.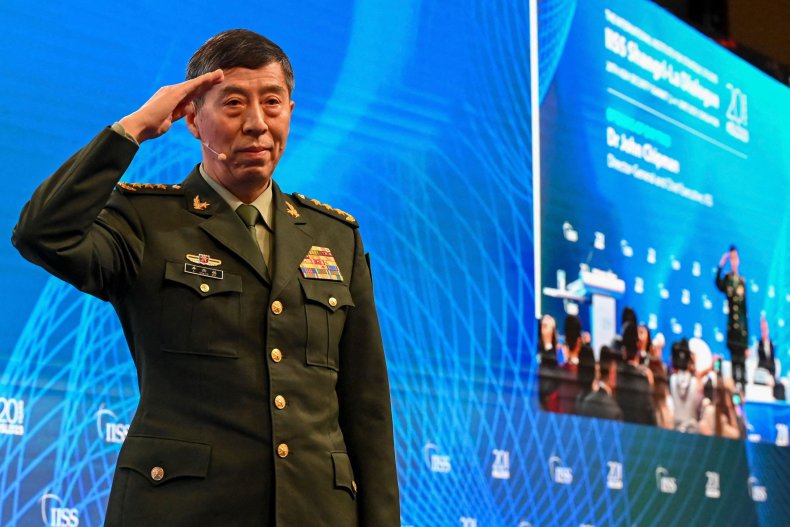 Li, 65, is from Xingguo in China's Jiangxi Province, according to his military profile. He joined the People's Liberation Army (PLA) in August 1982 having joined the Communist Party of China (CPC) in June 1980. He graduated from the Department of Control Theory and Control Engineering, Chongqing University, and holds a Doctor of Engineering degree.
One of his last public engagements was a meeting with former U.S. secretary of state Henry Kissinger on July 18 in Beijing. Two other recent meetings with his Russian defense counterpart took place in July and August, both in Moscow.
Li's disappearance from public view comes after the removal of China's foreign minister, Qin Gang, and senior leadership of the PLA Rocket Force, China's premier cadre in charge of the country's growing arsenal of nuclear weapons. There are suggestions that the charges Li faces are connected to this corruption case, according to the Financial Times.
Beijing has yet to comment, and he is still listed on official websites. Newsweek has emailed the Chinese and U.S. governments for comment.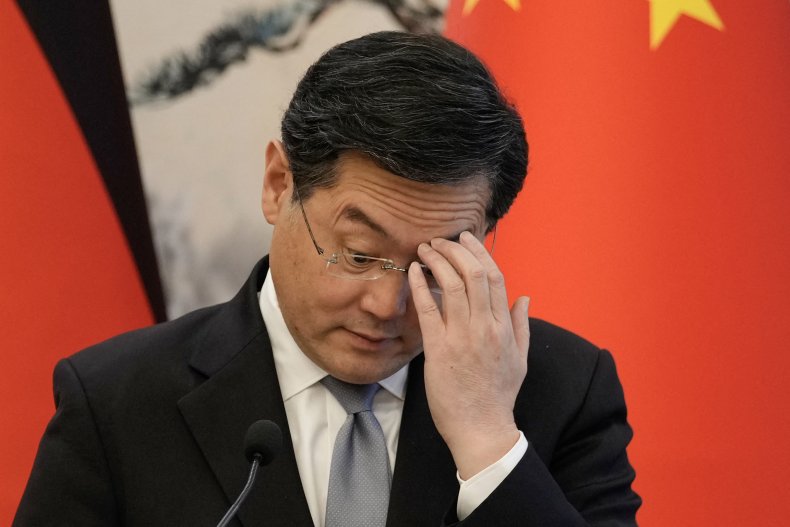 In August, two generals in China's rocket forces were replaced. The president of the army's military court was also removed just a few months after his appointment.
Qin Gang's disappearance in June followed a similar pattern to Li Shangfu's. In late July state news agency Xinhua delivered a matter-of-fact short report to say that he had been "removed."
General Li Yuchao, head of the PLA's Rocket Force unit, and his deputy were also been missing for months.
In 2018, Li Shangfu was sanctioned by the U.S. government when he presided over China's purchase of Russian combat aircraft and arms.
Rahm Emanuel, the US ambassador to Japan, posted on X, formerly Twitter, that China's government now resembled "Agatha Christie's novel 'And Then There Were None.'"
"First, Foreign Minister Qin Gang goes missing, then the Rocket Force commanders go missing, and now Defense Minister Li Shangfu hasn't been seen in public for two weeks," he wrote.
Li is one of just five State Councilors, a key Chinese Cabinet position that ranks higher than a regular minister.
Acting Chinese Foreign Minister Wang Yi may now be regretting his reported decision to skip this year's UN General Assembly in New York, given events.
Craig Singleton, senior China fellow at the non-partisan Foundation for Defense of Democracies, believes Wang, and China, are reshaping how they deal with the world, from the inside out.
"Xi's latest high-level purge underscores his belief that ideological cohesion, not economic performance or perceived military prowess, are the cornerstones of a nation's strength, a lesson he drew from the Soviet Union's collapse," he told Newsweek.
"The removal of Li and former foreign minister Qin Gang re-affirms a governing philosophy that de-emphasizes stable foreign relations in favor of a rigid ideological framework. That said, while this latest purge may raise eyebrows internationally, it is unlikely to materially alter other countries' diplomatic engagements with Beijing.
"Li's removal may not seriously impinge on China's state relations, but it will almost certainly reinforce the international business community's growing concerns regarding party overreach and dwindling transparency in China.
"Xi perceives an intrinsic link between rooting out corruption and fostering a military that is battle-ready and fully aligned with the Chinese Communist Party's guiding ideology.
"Despite the internal shake-up, U.S.-China relations are likely to remain on their existing downward trajectory, rooted in broader geopolitical dynamics rather than individual personnel changes," he added.
On Wednesday, China's State Council, effectively China's Cabinet, also announced the appointment and removal of several lower-ranking officials.
Chen Jiachang was appointed vice-minister of science and technology and Hu Weilie was appointed vice-minister of justice.
Liu Zhao was removed from the post of vice-minister of public security, and Xu Hongcai was removed from the post of vice-minister of finance. The council also reported that Xiang Dong will no longer serve as deputy director of the State Council Research Office and that Yu Bing was removed from the position of deputy director of the National Energy Administration.
On Thursday, Chinese President Xi Jinping demanded more effort to build Communist Party of China committees into "model organs that can be trusted by the party and meet the expectations of the people."
In a report carried across government departments and media houses, Xi said that the general offices of Party committees and governments "shoulder important responsibilities."
"On the new journey, the general offices ought to resolutely uphold the Party Central Committee's centralized and unified leadership and always follow the Party Central Committee closely in thought, political stance and action," Xi noted.
He urged the general offices to play a better role as the "advisors and assistants of Party committees and governments and make new and greater contributions to building China into a strong country and to the great rejuvenation of the Chinese nation."
Update 16/9/23, 9:25 a.m. ET: This article was updated with additional comments.