China Defends Hong Kong Stance as Video Surfaces Showing Alleged Police Brutality
China has continued to defend its stance on supporting the Hong Kong government amid widespread protests as a video emerged of local police appearing to beat a detained man in the semi-autonomous city.
Chinese Foreign Ministry spokesperson Geng Shuang denounced the United States' support for the months-long demonstrations sparked by a proposed bill that would allow Hong Kong residents to be extradited to other parts of China, arguing U.S. officials "will do whatever it takes to contain China." He praised Moscow's backing for Beijing on the issue as the Russian government faced protests of its own in the capital.
"Lately there have been several illegal marches in Moscow," Geng told reporters Tuesday. "The Russian government took measures to uphold social stability. There is sound legal basis for it. What is disturbing is that some Western countries rushed to the scene with their finger-pointing and tricks. Just as Russia described, this is typical interference in other countries' internal affairs and the very embodiment of hegemony."
"I need to point out the following," he added. "What certain foreign forces are up to in Russia is the same with their agenda in Hong Kong, China."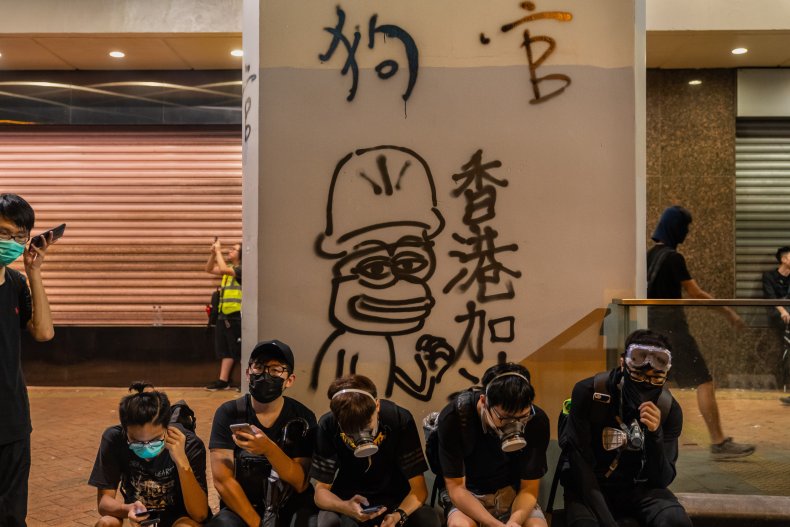 President Donald Trump's top officials have met with prominent figures in support of Hong Kong's opposition and the U.S. leader himself has even hinged his willingness to settle a multibillion-dollar trade war with Chinese President Xi Jinping to Beijing's response to the unrest. The United Kingdom, which colonized Hong Kong for about 150 years up until 1997, has also backed the protests, as has Canada, which recently joined the European Union in issuing a statement calling for "broad-based and inclusive dialogue" and calling for "freedom of assembly."
"In disregard of China's solemn position, international law and basic norms governing international relations, the Canadian side has made irresponsible remarks on Hong Kong affairs repeatedly and grossly interfered in China's internal affairs. China deplored and firmly opposes that," Geng told journalists.
"I would like to stress once again that Hong Kong affairs are purely China's internal affairs and brook no interference from any country, organization or individual," he added. "The Canadian side has no right to wantonly comment on Hong Kong affairs. Any attempt to create chaos and undermine Hong Kong's prosperity and stability will never win the support of the people and is doomed to fail."
Geng also hit out at Facebook and Twitter's recent claims of a state-sponsored online campaign to defame Hong Kong protesters. The social media giants have suspended hundreds of accounts they alleged spread disinformation about what was going on in Hong Kong on behalf of the Chinese government.
"It is just understandable that Chinese media use overseas social media to elaborate on China's policy and tell China's story and interact with local people," Geng said. "I wonder why certain companies or people would have such strong reactions. Did it somehow hit their soft spot?"
As turmoil continued to rock Hong Kong, however, police were under fire Tuesday for a different reason altogether.
Three Hong Kong police officers were arrested Tuesday for allegedly abusing a 62-year-old suspect in June. Video captured by the hospital's cameras and shared by Lam Cheuk Ting, a Democratic Party member of Hong Kong's Legislative Council, appeared to show cops beating and berating a gurney-strapped man who was himself accused of assaulting officers and was reportedly drunk at the time of his arrest.
In a statement, police said they were "highly concerned" about the incident and would "stringently follow up" on the case. The statement added: "Police reiterate that police officers are never allowed to use abusive force for their own sake. Police will follow up on the case in a fair, just and impartial manner."
The incident did not appear at all linked to the ongoing demonstrations, which have brought Hong Kong's police into the international spotlight as they faced off in increasingly violent confrontations with protesters. The central government in Beijing has continued to support Hong Kong's leadership and law enforcement but has repeatedly warned that the military—which was recently deployed for training in neighboring Shenzhen—could be sent in to restore calm if needed.