China Defends Legal Push to Ensure Only 'Patriots' Represent Hong Kong
Chinese officials are defending an anticipated overhaul of semi-autonomous Hong Kong's elections law, which are set to include more stringent measures to exclude prospective candidates who support independence from the mainland.
"This conference will make a decision on improving the election system of the Hong Kong Special Administrative Region," Chairman of the Standing Committee of the National People's Congress Li Zhanshu said Monday.
He detailed the agenda of the annual Two Sessions, a consequential time for Chinese political decision-making.
"The National People's Congress will unswervingly safeguard national sovereignty, security, and development interests in accordance with the law, and provide legal protection for maintaining Hong Kong's constitutional order," Li said, "combating 'Hong Kong independence' forces, ensuring that patriots rule Hong Kong, and maintaining Hong Kong's long-term prosperity and stability!"
The expected move has been discussed as part of a series of decisions being deliberated for the 13th National People's Congress and Chinese People's Political Consultative Conference events.
It would come less than a year after Beijing passed a national security law that extended the central government's control over Hong Kong after a series of demonstrations in favor of greater autonomy rocked the special administrative region, resulting in sometimes violent clashes between protesters and police.
Amid criticisms that the latest legislation limiting Hong Kong opposition's political potential ran contrary to the "one country, two systems" framework, Chinese Foreign Minister Wang Yi told reporters Sunday he sought to set the record straight.
"The move to improve Hong Kong's electoral system and ensure 'patriots administering Hong Kong' is necessitated by the need to advance the One Country, Two Systems cause and maintain long-term stability in Hong Kong," Wang said. "It is a constitutional power and responsibility of the NPC, and is totally constitutional, lawful and justified."
Demonstrating support for one's country, he argued, was a fundamental factor for anyone running for office across the globe.
"Loyalty to the motherland is a basic political ethic of all public office holders and aspirants anywhere in the world. Hong Kong is no exception," Wang added. "Hong Kong is a special administrative region of China, a part of the People's Republic. How can we expect someone who does not love his motherland to truly love Hong Kong? Loving Hong Kong and loving the motherland are consistent requirements."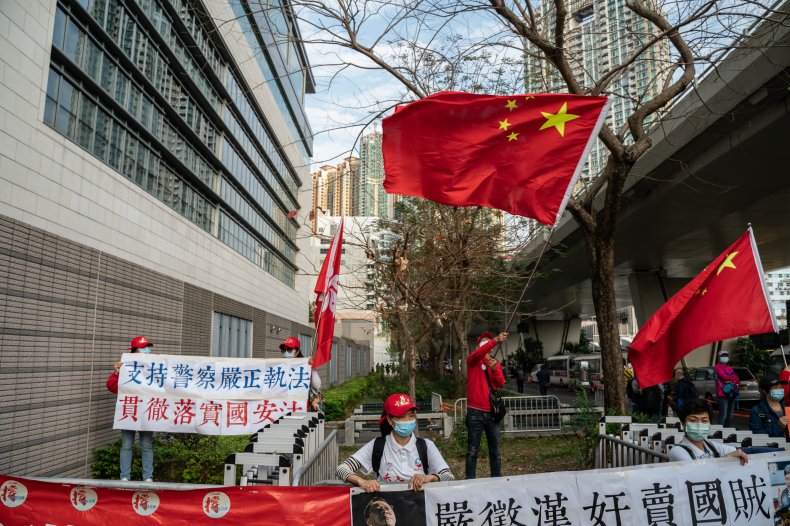 Hong Kong underwent 150 years of U.K. control before being handed over to China in 1997 under the "one country, two systems" formula that allows Hong Kong to partially administer its own affairs while ultimately remaining a part of the rest of the nation. Today, the United Kingdom and a number of other former colonies including Australia, Canada and the United States have accused China of undermining democracy in Hong Kong.
"The United States condemns the PRC's continuing assault on democratic institutions in Hong Kong," State Department spokesperson Ned Price said Friday, calling the upcoming plans to alter Hong Kong's election laws "a direct attack on Hong Kong's autonomy, Hong Kong's freedoms, and the democratic processes, limiting participation, reducing democratic representation, and stifling political debate in order to defy the clear will of the people of Hong Kong and to deny their voice in their own government and governance."
Price said the Biden administration "stands together with the people of Hong Kong, the people of Hong Kong who are seeking nothing more than the universal rights to which they are owed and should be guaranteed."
Wang argued Sunday, however, that democracy did not exist under the previous U.K.-ruled administration, and that Chinese reforms have actually empowered the region rather than oppress it.
"Under the colonial rule, there was no democracy to speak of in Hong Kong," Wang said. "Over the past 24 years since Hong Kong's return, no one has cared more about Hong Kong's democracy and continued prosperity and stability than the Central Government of China."
He said residents and investors alike would benefit from the changes, which were made with Hong Kong's best interests in mind.
"Hong Kong's shift from chaos to stability fully serves the interests of all parties. It will provide stronger safeguards for protecting the rights and interests of Hong Kong residents and the lawful interests of foreign investors," Wang said.
He reiterated China's unified policy toward Hong Kong.
"We have the resolve to continue to implement 'one country, two systems' under which the people of Hong Kong administer Hong Kong with a high degree of autonomy," Wang said. "We also have the confidence to usher in a brighter future for Hong Kong."
Asked about criticism from U.S. President Joe Biden's administration toward alleged human rights abuses in Hong Kong, Tibet and Xinjiang, Wang emphasized a need for "non-interference" to be core in bilateral relations between Beijing and Washington.
"The issues you referred to are mostly China's internal affairs. The Chinese people are in the best position to tell whether China is doing a good job," Wang said. "The Chinese people can best decide what is the right thing for China to do,"
He once again emphasized the "sovereignty" strain that has become a part of most official Chinese foreign policy communications.
"In the meantime, we are willing to communicate with all sides on the basis of respect for sovereignty to enhance mutual trust, remove misunderstanding, and share relevant facts," Wang said. "But we will not accept groundless accusations or defamation, and we will not allow our core interests to be breached."
He accused the U.S. of "willfully interfering in other countries' internal affairs in the name of democracy and human rights," an endeavor that "has created lots of trouble in the world and, in some cases, turbulence and conflict," one that should be rectified immediately.
While the U.S. and other major Anglophone countries continue to speak out against China's moves in Hong Kong, a number of other countries have voiced support for Beijing's position.
The permanent mission of Belarus to the United Nations spoke Friday on behalf of 70 member states who issued a joint statement at the 46th Human Rights Council session praising Chinese actions in response to unrest in Hong Kong and denouncing foreign designs for interfering in China's domestic affairs.
The comments were welcomed by Chinese Foreign Ministry spokespersons Wang Wenbin and Zhao Lijian in two separate briefings on Friday and Monday, respectively.
"Once again, the U.N. Human Rights Council was echoed with calls for justice jointly uttered by a great number of developing countries," the two men said. "It is crystal-clear that facts speak so much louder and justice will never fail to prevail."
Wang and Zhao reaffirmed China's commitment to the "one country, two systems" approach while vowing to defend the country against outside influence.
"China is determined in safeguarding national sovereignty, security and development interests, in implementing 'one country, two systems,' and in upholding prosperity and stability in Hong Kong," they said. "We urge the relevant parties to strictly observe international law and basic norms governing international relations, and stop interfering in Hong Kong affairs and China's internal affairs in any way."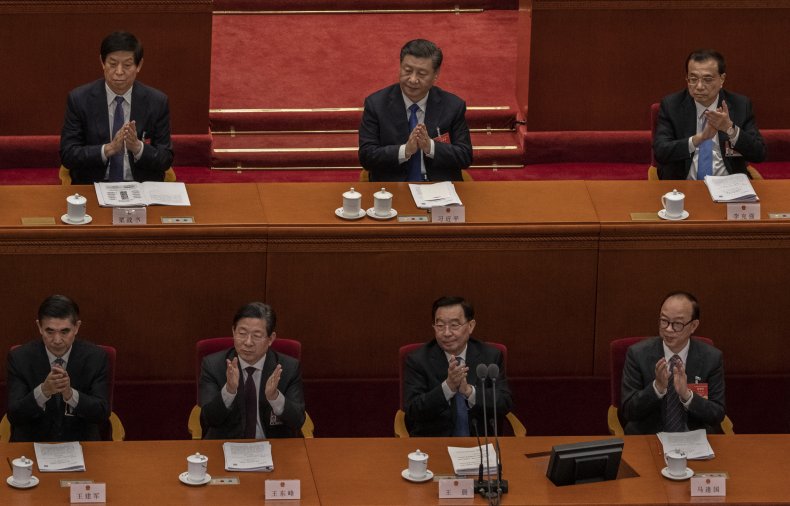 The upcoming shakeup in Hong Kong's electoral laws was also welcomed by Hong Kong Chief Executive Carrie Lam, who assured that the central government's goals were geared toward protecting the special administrative region from potentially harmful politicians coming to power.
"How could one who is governing a place not be patriotic to that country? It is inconceivable," she said. "This is the objective of this exercise, and I have to make it very clear that the improvements only seek to ensure that it is patriots administering Hong Kong."
Lam said the changes are necessary in order for Hong Kong to move forward.
"And it is only when that is assured then we could ensure the stability and prosperity of Hong Kong, we could effectively safeguard Hong Kong SAR's constitutional order under the Basic Law ," she said. "and we could also effectively resolve those deep-seated problems in Hong Kong and achieve Hong Kong's prosperity and stability."
She warned against "deficiencies in the electoral system, which could be exploited by people, including some external forces, and hence return politicians who may take advantage of their position to undermine governance or even to undermine national security and development interests of the country."
Top Hong Kong dissidents who have not yet been arrested have openly sought the help of Washington and other powers in a bid to push back against Beijing. Nathan Law, a former Hong Kong opposition lawmaker who moved to London last year, was set to testify Wednesday at the U.S. Senate Committee on Foreign Relations.
Secretary of State Antony Blinken also honored Chinese human rights lawyer Wang Yu on Monday, which marks International Women's Day, for having "represented cases involving abused children, ethnic minorities, women, and religious adherents," work he said "has brought government pressure on her through today."
Wang was arrested in a 2015 sweep of civil rights lawyers accused of subverting the state and the State Department has said she now faced an "exit ban."
Despite a change of administration in the White House, where former President Donald Trump first issued a tough stance against China, the U.S. has maintained a hardline stance toward the People's Republic. Still, both sides have hinted at the need for cooperation in certain fields.