China Demolishes Another Church, Sparking Fears of Campaign Against Christianity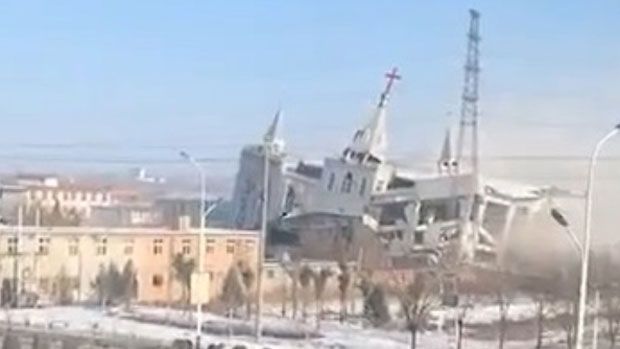 Authorities in northern China have demolished another church, sparking fears that the officially atheist Communist Party may be enforcing a campaign against Christianity.
The Golden Lampstand, a well-known evangelical megachurch in the city of Linfen, Shanxi province, was dramatically demolished with explosives on Tuesday.
According to witnesses, a large team of People's Armed Police and local officials detonated dynamite inside the building before using cranes and bulldozers to reduce it to rubble, reported The Guardian.
China Aid, a Texas-based Christian human rights organization, confirmed the demolition in a statement online.
"China's military police has been under the direct control of the central government since the head of the public security bureau, which previously commanded it, was arrested last year. This indicates that the order to destroy the church came from China's top officials instead of the less-powerful local authorities," the statement read.
Golden Lampstand Church has had a long history of tension with the communist government dating back to when it was built in 2009.
Congregation members were beaten by 400 officials during an incident in September 2009, which resulted in church leaders receiving lengthy prison sentences on nonsense charges such as assembling a crowd to disrupt traffic and illegally occupying agricultural land, according to the statement.
"I think this might be a new pattern against any independent house churches with an existing building or intention to build one," Bob Fu, founder of China Aid told The Guardian.
"It also could be a prelude to enforcing the new regulation on religious affairs that will take effect in February," he added.
This is the second time in the past month that a church has been demolished in the area. Last December, the only Catholic Church in Zhifang, a village near Shaanxi, was destroyed for no apparent reason, 20 years after it opened, according to Asia News.
At the time, Catholics in the area took to social media to post pictures of the demolition alongside papers proving the church's permanent permits to occupy the land.
Although freedom of religion is an established right in China, local authorities use rigid laws and legal loopholes to attack smaller congregations.
Under rigid laws in China, any religious groups must be registered with local authorities. The Golden Lampstand was an unregistered independent church opened by an evangelist couple who served a congregation of over 50,000 people.