Why Has China Detained A Former US Air Force Pilot?
Authorities in Southern China have reportedly detained an American FedEx pilot for carrying non-lethal ammunition during an already-troubled time for relations between Beijing and Washington.
Citing unnamed sources, The Wall Street Journal reported Thursday that former U.S. Air Force Colonel Todd Hohn was apprehended last week at the Guangzhou airport. The Hong Kong resident was said to have been awaiting a Cathay Dragon flight home after making deliveries in the region when authorities discovered nonmetallic pellets used in air guns in his luggage.
Hohn was reportedly accused of illegally transporting ammunition and a family lawyer in Florida confirmed to The Wall Street Journal that he had been detained in China.
Sources told the newspaper that Hohn was released and moved to a hotel, but his passport, cellphone and other communication devices remained in the custody of authorities and he has been refused exit from mainland China until an investigation concluded.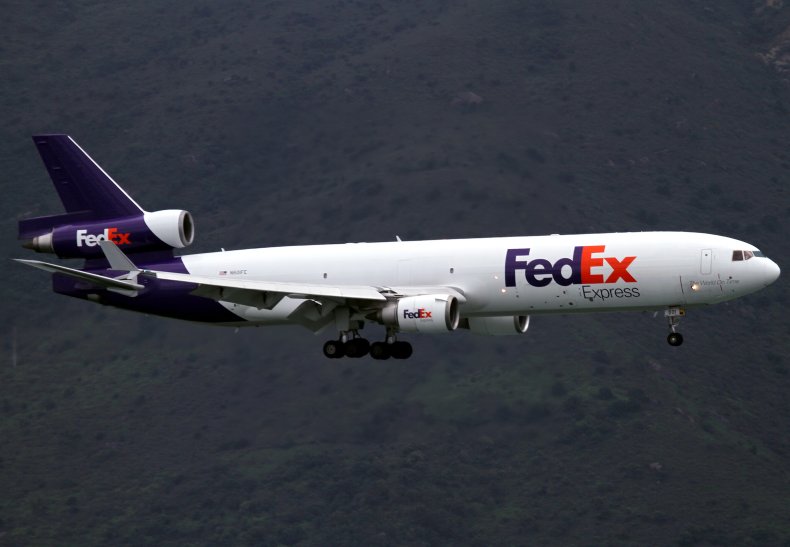 "Chinese authorities in Guangzhou detained and later released one of our pilots on bail after an item was found in his luggage prior to a commercial flight," FedEx Corporation said in a statement to The Wall Street Journal. "We are working with the appropriate authorities to gain a better understanding of the facts."
No explanation of why Hohn was transporting the pellets was provided.
FedEx was one of many companies caught in the middle of a growing trade war of tit-for-tat tariffs between the U.S. and China, the world's two largest economies. Shares of the international courier service saw a massive decline of over 13 percent Wednesday, the worst drop in 11 years, and the company lowered its profit forecast for FedEx Express, its global ferry and cargo unit.
June, in particular, was a tumultuous month for FedEx as it sued the Trump administration over tightened trade rules and China threatened to blacklist the U.S. company following a slew of incidents that month.
FedEx faced criticism for mishandling goods manufactured by U.S.-blacklisted Chinese tech giant Huawei. In one incident, FedEx delivered Huawei packages to Memphis instead of China. Later that month, the shipping company returned a Huawei phone sent to the U.S. by a journalist in the United Kingdom. FedEx has apologized for both incidents.
The company was also under fire for a third June incident in China after authorities discovered a pistol in a package sent to the country from the U.S. China's official Xinhua News Agency also reported earlier this month, citing unnamed official sources, that FedEx delivered restricted knife tools to Hong Kong.
The semi-autonomous city has experienced months-long protests against a proposed bill that would have allowed the local government to extradite suspects wanted for crimes in other parts of China back to the mainland. Hong Kong Chief Executive Carrie Lam has officially withdrawn the bill, but demonstrators have called for her resignation and for wider loosening of voting restrictions as periodic unrest continue to grip the city.
The U.S. has offered support for the protesters, angering China, which considers the issue a matter of internal affairs.
As for Hohn himself, Business Insider reported that he was the commander of the 97th Air Mobility Wing at Oklahoma's Altus Air Force Base until 2017.