China Developing Unique Laser Gun for Faster Hypersonic Missiles and Planes
Scientists at a Chinese military institute are developing a hypersonic vehicle–mounted laser gun that could greatly improve the efficiency and stability of future missiles and aircraft.
The research, conducted by members of the People's Liberation Army-affiliated Space Engineering University in Beijing, has modeled potential technology to overcome the major obstacle of air resistance, according to a paper published in the July issue of the monthly journal Laser & Infrared.
The method involves firing a laser at the molecules in front of a hypersonic vehicle, creating air plasma, or a "hot core," that manipulates the structure of the shock wave developing in front of the missile or airplane as it travels at more than five times the speed of sound, or Mach 5.
"Laser plasma drag reduction technology is of great significance for hypersonic aircraft drag reduction and thermal insulation and improves aircraft performance," authors Shi Jilin and Wang Diankai, from China's State Key Laboratory of Laser Propulsion and Application, wrote in the abstract of their work released online last Thursday.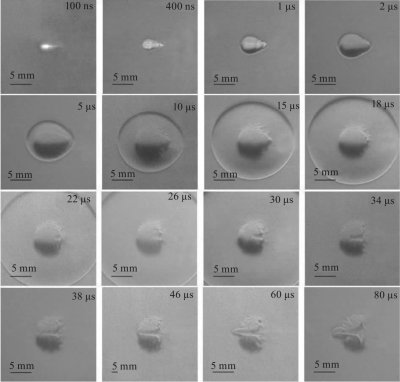 According to the research team, airflow control has long been one of the greatest aerodynamic challenges in the design of high-speed aircraft. As weapons in flight approach the sound barrier, air resistance creates a shock wave at the nose of the craft, greatly increasing drag and surface heating.
A teardrop-shaped plasma deposited by a laser device in front of the hypersonic vehicle acts in opposite directions to modify the structure of the shock wave, altering the distribution of speed and pressure, the paper said. This can successfully reduce drag and make the flight safer and more economical—suggesting greater fuel-saving potential, too.
According to Hong Kong's South China Morning Post, which first reported the research on Tuesday, air resistance was reduced by over 70 percent.
Although many technical challenges remain, including the need to develop a laser powerful and small enough to be fitted in front of a hypersonic weapon, Shi and Wang said China is already designing weapons with this technology in mind. Similar practical studies have also taken place in wind tunnels in the United States, demonstrating the possibility of airflow control via laser discharge.
While the Chinese team's focus is on drag reduction, the paper notes that the application of the technology also could reduce sonic booms, which is one environmental factor of supersonic aircraft testing.
Shi and Wang said the laser plasma method could grant hypersonic vehicles longer and more stable flights, as well as potentially boosting flexibility in their ability to steer.
Airflow control "has a lot of potential" and has received much research attention, the authors concluded. While the modeling shows the effectiveness of the plasma in shock wave manipulation under different conditions, researchers are yet to agree on the most suitable position to deposit it, they added.
The Space Engineering University was incorporated into the PLA Strategic Support Force under military reforms in 2015.