China appears to have been able to ease social distancing measures put in place to stop the coronavirus outbreak without COVID-19 returning, according to a report.
After initially downplaying the emergence of a mysterious new virus in the central city of Wuhan in December last year, officials in China implemented aggressive measures to stop COVID-19 from spreading, including quarantining millions of people.
The report by the COVID-19 Response Team at the U.K.'s Imperial College London—which helps to advise the World Health Organization (WHO)—stated "social distancing measures enacted in China have led to control of COVID-19" in that country.
In its five hardest hit provinces and Beijing, the researchers at first found a "very" strong correlation between movement and the virus spreading. But that correlation seems to have disappeared even though people have started to move more within cities, they said.
Their findings "suggest that after very intense social distancing, which resulted in containment, China has successfully exited their stringent social distancing policy to some degree."
As China is further ahead in the pandemic than other countries, "policies implemented to reduce the spread of COVID-19 in China and the exiting strategies that followed can inform decision making processes for countries once containment is achieved," the scientists said.
However, the team highlighted it is unclear whether the Chinese economy can to go back to normal without restarting the epidemic.
As shown in the Statista map below, more than 420,000 people have developed COVID-19. Over 18,900 have died, and almost 110,000 have recovered, according to a dashboard kept by Johns Hopkins University. China hit what appeared to be its peak in early February, when between 2,000 and 4,000 cases were reported each day, according to the Imperial College London report. But by mid-March it had no new confirmed cases of local transmission.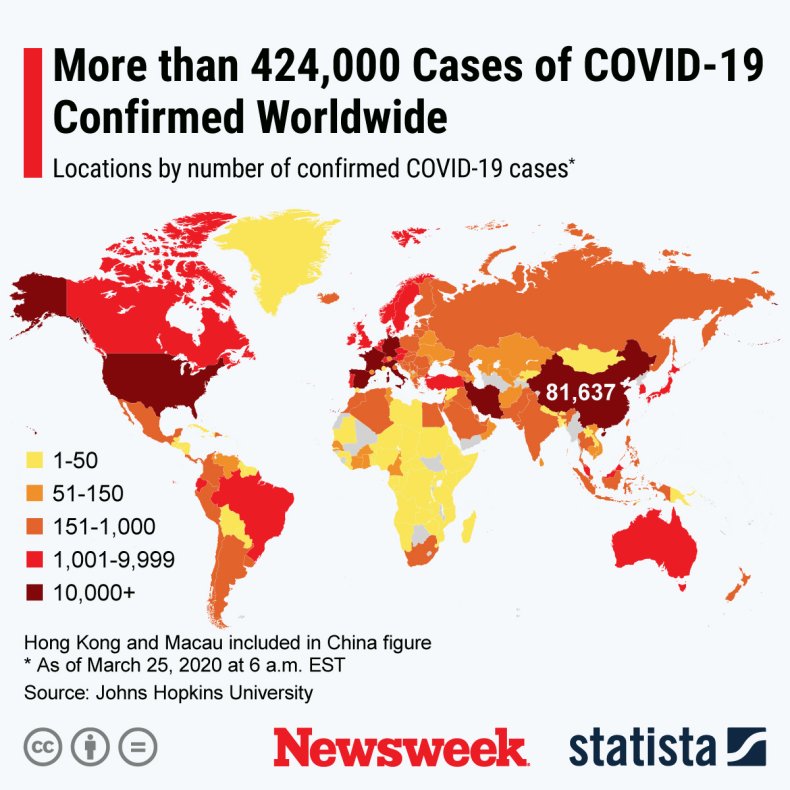 The researchers looked at data on reported COVID-19 cases in mainland China, Hong Kong and Macau. They compared these figures with estimates on how many people were travelling in the capital Beijing, as well as major metropolitan cities in the provinces of Hubei, Beijing, Guangdong, Henan, Hunan, and Zhejiang, between January 1 to March 17 2020.
An analysis of Hong Kong, where fewer strict restrictions were imposed, showed economic activity was kept relatively consistent while COVID-19 was contained, according to the researchers.
But the team said their findings do not mean future epidemics cannot happen in China, and it remains unclear how much people can safely return to normal activities within cities in the medium term.
The researchers went on to stress that their work shows correlations between stopping movement and control of the disease, but does not prove the former caused the latter. In addition, confirmed cases are only a fraction of the total number of infected people, they said.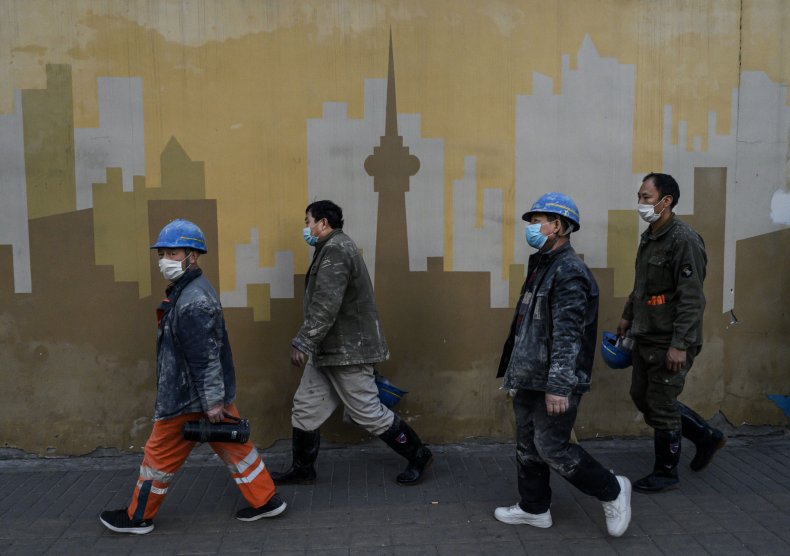 Professor Neil Ferguson, an epidemilogist at Imperial College London and co-author of the report, told the Fact Check arm of the U.K. broadcaster Channel 4 News that countries in lockdown can find hope in "that once case numbers are brought to low levels, it might be possible to relax social distancing—provided equal measures to limit the risk of the resurgence of transmission are introduced."
But he also warned: "Such suppression maintenance policies will likely need to rely on rapid and ubiquitous testing and rigorous case and contact isolation policies."
Brendan Wren, professor of microbial pathogenesis at the London School of Hygiene and Tropical Medicine, who did not work on the report, commented in a statement: "The latest data from Wuhan is encouraging and points the way to implementing strict social distancing measures in getting the epidemic under control.
"However, we still have no idea of the proportion of the population who are immunologically naïve to the virus and still [susceptible] to the potential re-emergence of the virus. A reliable antibody test to sample a large cross-section of the population for COVID-19 infection/carriage is a current global imperative."
In a separate report published in late February, the World Health Organziation-China Joint Mission on COVID-19 praised the country's "bold" response to the coronavirus outbreak which it said had "changed the course of a rapidly escalating and deadly epidemic."
However the authors acknowledged: "Containing this outbreak, however, has come at great cost and sacrifice by China and its people, in both human and material terms."
World Health Organization advice for avoiding spread of coronavirus disease (COVID-19)
Hygiene advice
Clean hands frequently with soap and water, or alcohol-based hand rub.
Wash hands after coughing or sneezing; when caring for the sick; before, during and after food preparation; before eating; after using the toilet; when hands are visibly dirty; and after handling animals or waste.
Maintain at least 1 meter (3 feet) distance from anyone who is coughing or sneezing.
Avoid touching your hands, nose and mouth. Do not spit in public.
Cover your mouth and nose with a tissue or bent elbow when coughing or sneezing. Discard the tissue immediately and clean your hands.
Medical advice
If you feel unwell (fever, cough, difficulty breathing) seek medical care early and call local health authorities in advance.
Stay up to date on COVID-19 developments issued by health authorities and follow their guidance.
Mask usage
Healthy individuals only need to wear a mask if taking care of a sick person.
Wear a mask if you are coughing or sneezing.
Masks are effective when used in combination with frequent hand cleaning.
Do not touch the mask while wearing it. Clean hands if you touch the mask.
Learn how to properly put on, remove and dispose of masks. Clean hands after disposing of mask.
Do not reuse single-use masks.
Uncommon Knowledge
Newsweek is committed to challenging conventional wisdom and finding connections in the search for common ground.
Newsweek is committed to challenging conventional wisdom and finding connections in the search for common ground.
About the writer
Kashmira Gander is Deputy Science Editor at Newsweek. Her interests include health, gender, LGBTQIA+ issues, human rights, subcultures, music, and lifestyle. Her work has also been published in the The Independent, The Independent on Sunday, The i Newspaper, the London Evening Standard and International Business Times UK.