The State Council of the People's Republic of China has an official app. Every day it publishes upbeat stories, with positive headlines about growth and development. The words "deflation," "downturn" or "crisis" are nowhere to be found.
China is in the grip of what many are already calling an economic crisis, but the government has gone to considerable lengths to gloss over the structural and sector-specific pain points by highlighting things it considers are going well, such as electric vehicle sales and tech developments.
Social media campaigns are busily spinning and glossing, while editorials in state-run newspapers hit out at Western media outlets for what they label biased reporting. Full disclosure: Newsweek is no exception. On Monday the editorial board of the state-run Global Times complained about our coverage of China and its economic woes.
It wrote: "If China's economy is facing a long-term crisis, why are American technology companies still striving to expand their presence in China despite various restrictions?
"For China, some people from the outside creating false information about China's economy is despicable and condemnable. We must first maintain composure and judgment, not be swayed by malicious rumors and manipulations, and concentrate on doing our own things well. Let the fact that China's economy is thriving and moving forward vigorously serve as the most powerful refutation against them."
Internally, there are moves to stabilize the situation and to retrain and help citizens, going by the projects the State Council is happy to report on. Externally, it's a different story.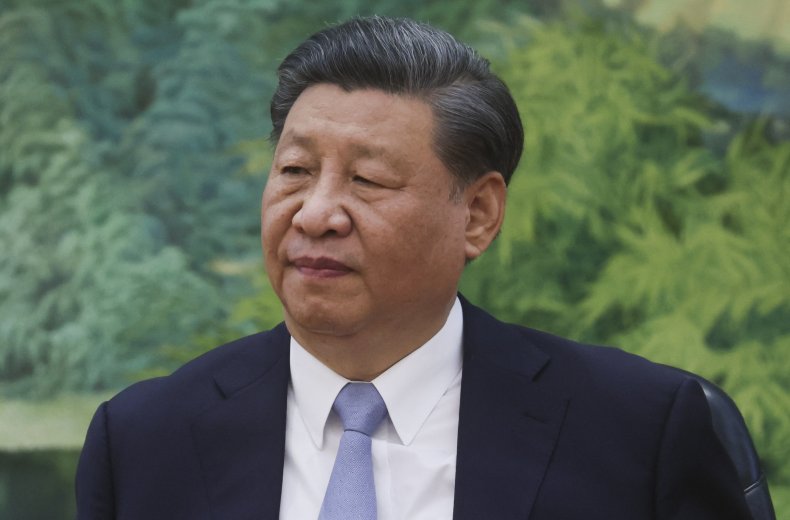 The World Economic Forum (WEF) report on China's property market, released on Thursday, cannot be spun, however. It explained that China Evergrande Group's shares plummeted 79 percent in August and Country Garden reported a $6.7 billion loss for the first half of 2023. These are two of the biggest property developers in the country.
The report added that it is "estimated that 60-70 percent of China's household wealth is concentrated in housing, reinforcing the potential ramifications of problems in the sector to the wider economy."
The WEF also revealed that state-owned developers had 48 percent growth in contracted sales in the first seven months of the year, while non-state-owned companies saw contracted sales fall by 19 percent. Some 87 percent of land purchases are by state-owned firms.
The study's author, WEF real estate lead Kalin Bracken, wrote that the "downturn seems fairly contained to the property sector and the domestic economy. But a downturn in the world's second largest economy is still a significant factor for the global economy. Barclays, Citigroup and UBS all recently downgraded growth projections for China."
Where China's government is spending money
Examining the positive stories rushed out by the State Council reveals where money is seemingly being spent.
China spent a total of 126.5 billion yuan ($17.35 billion) in subsistence allowances, extreme poverty aid and temporary assistance grants in the first six months of 2023, according to Ministry of Finance figures.
The ministry is also rolling out policies to boost inclusive finance over the next five years. These measures will take effect on October 1, with central government funding start-ups and rural financial institutions.
Inclusive finance lending to small and micro-sized companies reached 27.7 trillion yuan ($3.85 trillion) at the end of June, up 26.1 percent year on year, according to the Ministry of Industry and Information Technology.
China has also accelerated the construction of government-subsidized rental housing projects since the start of the year, in order to help new citizens and young people, according to the country's housing department.
These figures are difficult to verify independently, but they do give some insight into where China is spending and on whom.
Tan Kong Yam, professor of economics at Nanyang Technological University in Singapore, believes the critical question is whether the collapse of the property sector could trigger a serious financial crisis.
"I think the likelihood is smaller than some of the market observers fear. Presently in China, most of the debt is in [yuan], not in foreign currencies, as was the case in Latin America and several [southeast Asian] countries during the financial crisis of 1997," he told Newsweek.
"Almost all the risky debt of private developers, Evergrande, Country Garden, is overseas. So, even if these companies were to go bankrupt, it would only hurt the high net worth individuals of overseas investors and not the domestic banks.
"China's four largest banks are state-controlled. Unlike Western governments and their private sector banks, it is much easier for Beijing to direct its 'big four' banks to work together to forestall a systemic threat."
Tan added: "The government also has significant leverage over the key borrowers, whether they are private or state-owned real estate companies, trust funds, as well as players in the large shadow banking system.
"China has published foreign reserves of $3.2 trillion as of July 2023 and substantial unpublished reserves hidden in the state-owned banking system."
Adem Tumerkan, editor of the Speculators Anonymous website, believes the amount of household wealth tied up in real estate has crushed consumer confidence, leading to mortgage holders paying down debt at alarming rates.
"This is deflationary and historically a tipping point," he told Newsweek. "Housing made up around 30 percent of China's GDP as of 2021 and over 70 percent of household wealth is tied to real estate.
"China's economy is wildly unbalanced. They have a very low share of consumption and it's finally caught up to them."
Even the country's poster child industry—electric vehicles—is affected. On Wednesday the European Union announced an investigation into Chinese auto makers, alleging that they were given government subsidies to keep electric car prices artificially low.
Commerce Ministry spokesperson He Yadong called the EU inquiry "naked protectionist behavior that will seriously disrupt and distort the global automotive industrial chain and supply chain."
Beijing is ramping up the social media campaigns across the country and outside its borders to block and mock negative data about the nation's faltering recovery. Newsweek has emailed the Chinese Ministry of Foreign Affairs for comment.
Under-25s are the hardest hit. The most telling thing the Chinese aren't telling us is how many are jobless. Official statistics from June recorded that more than one in five young people in urban areas could not find a job.
Then Beijing stopped publishing the figures.