China's Expulsion of 3 Journalists Over WSJ Coronavirus Op-ed Condemned As 'Unprecedented Form of Retaliation'
The Foreign Correspondents' Club of China condemned China's decision to expel three Wall Street Journal journalists over a new coronavirus op-ed published by the newspaper that the authoritarian country deemed racist.
"Simultaneously revoking press credentials of three correspondents is an unprecedented form of retaliation against foreign journalists in China," the FCCC said in a statement.
China revoked the press credentials of U.S. nationals Deputy Bureau Chief Josh Chin and reporter Chao Deng and Australian national Philip Wen, ordering them to leave the country in five days, according to the WSJ. On Wednesday, Foreign Ministry spokesman Geng Shuang said the expulsion was due to the WSJ's "racially discriminatory language" and "malicious" slandering China.
The attack on China that Shuang referenced was a February 3 op-ed titled, China Is the Real Sick Man of Asia. Written by Bard College Professor Walter Russel Mead, it criticized China's "less than impressive" initial response to the new coronavirus, COVID-19, which has infected more than 73,300 people and killed 1,870, according to the World Health Organization.
In the op-ed, the foreign affairs and humanities professor claimed the outbreak could have a massive impact on China's economy because of its state-driven lending, corrupt behavior from government officials, "towering property bubble" and industrial overcapacity.
"China's financial markets are probably more dangerous in the long run than China's wildlife markets," Mead wrote, referencing the suspected origin of the virus. "Even a small initial shock could lead to a massive bonfire of the vanities as all the false values, inflated expectations and misallocated assets implode."
The opinion page operates independently of the WSJ's newsroom and none of the expelled journalists were involved in the crafting of the op-ed piece that drew China's ire.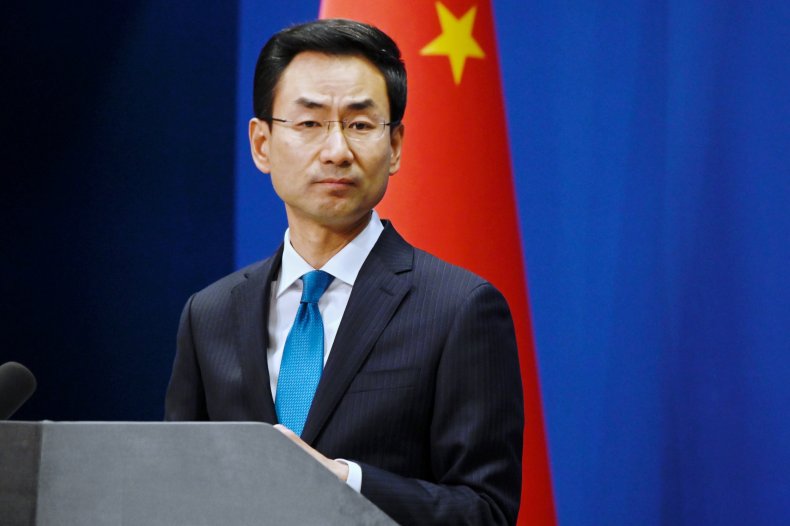 FCCC, a professional association of foreign journalists in Beijing, acknowledged this separation between news and opinion and called the actions taken against the journalists "an extreme and obvious attempt" by China to "intimidate foreign news organizations." The association added that its members were "suffering" from increased harassment, surveillance and intimidation from Chinese authorities.
"China has evicted fair and talented journalists who have worked hard to bring unbiased, informative reports to their audiences and to understand China," the FCCC said in Thursday's statement.
Ahead of the news of China expelling the three WSJ reporters, the State Department designated five Chinese state-run media organizations—Xinhua News Agency, China Global Television Network, China Radio International, China Daily Corporation and Hai Tian Development USA—as foreign missions. The designation indicates that they are "substantially owned or effectively controlled" by a foreign government and requires them to share information about their personnel in the U.S. and their current property holdings with the Office of Foreign Missions.
Newsweek reached out to the Wall Street Journal and China's Ministry of Foreign Affairs but did not receive a response in time for publication.
Since 2013, nine journalists were "expelled or effectively expelled" from China, according to the FCCC, and in August, China declined to renew press credentials for Chun Han Wong, a reporter for the WSJ. The effective expulsion came after he wrote an article about Australia's law enforcement scrutinizing the activities of Ming Chai, a cousin of President Xi Jinping.
Melissa Chan, who was expelled from China in 2012 while working as a correspondent for Al Jazeera, posted on Twitter that the debate wasn't about whether the op-ed's title was racist, as China argued. She claimed China was waiting for a chance to act, so if it wasn't the WSJ op-ed, it would have been something else.
"In 2012, it wasn't that I did anything particularly problematic. It was because the shifting political climate called for the Foreign Ministry to do something, which it hadn't against the foreign press corps in some time. I was an opportunity. Same thing here with WSJ," Chan wrote.
While journalists have been forced to leave China, Wednesday's decision was precedent-setting. It was the first time China's government expelled multiple journalists from one international organization at the same time since Chairman of the People's Republica of China Mao Zedong's death in 1976, according to the WSJ.
"The expulsion of these three WSJ reporters is only the latest, and most alarming, measure authorities have taken," FCCC said.