China Faces Consequences if It Helps Russia Skirt Sanctions: Jake Sullivan
China will not go unpunished if it helps Russia evade economic sanctions enacted in response to its invasion of Ukraine, national security adviser Jake Sullivan said Sunday on CNN.
The White House official made it clear that such actions would "absolutely" have consequences for Beijing and explained that the U.S. is closely monitoring any and all support China is currently providing Russia.
"We are communicating directly, privately to Beijing, that there will absolutely be consequences for large-scale sanctions evasion efforts or support to Russia to backfill them," he said. "We will not allow that to go forward and allow there to be a lifeline to Russia from these economic sanctions from any country, anywhere in the world."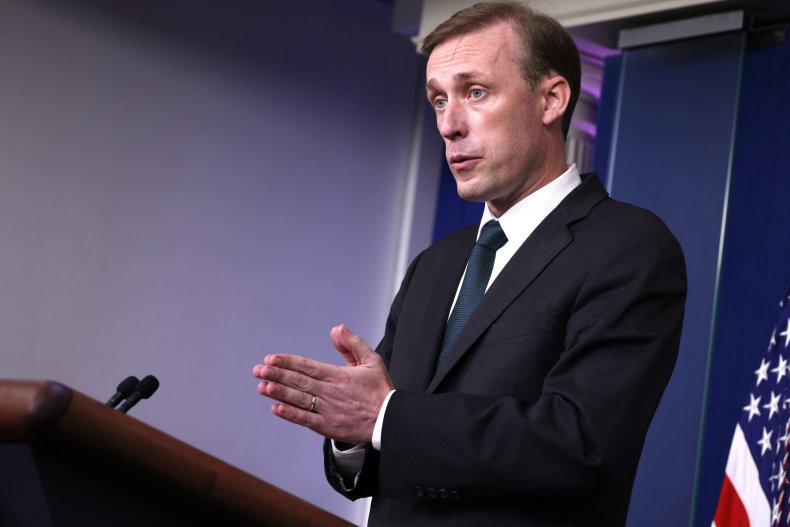 Sullivan will meet with Yang Jiechi, a top Chinese diplomat, in Rome on Monday. The invasion will reportedly be a major topic of discussion during the meeting, according to Reuters, due to China's effort to seemingly align itself with Russia. The White House purportedly has no specific outcome in mind for the meeting.
China remains a major trading ally for Russia, constituting its biggest exporter, and has notably refrained from calling its action in Ukraine an "invasion." It has, however, said that it respects the sovereignty of Ukraine, with Chinese President Xi Jinping calling for "maximum restraint" on Russia's part.
Jinping has shared concern over the effect of international sanctions on energy and supply chains. Reuters reported that China is potentially having difficulty importing Russian oil due to the litany of global sanctions imposed by Western powers.
The White House is reportedly concerned that Russia has reached out to China for military equipment and other support, according to a report from the Financial Times, raising the possibility that the latter could work to undermine efforts to help the Ukrainians. These requests have reportedly been made since the start of the invasion in late February.
During a meeting last week between Jinping, French President Emmanuel Macron, and German Chancellor Olaf Scholz, the European leaders implored China to act as a mediator in the Russia-Ukraine conflict. Also present during the summit was European Union Foreign Affairs Chief Josep Borrell who said there is no alternative in the matter.
"We [Europeans] cannot be the mediators, that is clear," Borrell said. "And it cannot be the US either. Who else? It has to be China."