China Faces World's Longest Civil War in Neighboring Myanmar, A Crisis It Can't Avoid
As unrest deepens across China's porous border with Myanmar, the outbreak of an all-out war could trigger a triple security, economic and humanitarian crisis that would motivate Beijing to rein in the conflict before being forced to take more heavy-handed measures that would have far-reaching strategic ramifications.
In early May, as China assumed the rotating presidency of the U.N. Security Council, permanent representative Zhang Jun painted a grim picture of the deteriorating situation in a neighboring country if it continues to devolve into turmoil.
"With further escalation of the tension, there will be more confrontation and with more confrontation, there will be more violence, and with more violence, there will be more casualties, and then we may go further down the wrong direction," Zhang said. "It may also mean a chaotic situation in Myanmar, even a civil war."
He then reminded reporters attending the press briefing of China and Myanmar's approximately 1,800 kilometer, or roughly 1,120 mile, border—a distance comparable to the troubled border between Texas and Mexico.
"We fully understand the situation in Myanmar," Zhang said.
Actually, Myanmar is already in the throes of civil war, and it technically has been since it first won its independence from the United Kingdom in 1948, a tumultuous year across the globe, in which the British monarchy's flight from its Palestinian and Indian colonies also led to regional conflicts. The year also marked the establishment of the two rival Koreas, whose own war would mark China's last major military deployment in a foreign country.
So far, China has managed to avoid the quagmires of intervention associated with its global rise toward superpower status. And while flashpoints glare at the People's Republic along areas of contention near India, Taiwan and the greater South China Sea, Chinese officials are aware that the sudden flare-up of instability in Myanmar, which hosts an array of Chinese economic projects linked to a critical corridor of President Xi Jinping's Belt and Road Initiative, could prove a major strategic headache.
China's goal is to avoid getting to that point.
"China's ambitions in Myanmar are medium- and long-term," Andrew Davenport, chief operating officer at the RWR Advisory firm, which operates a Belt and Road Monitor, told Newsweek. "The country plays a highly important role in Beijing's Belt and Road Initiative and long-term designs for regional infrastructure and port access to, and along, the Indian Ocean."
As such, "any intervention would likely be driven by broader strategic ambitions, rather than any short-term economic calculations," he said. "This doesn't mean they won't intervene, particularly in non-public ways, but any action that puts its longer-term goals at risk, including irreversibly estranging the people of Myanmar, would be a major setback for China."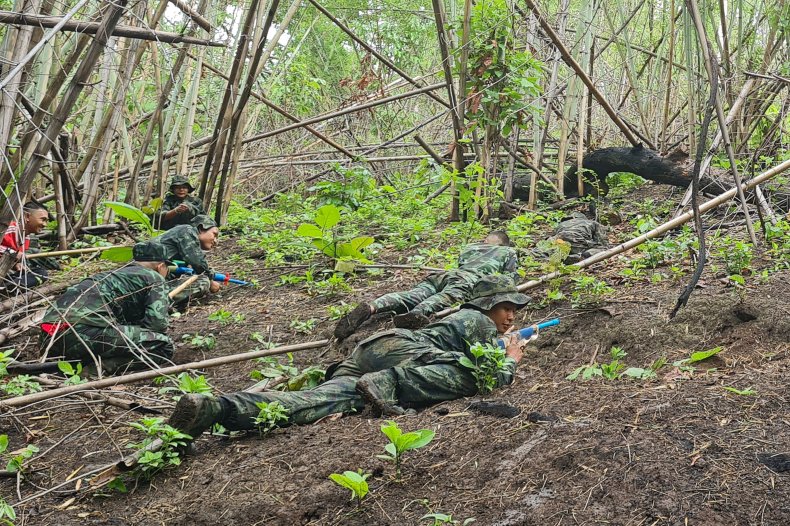 Displays of anti-China sentiment has already emerged despite the fraternal, so-called "pauk-phaw" relationship with Myanmar, where some blame the titan next door for enabling the military's power grab by continuing to trade with the new government and blocking U.N. Security Council resolutions as the crisis deepened.
"We condemn China's continued business with the Myanmar junta and its conglomerates, including arms sales to the military," Yadanar Maung, a spokesperson for Justice For Myanmar activist group, told Newsweek. "China's business is a key source of revenue for the illegal junta, financing international crimes the military is committing against the people, including deliberate killings, torture and disappearances."
Officially known as the Tatmadaw, the armed forces reasserted their historic power in early February after disputing elections that saw great gains for State Counsellor Aung San Suu Kyi's National League for Democracy. Troops have since cracked down on widespread protests and, in doing so, sparked a military campaign against at least two of the country's many Ethnic Armed Organizations that rule Myanmar's outskirts.
As the conflict deepened, Yadanar Maung specifically expressed concern about China-Myanmar pipelines and China's mining and hydropower interests in the country, "some of which are in ethnic areas fueling civil war," the spokesperson said. "China cannot continue business as usual after the February attempted coup. They must end complicity in the military's crimes and corruption."
Chinese infrastructure and businesses have already been attacked. In one particularly violent incident, three security personnel were reportedly hacked to death in early May as they stood guard by a Mandalay off-take station of key twin pipelines, which carry 22 million tons of crude oil and 12 billion cubic meters of natural gas annually to China.
Davenport of the RWR Advisory identifies these pipelines as among the foremost of an array of Chinese projects "in, or linking to, Kyaukphyu, a deep-water port city on the Indian Ocean that holds strategic potential for China for a variety of economic and potentially military reasons."
"These projects are part of a framework that China would like to see enhanced—and publicly supported—to solidify its available options for maritime operational purposes in the region," he said, "and circumventing the strategically and militarily vulnerable Malacca Strait in the event of conflict."
The strategic importance of the China-Myanmar Economic Corridor has grown in parallel with China's concerns over the coalescing of some of its top competitors. The U.S. has rallied Australia, India and Japan as part of the Quadrilateral Security Dialogue, whose mission was to ensure "a free and open Indo-Pacific" in a thinly-veiled slight at China, which all four have accused of aggressive geopolitical moves in the region.
And while the Quad has sought to assert its own influence in Asia, finding common ground on Myanmar has proven challenging. A joint statement in March called for a restoration of democracy but fell short of condemnation, and only the U.S. went forward with a familiar path of economic and diplomatic pressure that has yet to show results.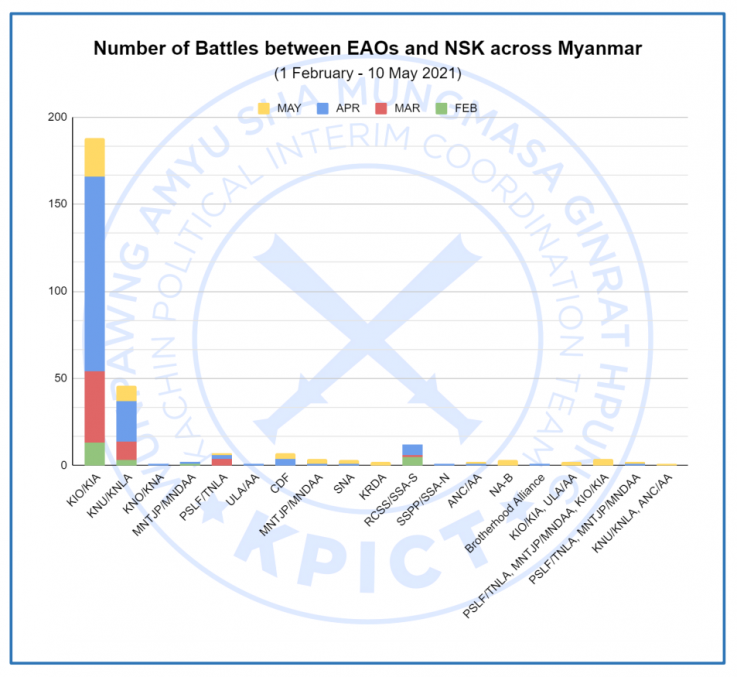 A graph published by May 19 by the rebel Kachin Political Interim Coordination Team details the number of clashes between various Ethnic Armed Organizations (EAO) and Myanmar's ruling State Administration Council (NSK) between the latter taking power on February 1 and May 10. The rate of clashes has steadily increased, with new groups entering the fray as the country's long-running civil war threatened to erupt into a wider conflict.
Kachin Political Interim Coordination Team
Richard Horsey, senior adviser on Myanmar at the Crisis Group, said that China is in a far more capable position to act than its rivals, but its actions would have consequences on the broader struggle over clout across Asia.
"The outside world has very limited ability to influence the course of events in Myanmar," Horsey, who briefed the U.N. Security Council on the Myanmar crisis in April, told Newsweek. "The U.S. and other Western countries have applied sanctions mainly to signal their disapproval of the coup. China has a much greater ability to act, but it too is constrained by its various interests in Myanmar and the broader geopolitics."
So far, China "has focused on trying to ensure the security of its assets and investments in the country and the stability of its border," Horsey said, adding that Beijing "also wants to ensure that the Myanmar crisis is not internationalized."
China has instead sought to leverage its own efforts toward de-escalation. Its embassy in Myanmar, which is regularly flanked by protests these days, has reportedly been in touch with both the Tatmadaw and members of the Committee Representing Pyidaungsu Hluttaw (CRPH), a government-in-exile represented by the National League for Democracy.
But Myanmar's unrest continues to hit closer to home in China. Last week, fighting broke out between security forces and insurgents at the Myanmar-China border crossing of Muse in Shan State.
Chinese Foreign Ministry spokesperson Zhao Lijian declined to comment on the specifics of the incident, but issued remarks on Beijing's general position, which he called "consistent and clear."
"We do not want to see the bloodshed and conflict in Myanmar," Zhao told reporters. "We call on relevant parties to make efforts to prevent the situation from deteriorating or even getting out of control. China will maintain communication and coordination with all parties in Myanmar to make every effort to stabilize and cool down the situation as soon as possible."
Amid these overtures, Horsey doesn't see the People's Liberation Army crossing the border anytime soon, saying, "We are a long way from any serious Chinese intervention in Myanmar."
That being said, he said such a scenario "would only likely happen if China's interests were gravely impacted—for example, sabotage of its oil and gas pipelines, or violence against Myanmar's Chinese community."
The outcome of such an intervention, while both unanticipated and undesired by China, "is very hard to predict," he said.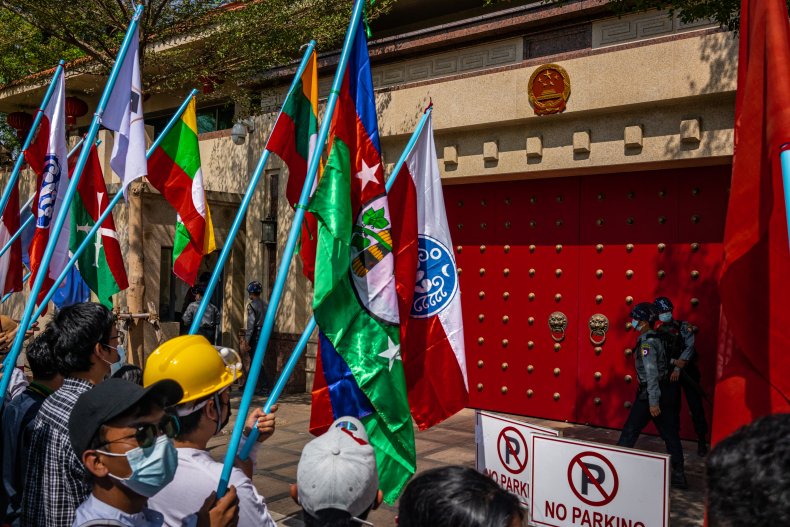 The calculations become especially difficult as Myanmar's own inner politics shift with the changing tides of the conflict.
As Thant Myint-U, an award-winning writer and historian of Myanmar origin who authored "The Hidden History of Burma: Race, Capitalism, and the Crisis of Democracy in the 21st Century," told Newsweek, "Myanmar's armed landscape includes dozens of Ethnic Armed Organizations and hundreds of militia, and all these have responded in very different ways to the coup."
The Kachin Independence Army and the Karen National Liberation Army are two such groups that have so far risen up against the military, which has responded with airstrikes and artillery targeting villages and positions in Ethnic Armed Organization-controlled territory. Several other such organizations have voiced support for the pro-opposition National Unity Government, most recently including the Chin National Front.
But yet to weigh in on the crisis is an even more influential actor, the United Wa State Army, whose position is consequential both for its size and ties to China, which remains a key player in the course of the conflict.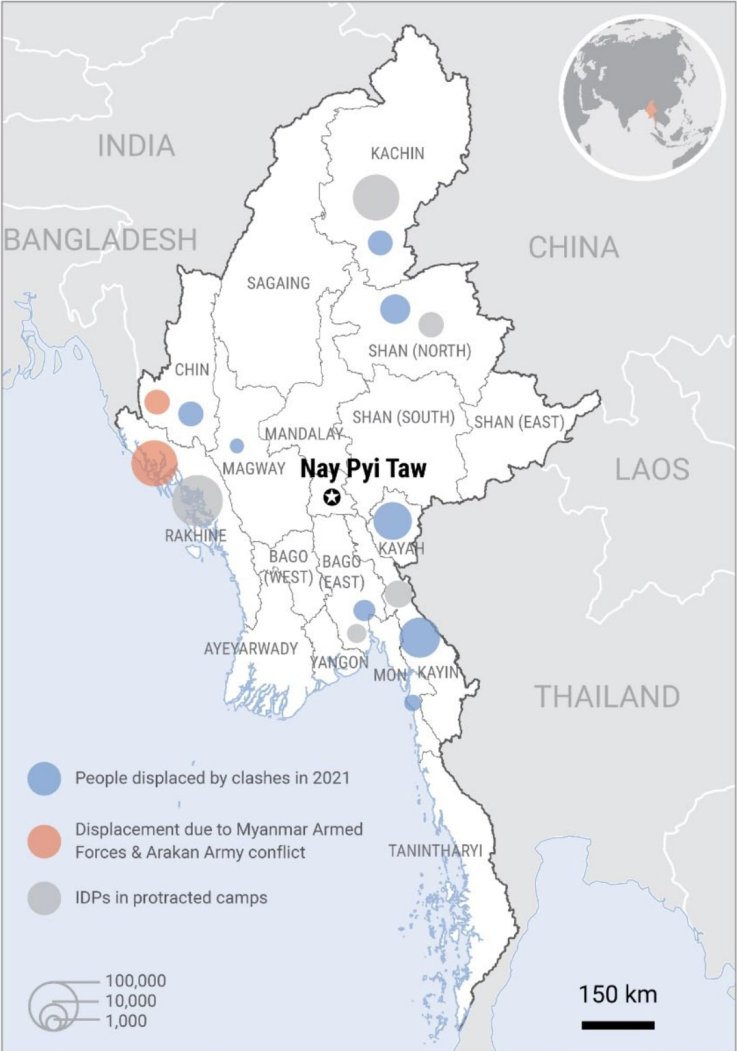 A map published May 27 by the United Nations Office for the Coordination of Humanitarian Affairs shows areas of displacement by conflict between Myanmar's military and Ethnic Armed Organizations this year, with the Arakan Army in recent years and the number of of internally displaced persons living in protracted camps. The UNOCHA has estimated that up to 120,000 people have been displaced as a result of fighting so far in 2021 alone.
United Nations Office for the Coordination of Humanitarian Affairs
"By far the biggest and most powerful of the Ethnic Armed Groups is the United Wa State Army, with deep links to China," said Thant Myint-U, who formerly served in roles at the U.N. and as a government adviser in Myanmar. "For several Ethnic Armed Organizations, whatever China suggests will be impossible to ignore."
The fighting has not yet reached levels seen in previous years, including clashes in recent years between the armed forces and the Arakan Army—not to be confused with the Rohingya force known as the Arakan Rohingya Salvation Army that has also fought with the Tatmadaw—as well as other major groups prior to a nationwide ceasefire signed in 2015. This truce, however, has already begun to fray, and new People's Defense Forces militias have emerged on behalf of the political opposition.
So far, China has played its cards cautiously. Thant Myint-U notes that China "had very good relations with Aung San Suu Kyi and would probably prefer a quick return to civilian government," under which many of Beijing's economic projects took hold. Taking on Tatmadaw proves risky as well, however, as "Beijing fears instability, and likely believes that increased pressure on the army may lead to state collapse."
Perhaps most daunting of all is the prospect that there is no obvious answer for how China should and will proceed.
"China is responding to events it didn't foresee and doesn't necessarily have a grand strategy for Myanmar," Thant Myint-U said, "thinking it does overemphasizes the country's importance for Beijing."
Just six months ago, he pointed out, "Beijing had exactly what it wanted" in Myanmar, "warming relations and ever-closer economic ties with a Myanmar government that was popular at home but enjoyed at best cool relations with the West."
As of today, however, China is "staring at possible chaos, rising anti-China feelings, and little hope that its planned China-Myanmar Economic Corridor can be materialized anytime soon," Thant Myint-U said.
The disruption of one of China's key economic routes may serve to some degree as a strategic win for the U.S., and by extension, Quad partners such as nearby India. A wider conflict in Myanmar, however, could drag both powers in deep and further compound the miseries of a country torn for generations.
"We're still far from an all-out civil war, but at the same time the situation is incredibly fragile," Thant Myint-U said. "The U.S. and China have a shared interest in preventing a failed state. A proxy war in Myanmar would be in nobody's interest, and would be devastating for a population that's already been through eight decades of armed conflict."