Father Accidentally Kills Son With Sword, Sentenced to 12 Years in Prison
A court in southwest China has sentenced a man to 12 years in prison for killing his teenage son with a sword last year, according to media reports.
Yang Junming, a resident of Mianyang's Youxian district in Sichuan province, accidentally stabbed his son, 13, while losing his temper over the boy's poor grades, he told authorities in footage of his arrest.
The incident took place in their rental home on January 7, 2022. The district court's verdict, handed down on June 25, but reported Tuesday, found Yang guilty of assault.
Yang told police officers he got into an argument with his son over his school performance in physical education, namely a grade of 18 out of 100. During the back and forth on the night of the incident, the father grabbed a 3-foot ornamental sword off a nearby table and poked the boy in his left lower back.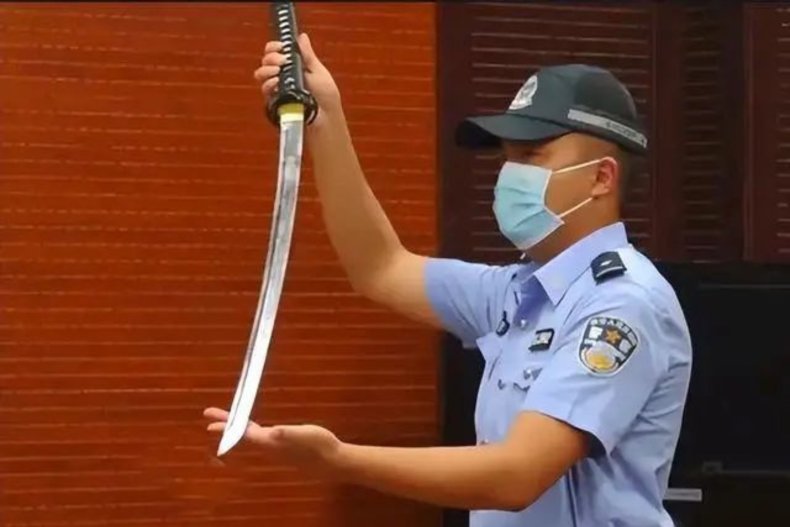 Local news reports broadcast CCTV footage showing the panicked parent carrying his injured son downstairs while waiting for an ambulance. In a recording of his call to emergency services, Yang was heard saying: "I hurt him. He's hurt."
The teenager was pale and unconscious when he was taken to a local hospital, reports said. He was pronounced dead a few hours later as a result of blood loss.
In the June hearing at Mianyang Youxian People's Court, where the samurai sword-like blade was presented as evidence, Yang was accused of using the weapon to threaten his son on more than one occasion in the past.
The defendant, a single parent who had raised his son alone for 10 years following his divorce, said he used the sword to motivate his child to work harder, but never intended to harm him.
He told prosecutors that the sword was purchased for decorative purposes. He only realized he had hurt his son after the boy said he had been stabbed, Yang said.
"I didn't mean to do it, and I'm not an unforgivably bad person. I did a wrong thing with good intentions. I only wanted to scare him," Yang told the court in virtual remarks from his detention center.
"It is the opinion of this court that defendant Yang Junming did knowingly cause bodily harm to another, resulting in death," the verdict read.
Yang didn't contest the charges or his 12-year sentence, local reports said.
Do you have a tip on a world news story that Newsweek should be covering? Do you have a question about China? Let us know via worldnews@newsweek.com.