At least 16 people were confirmed dead in central China as of Wednesday afternoon, amid historic flooding that has seen some areas receive one-third of their annual rainfall in one hour.
Downtown Zhengzhou—the capital of Henan province, which has a population of 10 million people—is among the areas worst affected by the downpour, which has not stopped since Saturday and is forecast to last through Thursday.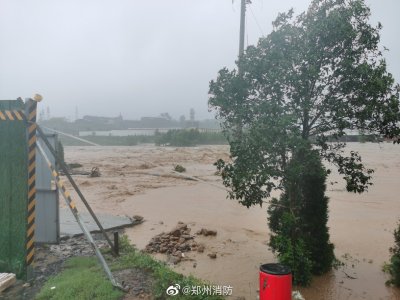 Overnight, hundreds of Zhengzhou residents found themselves trapped in subway carriages while standing in chest-high floodwater. The local government said 12 people had died and five more were injured in the underground train cars, during the most severe rainfall in its history. Firefighters evacuated more than 500 passengers from the tunnels in the early hours of Wednesday.
In a statement released online, the Zhengzhou publicity department said at least 10,000 people had been displaced by the floods. Parts of the city, which is on the banks of the Yellow River, remain submerged.
In the central city of Gongyi, four fatalities were discovered in the aftermath of mudslides, reported China's state news service Xinhua. More than 23,000 residents from over 6,000 households were evacuated after they lost access to electricity, water and internet.
Rescuers in Dengfeng, which is also administered under Zhengzhou, said they had evacuated around 30 schoolchildren from a bus stranded in floodwaters late on Tuesday. Dengfeng was also the site of a massive explosion at an aluminum alloy plant, where a bursting river had breached the plant's surrounding walls.
As transportation networks ground to a halt in the downpour, a train carrying more than 700 passengers was reportedly stranded at a station west of downtown Zhengzhou, local news site Zhengguan said. Emergency supplies were delivered to the passengers at around 1 p.m. local time on Wednesday, but they remain stuck in the carriages for what is nearing 50 hours.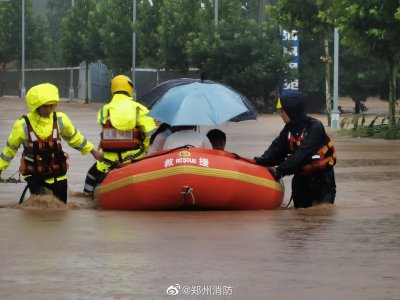 According to Henan's provincial weather service, an amber alert remains active as 50-100 millimeters of rainfall was expected on Wednesday afternoon, including in Zhengzhou.
Henan Meteorological Bureau forecaster He Zhe said on Tuesday that the severe weather had been caused by a low-pressure system that remained static above the province, held in place by the mountains that surround the region.
The downpour that began on July 17 had led to 727 millimeters of rainfall as of Tuesday, he said. This included 201 millimeters recorded in a single hour in Zhengzhou, which has an annual average of 640.8 millimeters.
Heavy rains are expected to last through Thursday, with scattered showers after that.
The flood season also hit parts of northern China over the weekend. In Inner Mongolia, residents captured the partial collapse of two dams on Sunday. No casualties were reported.