China Forcing People To Take Vaccines Against Their Wishes, Reports Suggest
Residents in China have taken to social media this week to protest against mandatory vaccination requirements being issued by local businesses, universities and government departments.
Some users on Weibo—China's answer to Twitter—said they were being forced to take the jab at their workplace despite personal concerns over their planned pregnancies, contrary to national guidelines stating all vaccines are voluntary.
China's relative success in its COVID-19 management means it is now reporting only small clusters of cases every day. A recent drive to increase immunization has seen it vaccinate 114.69 million people as of Wednesday, according to the country's national health authority.
As the government announced plans this month to inoculate 40 percent of its population by June and 64 percent by the year's end, municipalities such as Shanghai have declared citywide vaccination a major "political task."
But China's state media has advised against using "simple and crude" methods to encourage—or force—residents to accept the coronavirus vaccine.
Universities have linked immunization numbers to teacher performances and student grade assessments, while businesses have disregarded the special conditions of some staff members and required vaccinations across the board, the Xinhua Daily Telegraph reported Wednesday.
The paper published by the state press agency cautioned against "oversimplified measures," which it says raise health risks for people in certain groups and ultimately do not serve China's vaccine drive.
Relevant government departments need to promote correct guidelines and help allay public concerns about the jabs, Xinhua said. China is providing its vaccines to citizen free of charge.
On the same day, reports out of Wanning, a coastal city in China's southern province of Hainan, revealed that the municipal government had begun blacklisting residents who refused to be vaccinated.
A notice issued by the town of Wancheng was circulated among news outlets and showed a list of banned activities for those yet to be inoculated. They included no access to public transport, markets, supermarkets, hotels and restaurants, but also landed the same individuals on a blacklist, excluding them from government grants.
The same bulletin warned of adverse consequences for their children and their future schooling and work.
A spokesperson for the Wancheng government told news service Xuanwo that the notice was there to enforce vaccination, but said the town was only acting on city and provincial guidelines.
Elsewhere in the city of Yantai, in Shandong province in east China, the government announced a requirement for each university to vaccinate over 95 percent of its teachers and students.
Those wishing to be excluded from the vaccination drive—for reasons including pregnancy, preexisting conditions and allergies—must present medical proof, according to Tuesday's notice. There was no mention of exceptions for people choosing not to take the jab for other personal reasons.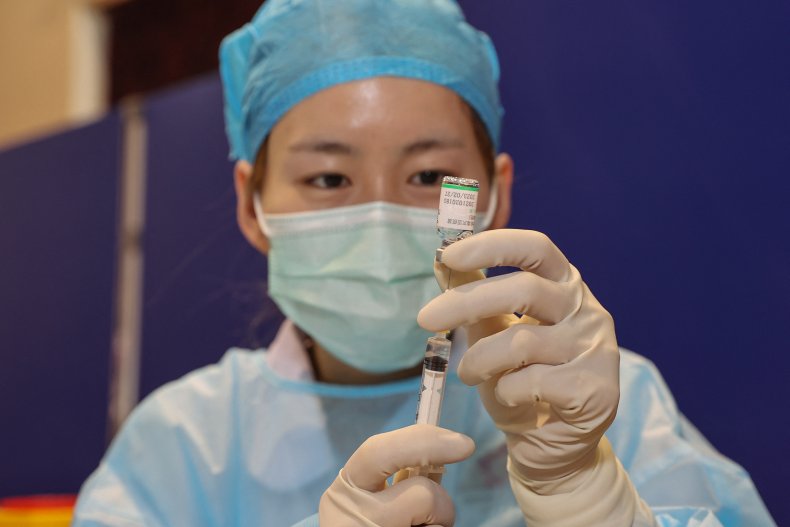 Pregnant women or women preparing for pregnancy in the coming year are among those raising their concerns on social media.
After China's state broadcaster CCTV shared a poster promoting the safety of the vaccine for women planning for pregnancy as well as those currently breastfeeding, several commenters said they had been forced by their employers to take the jab despite personal reservations.
"I'm planning to have a baby and have been required to take the vaccine, but how can I ensure my child won't be affected?" one user wrote.
A second responded: "Me too. I'm also planning for pregnancy and have been forced to have the vaccine. I will have to produce proof of pregnancy to be excluded."