China Furious Over U.S. Senators' Trip to Taiwan, Says It Could Embolden Separatist Forces
China expressed anger over a trip to Taiwan by three U.S. senators over the weekend, saying that it could encourage "separatist forces."
During a recent press conference, Chinese Foreign Ministry spokesperson Wang Wenbin said that China "expresses strong dissatisfaction [about the visit] and has lodged a solemn representation," according to Channel News Asia (CNA).
Wang also said that the U.S. should be "be prudent when dealing with the Taiwan question and avoid sending any erroneous signals to separatist forces" in Taiwan, according to CNA.
The state-run Global Times also criticized the senators trip' to Taiwan, suggesting that it was a "risky provocation."
Taiwan has accused China of obstructing its ability to receive COVID-19 vaccines, and during their visit on Sunday, the senators—Tammy Duckworth, Christopher Coons and Dan Sullivan—vowed to provide Taiwan with over 500,000 vaccines.
"I'm here to tell you that the United States will not let you stand alone," Duckworth said while speaking to reporters in Taiwan. "We will be by your side to make sure the people of Taiwan have what they need to get to the other side of the pandemic and beyond."
Last Thursday, President Joe Biden's administration announced it would allocate approximately 7 million vaccine doses to numerous countries, including Taiwan, through the U.N.-backed COVAX program.
"The sharing of millions of U.S. vaccines with other countries signals a major commitment by the U.S. government," the White House said in a statement announcing the global vaccine-sharing plan. "This will take time, but the President has directed the Administration to use all the levers of the U.S. government to protect individuals from this virus as quickly as possible."
Taiwan Foreign Minister Joseph Wu also spoke about the accusations against China, saying, "We are no strangers to that kind of obstructionism," according to the Associated Press.
Tensions have continued to escalate between the two Asian nations over the past several months. Taiwan remains an independent nation with the supports of Western countries such as the U.S., but China continues to claim it as its territory.
During a recent meeting between Biden and South Korean President Moon Jae-in, the two leaders pledged their support for peace in the Taiwan Strait. During a press conference, Moon said, "As for peace and stability in the Taiwan Strait, we agreed how important that region is, especially considering the special characteristics between China and Taiwan."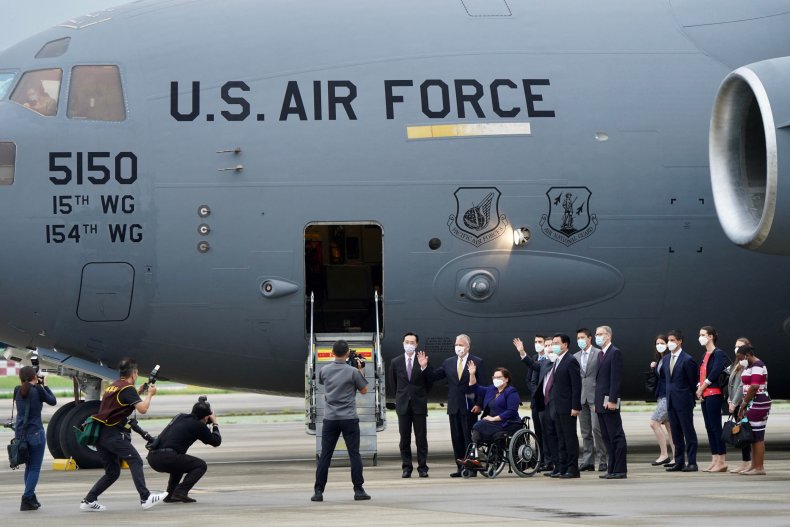 In response, Chinese Foreign Ministry spokesperson Zhao Lijian warned the U.S. to stay out of conflicts between China and Taiwan. "The Taiwan question is China's internal affair," he said. "It bears on China's sovereignty and territorial integrity and allows no interference by external forces. We urge relevant countries to speak and act prudentially on the Taiwan question and refrain from playing with fire."
Newsweek reached out to China's Foreign Ministry for comment but did not receive a response in time for publication.