China Gathers for Silk Road Summit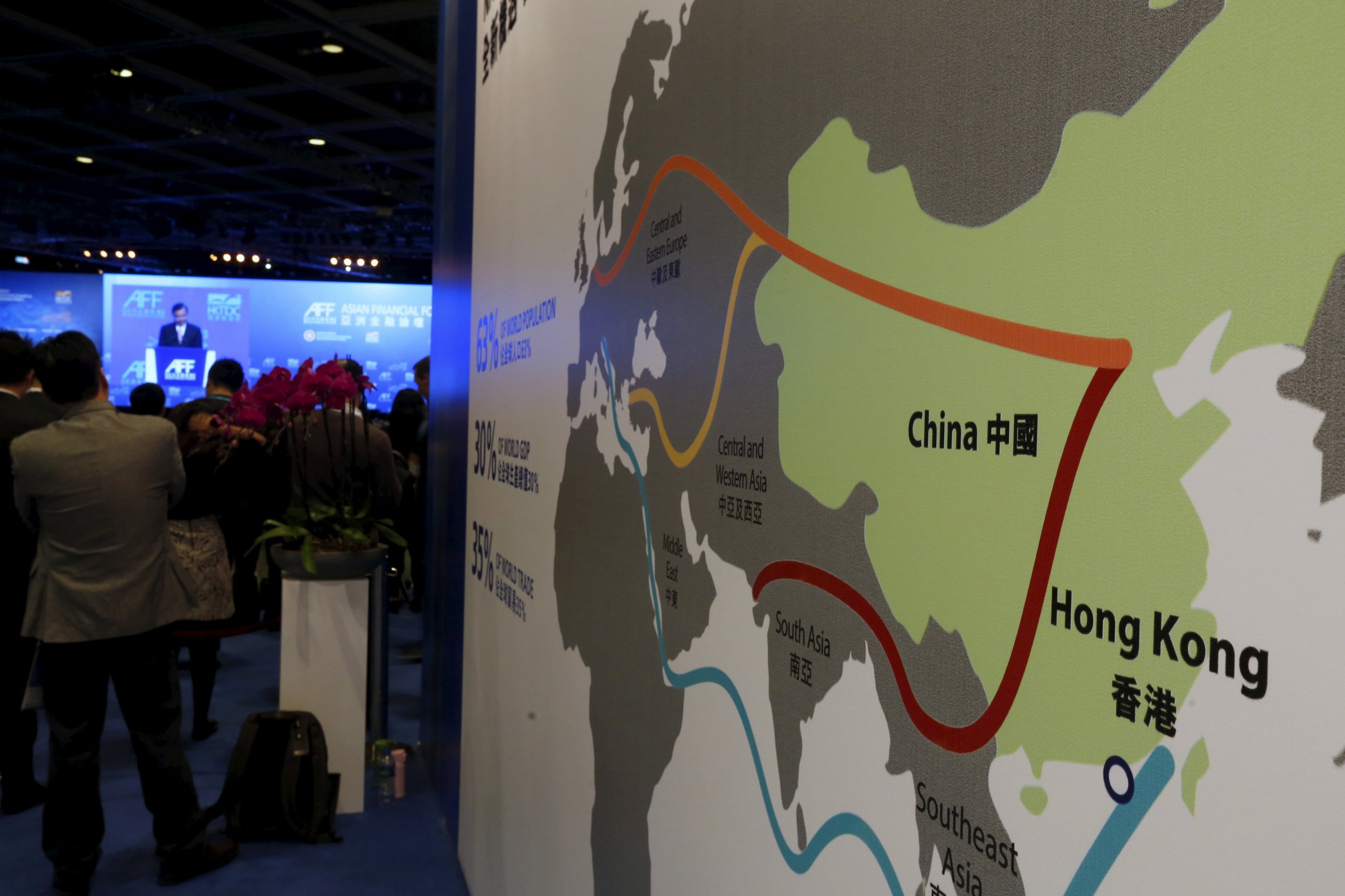 When leaders of 28 nations gather in Beijing next week for a summit to map out China's ambitious new Silk Road project, one question is likely to be on attendees' minds—what exactly is the Belt and Road Initiative?
Proposed in 2013 by President Xi Jinping to promote a vision of expanding links between Asia, Africa and Europe underpinned by billions of dollars in infrastructure investment, the project is broad on ambition but still short on specifics.
China has earmarked $40 billion for a special fund for the scheme, on top of the $100 billion capitalization for the China-led Asian Infrastructure Investment Bank (AIIB), many of whose projects will likely be part of the initiative.
But with a confusing name, that officially refers to the Silk Road Economic Belt and the 21st-century Maritime Silk Road, added to myriad economic and security risks, clouds hang over the plan.
Despite aggressive promotion of the May 14-15 summit in China, including media carrying positive comments from Western leaders, some diplomats are suspicious about China's aims.
"There's a lot of scepticism about China's plans. Yes it is the kind of infrastructure that sounds attractive for parts of Europe, but we all know this is about China gaining influence," said a senior European Union diplomat.
One diplomatic source familiar with discussions on the forum's communique said: "The forum is downright glorification of Xi Jinping and One Belt, One Road", using the straight Chinese translation of the project's title.
However, with Donald Trump in the White House pursuing an "America First" agenda, more countries may be pushing for inclusion in China's grand scheme.
"Countries have actually been pressuring China to get an invite rather than the other way around," said a senior Asian diplomat, referring to the summit.
China says that between 2014 and 2016, its businesses signed projects worth $304.9 billion in Belt and Road countries. Some of the projects could be in development for years.
China has taken umbrage at suggestions that the new Silk Road is about it trying to dominate the world and mould it to Beijing's liking, saying it is good for all and anyone can join.
"Western skeptics have failed to see the fact that the Chinese don't harbor a zero-sum mentality, but encourage win-win thinking," Xinhua news agency said in an English-language commentary.
"As Confucius once said: 'He who wants success should enable others to succeed'."
China has, though, outlined its ambitions in Chinese language pieces.
"This is the China solution for global economic revival," Xinhua said last month of the new Silk Road, in a commentary blazed across the front page of the official People's Daily.
There are risks involved, however.
In Sri Lanka, there have been public protests against projects linked to the Belt and Road, and in Pakistan, where Islamist militants pose a security threat, the government has set up a new army division to protect the $57 billion China-Pakistan Economic Corridor, a key part of the new Silk Road.
The corridor also runs through disputed Kashmir, meaning India has rebuffed China's attempts to get it onto the Belt and Road.
"We have some serious reservations about it because of sovereignty issues," Indian Finance Minister Arun Jaitley said in Japan last week.
With China saying the Belt and Road is open to everyone, at least one country not widely seen as a safe investment choice is expected to show up - diplomatically isolated and nuclear-armed North Korea.
The government of Syria is also sending a Cabinet-level minister, the Syrian ambassador to China told Reuters this week.
There has been almost relentlessly upbeat coverage in China ahead of the Belt and Road Forum, including documentaries on state television and smiling citizens in project countries praising the changes it has brought.
During the meeting, more than 50 memorandums of understanding, plans, cooperation letters and cooperation projects in transportation, energy and communications will be signed, Chinese government officials say.
"This ... will be a jointly consultative document by all parties to reflect their shared consensus on advancing the Belt and Road," foreign ministry spokesman Geng Shuang told reporters on Wednesday, referring to the summit communique.
Some Chinese experts say politics are being put ahead of economic factors.
"I believe that the national strategy is the top priority; economic considerations are secondary," said an economist at the China Centre for International Economic Exchanges, a Beijing-based think-tank which made initial proposals to set up the AIIB.
He asked not to be identified, citing the sensitivity of the topic.
There is caution, too, from some Asian countries.
Speaking last week at a meeting of the Asian Development Bank in Japan, Philippine Deputy Central Bank Governor Diwa Guinigundo said it was hard to pre-judge the new Silk Road.
"It is still a vision. You have to translate that into some working parts," Guinigundo said.
Some Western diplomats have expressed concern in private at the high billing at the summit given to countries with poor human rights records, like Russia and the Philippines.
The diplomatic source familiar with the communique discussions said those talks had been tough, as everyone wanted a say. There had been at least three drafting sessions, one of which lasted 13 hours this week.
The original plan was for a host country press statement, but China changed that to a joint communique, the source said.
"The only explanation that one could give is that they want to add weight to this meeting."