China Gave North Korea Luxury Gifts and Booze Banned Under Sanctions
North Korean leader Kim Jong Un came back from his trip to China a wealthier man than he already was, as President Xi Jinping bestowed lavish gifts on him and his wife Ri Sol Ju, in an apparent breach of U.N. sanctions.
The meeting marked the first foreign trip by Kim since he took power in North Korea, and while the two-day visit to China was labeled "unofficial," the ruling couple were received with a grand red carpet welcome and a lavish banquet.
"At the end of the talks Xi Jinping and his wife Peng Liyuan presented to Kim Jong Un gifts they prepared with sincerity," said a North Korean media report about the trip.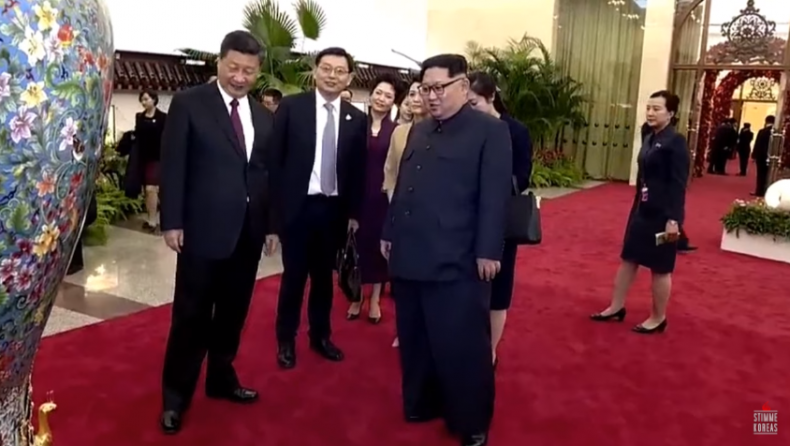 And while the Chinese broadcasting of the visit did not include references to the presents, a North Korean television broadcast spent a full minute showcasing Kim's admiration for the various items.
The 40-minute-long broadcast that aired on North Korea's only television channel KCTV last week showed Xi presenting Kim with a huge vase before walking him through the other gifts, laid out on a table for him and Ri to admire. These included two tableware porcelain sets, various silks, jewelry sets and at least six bottles of Moutai liquor, whose manufacturer Kweichow Moutai is described by Bloomberg as the world's most valuable distiller.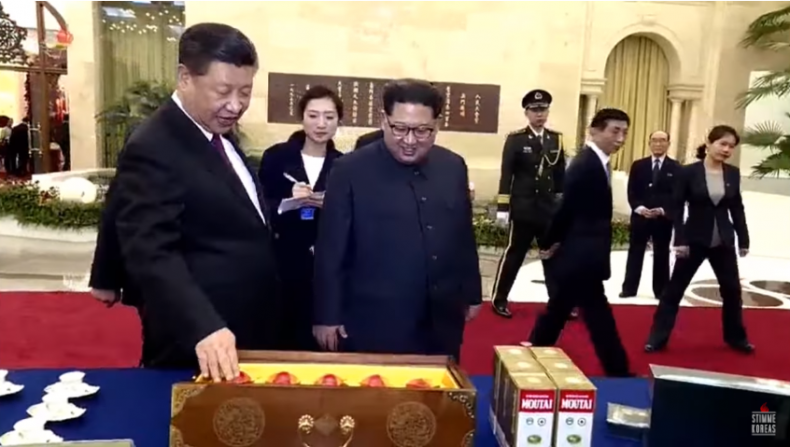 Several of these items are barred from landing in North Korean hands under Resolution 1718 unanimously approved by the U.N. Security Council on October 14, 2006, which states "all Member States shall prevent the direct or indirect supply, sale or transfer" to North Korea of various items, including luxury goods.
This was part of an international effort to limit both access to materials that could support North Korea's nuclear and missile development program in response to the regime's first nuclear test, as well as the regime's so-called "gift diplomacy" of rewarding loyal supporters with lavish presents.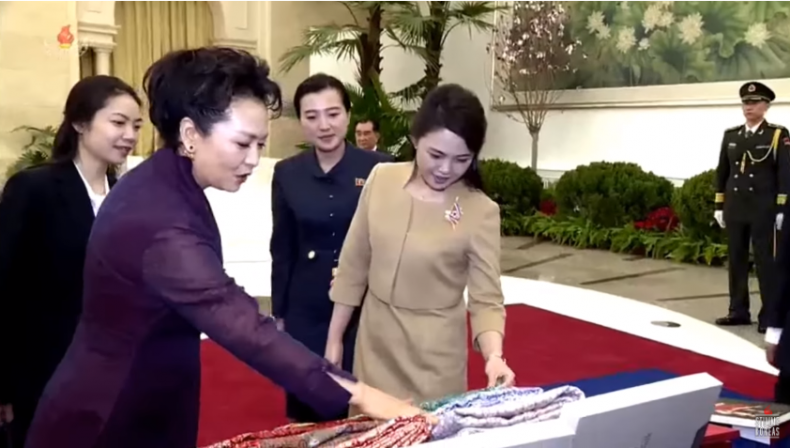 The U.N.-approved list of banned luxury goods, last updated on December 21, 2016, includes jewelry with precious and semi-precious stones and "tableware of porcelain or bone china (valued greater than $100)."
The value of the porcelain sets vastly exceeds that limit, according to estimates published by the Hong Kong-based Apple Daily news outlet and quoted in English in the conservative South Korean publication Chosun Ilbo. Apple Daily estimated the total value of the gifts to be 2.47 million yuan (nearly $400,000), with the tableware porcelain set worth around 20,000 yuan ($3,100).