China Gets Closer to North Korea and Iran as They Struggle to Deal With U.S.
China has grown closer to North Korea and Iran at a time when all three countries are struggling to deal with President Donald Trump's hardline foreign policy.
Li Zhanshu, considered China's top legislator as the head of the congressional standing committee, visited Pyongyang and delivered a letter Sunday from Chinese President Xi Jinping to North Korean supreme leader Kim Jong Un. In his letter, Xi hailed Kim's "focused efforts to develop the economy and improve people's livelihood" through his "new strategic line," according to South Korea's official Yonhap News Agency.
While traditional allies—the People's Republic of China and the Democratic People's Republic of Korea have been rather distant for much of the latest of Kim's administration—the young ruler has met with Xi three times this year in a development the Chinese leader said "opened a new chapter in the development of bilateral relations," which he wanted to develop "more quickly by implementing the two sides' common understanding."
In a press conference Monday, Chinese Foreign Ministry spokesperson Geng Shuang told reporters that "China stands ready to consolidate friendship with the DPRK and support the DPRK in improving its economy and people's livelihood," even if they differ on the nuclear issue that has long raised tensions in the region.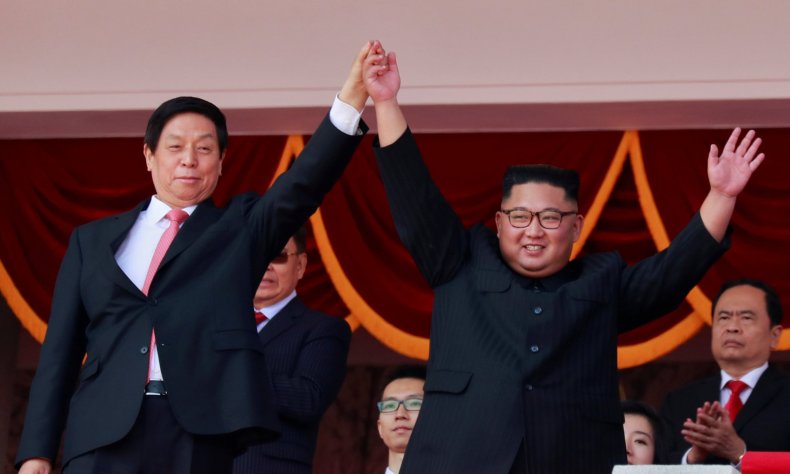 China and North Korea have been close partners since the earliest days of the Cold War when the fellow Soviet-backed communist powers clashed with South Korea and its international allies, including the U.S., in the 1950s. The two remained close after the Sino-Soviet split, but Pyongyang focused on developing its own nuclear weapons program in the decades to come, something China has protested. After Kim became the third generation of his dynasty to head North Korea following his father's death in 2011, he pushed back against Chinese influence in his country and purged key figures associated with Beijing, including his own uncle.
At the beginning of this year, Kim put aside his increasingly advanced missile launches and nuclear tests to pursue talks with longtime rival South Korea. The peace process saw both sides working together at rare levels and eventually produced a direct invitation from Kim to Trump in March for the two leaders to sit down in an unprecedented meeting. Shortly after Trump accepted, Kim made a surprise trip to meet Xi in Beijing, his first visit to a foreign leader and the first sign that the two countries were getting along again.
Kim has since met with Xi and South Korean President Moon Jae-in three times each and went through with his summit with Trump in June, pledging to give up nuclear weapons in exchange for peace and the lifting of intense economic sanctions. Trump has eagerly accepted Kim's proposal, but U.S. officials have cautioned at what they see as a slow pace in North Korea's denuclearization. Last month, Trump canceled what would have been Secretary of State Mike Pompeo's fourth visit to Pyongyang, citing progress that was "not sufficient" in Kim's denuclearization, as well as an ongoing trade conflict with China.
On the backdrop of Trump's growing relationship with Kim, the Republican leader has increasingly called out Beijing for what he believes are unfair trade practices. Trump angered China and a number of other countries, including staunch U.S. allies, by enacting tariffs on steel and aluminum imports that have prompted the East Asian country to respond with its own measures. The U.S. has threatened to escalate the dispute and China has vowed to answer in kind, but Trump and Kim meanwhile continue to exchange pleasantries despite their countries' differing views.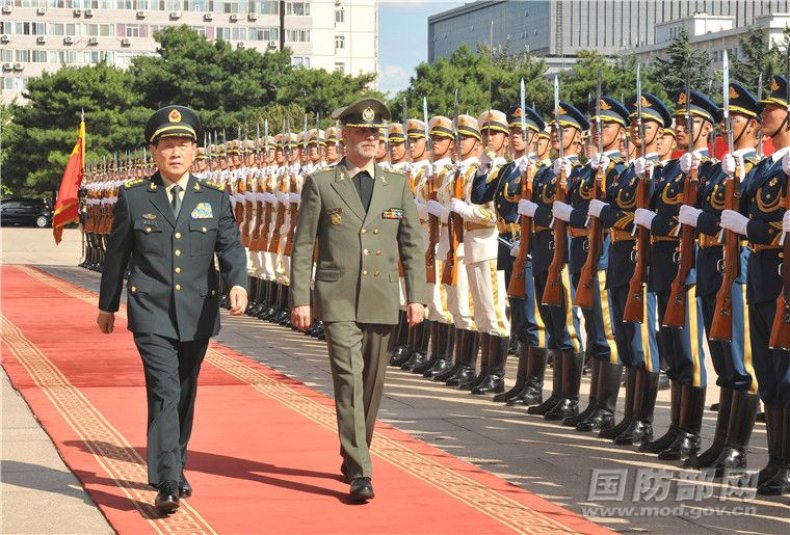 Trump, however, has abandoned another nuclear agreement altogether. In May, just as he was gearing up to meet Kim, Trump announced the U.S. withdrawal from the Joint Comprehensive Plan of Action, an agreement reached by Washington and Iran, along with China, France, Germany, Russia and the U.K. in 2015. The accord severely restricted Tehran's nuclear activity in exchange for a lifting of sanctions, but Trump and many of his conservative allies felt it did not go far enough to restrict Iran's alleged support for militant groups abroad and its ballistic missile development.
The deal's other signatories have disagreed with Trump and attempted to save the agreement. Russia and China specifically have vowed not to abide by the newly imposed U.S. sanctions, which have already affected key Iranian industries and will target its lucrative oil sector in early November. As the top importer of Iranian oil, China has agreed to use Iranian tankers to supply its needs.
Relations between Beijing and Tehran have continued to tighten in the wake of the U.S. unilateral exit from the Iran deal. Even as the U.S. announced an "Iran Action Group" and warned against Iranian threats to close down the Strait of Hormuz, the world's busiest oil chokepoint, China has sought to enhance its economic, political and military ties to Iran. On Friday, Chinese Central Military Commission Vice Chairman General Zhang Youxia and Chinese Defense Minister General Wei Fenghe met with Iranian Defense Minister Amir Hatami in Beijing.
The official Chinese Military Online reported: "Zhang Youxia said that the friendship between China and Iran has stood the test of the complex international situation and the two countries have formed a deep feeling of sharing weal and woe," adding that "Zhang hopes the two sides can continue to support each other on major issues concerning their core interests and jointly contribute to the world peace and regional stability." For his part, Wang said that "the Chinese military [is] willing to strengthen strategic communication with the Iranian military, expand areas of cooperation, [and] promote pragmatic cooperation in various fields to continuously achieve new results."