China Grapples With Issues of Race and Ethnicity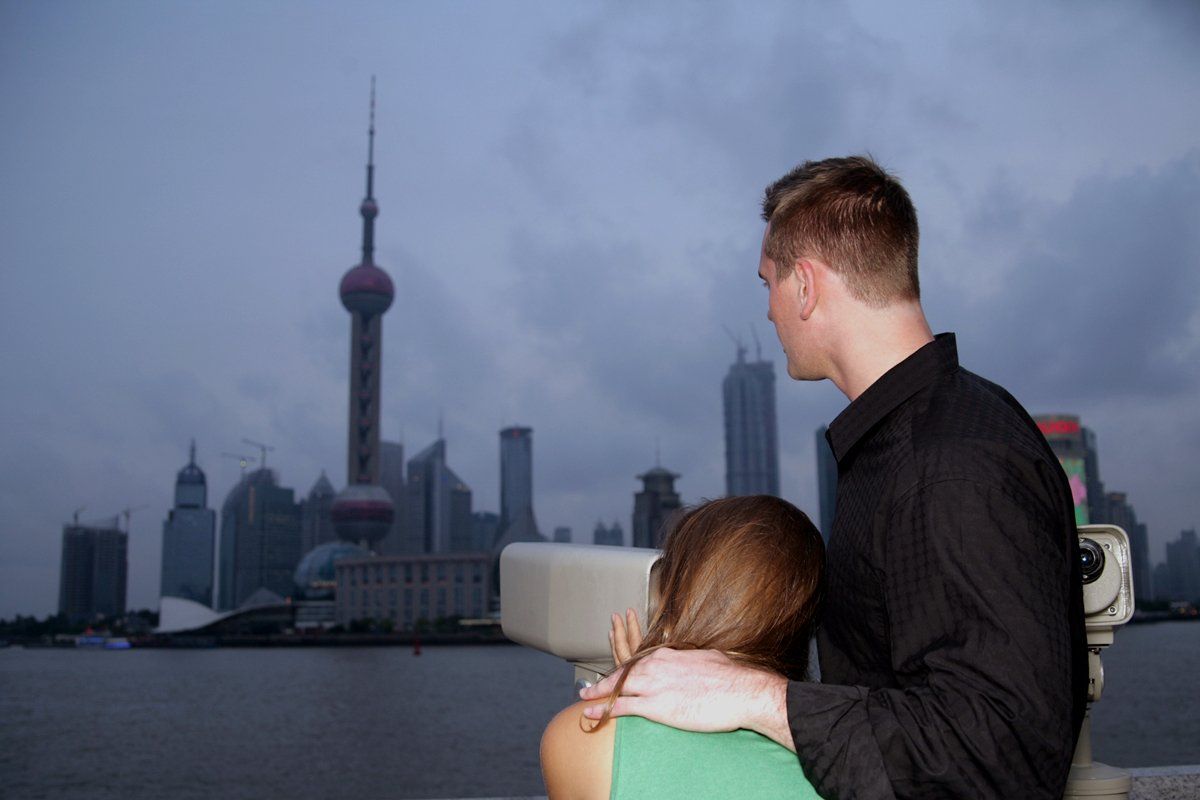 Beijing's Sanlitun Village mall is the very image of cosmopolitan, modern China. Its quirky and colorful glass-fronted modern buildings are filled with top international name-brand stores. In its paved plaza, smart young Chinese shoppers rub shoulders with foreign residents and visitors of every age and nationality. Groups of young foreign students mix with smartly dressed professionals and diplomats. It's a scene that seems to embody the "inclusiveness" that, according to an official slogan on the street nearby, is now part of the "Beijing spirit."
But there's a seamier side to the neighborhood too—on the small street just behind the village, several stores have sprung up with signs proclaiming, in English, the words "Sex Shop." Pictures of attractive young women try to tempt passersby into nearby nightclubs. And over the years, local residents have complained about noise and drunkenness from the area's bars and clubs, which attract a sizable proportion of foreigners among their clientele.
In recent months, tensions over the unsavory behavior of some of Beijing's foreign residents have come to the fore. In May there was a furious public reaction after footage was posted online showing the aftermath of an alleged attempted sexual assault on a young Beijing woman by a drunken British man. The pictures showed angry locals beating up the supposed perpetrator. This was soon followed by film of an incident on a train in which a Russian cellist from the Beijing Symphony Orchestra insulted a Chinese passenger who asked him to take his feet off the back of her chair. The cellist eventually made a public apology, but still had to resign his post.
Amid a mood of public anger, at least in online forums, the Beijing police announced a three-month campaign to crack down on "foreigners illegally staying in the capital"—including those who had jobs but no work permit or who had overstayed their visas. They also set up a hotline and encouraged locals to "report such violations," according to Chinese media. Several other cities, including Shanghai, also stepped up spot-checks on the documents of foreigners, in the most visible campaign of its type since the run-up to the Beijing Olympics in 2008.
All this caused some anxiety, notably among foreign residents in Beijing. And tension was stirred up further by a post on Weibo, China's equivalent of Twitter, by Yang Rui, host of one of China Central Television's main English-language programs. The show Yang fronts is called Dialogue, and its stated aim is to promote intercultural understanding. But that appeared to be the last thing on Yang's mind when he tweeted, in response to the two incidents, that China should kick out "foreign trash." He also warned of foreign "spies" shacking up with Chinese women as a cover while they tried to steal state secrets, and he gloated over the expulsion from China in May of Melissa Chan, the Beijing correspondent for Al Jazeera TV's English channel.
Yang later sought to cool the controversy, emphasizing that he thought there were many good foreigners in China, and arguing that he had not called Chan a bitch, as had been widely reported—but rather, in his own translation, a "shrew." And he received some criticism online, as well as from China's official English-language newspaper, Global Times, which said his comments were "too harsh" and had "caused misunderstanding," though it rejected calls for him to be sacked.
Yet while the paper sought to reassure readers that what it described as "the anti-foreigner campaigns seen in some Western countries will not be staged in China," a column in another official paper, China Daily, put Yang's comments in the context of the Opium Wars and past foreign humiliation of China. And with the nation in the midst of a sensitive political transition and anxieties about social stability growing, some observers have suggested that a more nationalistic mood is quite likely over the coming months. Chan's expulsion (the first of a foreign journalist in more than a decade) and recent threats to other foreign journalists that their visas might be canceled if they report on sensitive subjects were seen as further evidence of a changing mood.
Not everyone thinks that China is witnessing an upsurge of xenophobia: Daniel Bell, a specialist in Chinese philosophy and values at Beijing's Tsinghua University, says Yang's "nationalistic" remarks are "unrepresentative" of a society that has, he says, historically welcomed outsiders who accept its values—indeed, he notes, even some of the country's more hawkish commentators have argued that China's current economic strength provides a prime opportunity to "compete with the U.S. to hire foreign talent," citing the example of China's "golden age" in the Tang dynasty when foreigners are said to have served in official posts.
Hu Xingdou, an outspoken social critic and professor at the Beijing Institute of Technology, believes that nationalism has risen in China in recent years, partly in step with the nation's growing economic strength. Consequently, he says, "if foreigners are seen to be behaving inappropriately, this may prompt some extreme comments." But he suggests that overall, Chinese people are welcoming to outsiders—the country's problem, he suggests, is not so much one of "racial prejudice," but rather of putting too much emphasis on "differentiating people by race." Since the Chinese Communist Party came to power in 1949, he notes, it has made a point of identifying people by their ethnicity—the identity cards carried by all Chinese citizens specify which of the country's ethnic groups they belong to. In these circumstances, he say, "it's more likely that people who don't have so much experience of the world will see an outsider and say, 'Oh, there's a foreigner,' or 'There's a black person.'?"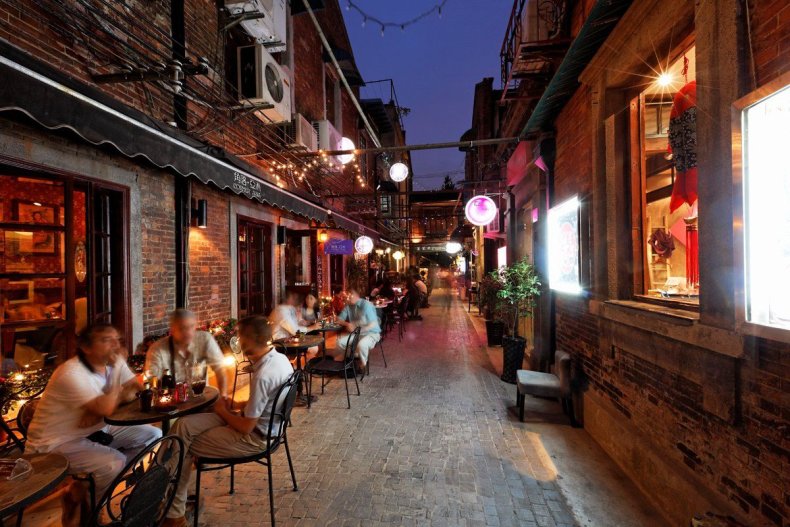 That the use of such phrases is seen as acceptable in China was highlighted by the fact that even when TV host Yang tried to play down the controversy over his remarks, he appeared quite happy to go on record as calling Chan a "foreign shrew" and did not seek to distance himself from the phrase "foreign trash"—words that in many societies would be considered highly inflammatory.
It's evidence of what many of China's foreign residents and visitors know well—that it's not uncommon to be defined, even to one's face, by one's ethnicity: "When I'm taking my child for a walk in the lanes near our house in Beijing, people will often point and say, look, a laowai—a foreigner," says Bell. It is, he suggests, something one gets used to, and he adds that the best solution is often to make a joke of the situation: "Sometimes I just turn round and look behind me, as if to see where they're pointing," he adds, "and then everyone starts laughing."
Cultural commentator Hung Huang, a prominent writer and editor who lived for many years in the U.S., says that for most Chinese people, the use of phrases such as laowai "carries no intention of discrimination." China, she says, "is more claustrophobic than xenophobic—many people are still not used to foreigners and just feel awkward around them." Still, she acknowledges that such comments highlight the fact that China has never had a public debate on how to deal with issues of race and ethnicity. "People are not so aware of ideas like political correctness. It's not like in the U.S.," she says. "And in fact they tend to make comments about all aspects of people's appearance—you're so fat, you're not pretty—there are few taboos."
As a result, it's not uncommon, for example, to hear commentators on Shanghai television's coverage of European soccer matches pointing out that a certain player is "black." Times may have moved on from the late 1980s, when students at a university in Nanjing besieged a group of African students in their dormitory, following tensions over their relationships with local women. But a few years ago, when a Shanghai TV reality show featured a young Chinese woman whose father was black, the girl and her mother received a significant amount of abuse online.
According to Professor Hu, it's evidence that there is still some lingering "folk prejudice towards black people" in Chinese society. Yiyi Lu, a Beijing-based sociologist, argues, however, that "Chinese people are not so much racist as snobbish—they tend to think of Africans, for example, as coming from poor countries." Contact with wealthier Africans or African-Americans, she believes, will gradually break down such attitudes.
But not everyone is convinced. Frank Dikötter, Chair Professor of Humanities at Hong Kong University and a specialist in Chinese attitudes to race, argues that China remains "permeated with racial stereotypes—there's an obsession with skin color and a deep-rooted fixation with blackness," he said, adding, "When I was a kid, if I stared at someone, I got a slap. In China, staring at foreigners is allowed, sometimes even encouraged." It is, he suggests, "completely unacceptable in the 21st century—and I'm tired of the double standards people use in their attempts to find excuses for such attitudes in China."
Indeed, Dikötter argues that Chinese government policy has enshrined the notion of foreigners being separate since its earliest days: in the first decades of communism, he notes, foreigners were either denounced as capitalists, or, if considered friendly and therefore permitted to visit China, they were treated "as a special case and were given guides or mentors when they visited the country—so the whole idea of foreigners was loaded with all sorts of meaning."
Perhaps it's no coincidence, then, that foreigners have often been seen in China not just as individuals, but also as representatives of their countries—or, indeed, of the entire outside world. Some have argued that this applies particularly if they have done something bad—not least because of the emphasis on the crimes visited upon China by foreigners during and after the Opium Wars of the 19th century, which have formed a major part of China's "patriotic education" curriculum over the past two decades. Thus the alleged British assailant in Beijing and the Russian cellist on the train were widely depicted not just as individuals doing something wrong, but as symbols of how bad foreigners could be and the threat they could pose.
But sociologist Yiyi says such attitudes work the other way, too—she notes that Chinese media recently also played up incidents where foreigners had rescued Chinese citizens from drowning and from attacks. "Suddenly the media were saying that foreigners were more public-spirited than Chinese people," she says. "We're still just too quick to generalize," she adds, pointing out that "Chinese society as a whole remains quite isolated—we're just not cosmopolitan enough to know how to interact with foreigners."
It's an apparently contradictory attitude summed up in the phrase "beautiful imperialist," famously used by American academic David Shambaugh to describe China's view of the U.S. And Hung, the cultural commentator, feels that the radical shifts in official perceptions of foreigners over the past half century have left a legacy of both confusion and some bitterness among the Chinese public. After denouncing them in the Cultural Revolution, she says, China suddenly "elevated foreigners to special-guest status" when economic reforms got underway in the 1980s: "We had hotels and shops that were only open to foreigners back then," she recalls, "so for a long time Chinese people were artificially made to feel second class."
As a result, she suggests, there's still a tendency to treat foreigners as VIPs: if a foreigner commits a traffic violation, for example, she says, "the police are less likely to do anything about it—they think it's too much trouble." Yet now, in a nation that has grown wealthier, many people feel they deserve equal status to foreigners, she believes. "So people are very sensitive about this." Add to this the fact that China's growing wealth gap has given many ordinary people "a sense of resentment towards all privileged classes," and the continuing perception that most foreigners in China are well off, and it's hardly surprising that people have reacted angrily to the recent incidents of foreigners behaving badly, she argues. "The forced hospitality we had to show to foreigners in the past has actually been detrimental to our relations with them," she says.
The number of foreigners in China is still relatively low, at about 1 million, but they are becoming more common in most of the country's major cities—and farther afield, too. As numbers grow, and China's economy attracts more and more such people, its citizens may have to get used to dealing with foreigners of all kinds—not just the "beautiful" and respected VIPs of past decades, but the arrogant or even downright criminal. It's clearly still a steep learning curve for both sides—with foreigners' understanding of China's historical sensitivities often under scrutiny and Chinese attitudes toward race facing new challenges. China does not recognize dual nationality, and many people regard foreign nationals of Chinese ethnicity as basically still "Chinese." So how will the country cope with the growing number of mixed children being born? In Shanghai alone, there are currently around 27,000 Chinese citizens married to foreign spouses, yet the offspring of such marriages are still referred to by many people as being "mixed blood" (though this also now appears to be seen as increasingly desirable by some—it's not uncommon to hear people commenting that such children are "more intelligent" or "more beautiful").
As China's interaction with the outside world grows, there's clearly going to be a lot to get used to. Some believe the outlook remains optimistic, however—Professor Hu says relations between Chinese people and foreigners "should get better ... We need to look at this with an inclusive attitude," he adds, "but I think society will become more mature and more welcoming." Still, he says, an antiracism law would help, too. Or perhaps the authorities could simply start by telling Yang, as the host of one of China's multibillion-dollar attempts to improve the nation's global image by expanding its English-language media internationally, that he might try to avoid using phrases such as "foreign trash" in the future.
Duncan Hewitt, a former BBC China correspondent, writes for Newsweek and other publications from Shanghai. His book China: Getting Rich First: A Modern Social History (published in the U.K. as Getting Rich First: Life in a Changing China) focuses on social change in the country and its impact on ordinary people's lives.