China Has Fewer COVID Cases Than Any Nation, Games Are Safe, Official Says
Olympic officials said Wednesday that they are not worried about the rise in COVID-19 cases in China and that the Games are safe as the country has fewer cases than any other nation.
The opening ceremony for the 2022 Winter Olympics is set for Friday, but even with Beijing's "closed-loop" system, 17 COVID cases were reported in the area Wednesday, with an average of 31 new daily cases in the capital city over the past three days, the Associated Press reported.
The closed-loop system was designed to keep Olympic athletes, sports officials and workers contained in a specific area. The zone prevents the public from entering and participants from leaving to reduce the spread of COVID to the general public.
Olympic medical adviser Brian McCloskey said 232 positive cases have been reported in connection with the Games since January 23. Of those, 163 have been from the airport and 69 from the closed loop, but it's not concerning for Olympic officials, WION reported.
"Virtually every country in the world at the moment has a higher level of COVID than China," McCloskey said, according to AP.
More than 54,000 tests have been conducted since January 23. McCloskey said he expects that the daily number of positive cases will drop once the number of people arriving starts to level out, WION reported.
"They won't go down immediately, but when we get to a stable number of people, then we expect it to go down," he said.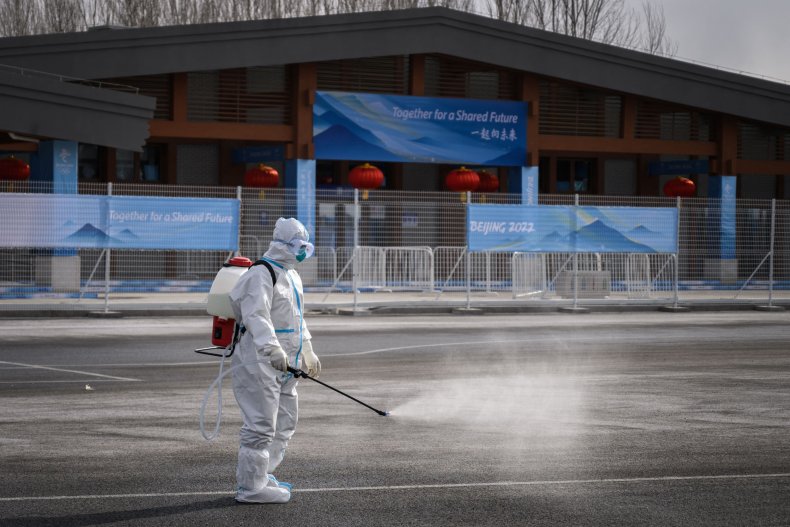 The risk for COVID cases in the loop is higher for the first few days because the virus doesn't always show up on a test right away because it can incubate slowly, McCloskey said. After about five days, "the risk comes down to equivalent to the local population risk—very, very low," he added, according to AP.
After a spike in cases in Beijing, millions of residents have been tested several times. Neighborhoods with reported cases have been sealed off to slow the spread instead of implementing a widespread lockdown in the host city, according to AP.
Beijing reported six confirmed cases of the Omicron variant since January 15 and 115 locally transmitted cases, AP reported.
McCloskey said that of the 232 positive tests, 11 people with symptoms have been treated at a hospital, but "none of those are seriously ill in any way," AP reported.
Time reported that U.S. bobsledder Elana Meyers Taylor and her husband, Nic Taylor, who is an alternate on the men's bobsled team, tested positive, along with their son, two days after arriving in Beijing but were asymptomatic.
McCloskey said during a press conference this month that there was never a goal to have zero cases in the Olympics, but "the target is zero spread within the closed loop," USA Today reported.