China Hits Out at Antony Blinken's Hong Kong Comments, Tells U.S. to Stay Out of It
China criticized Secretary of State Antony Blinken's comments regarding Hong Kong, telling the U.S. to stay out of its internal affairs—in a further sign that heightened tensions between China and the U.S. will persist under President Joe Biden's administration.
In a Sunday interview with NBC News, Blinken said that China has acted "egregiously" to curb the freedoms enjoyed for decades in the semi-autonomous region of Hong Kong. Blinken said that the U.S. "should do something" to give "haven" to dissidents and protesters who have faced a growing crackdown from mainland Chinese authorities.
But in Tuesday remarks, a spokesperson for China's Foreign MInistry dismissed Blinken's concerns and compared Hong Kong demonstrators to the mob of President Donald Trump's supporters that violently attacked the U.S. Capitol on January 6.
"Hong Kong affairs are purely China's internal affairs and allow for no foreign interference," Foreign Ministry spokesperson Wang Wenbin said, according to the English-language newspaper China Daily.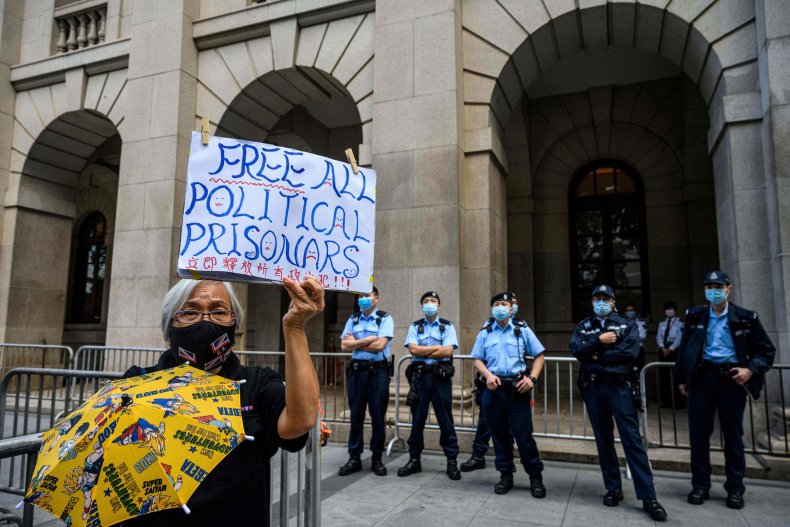 "Any illegal activities should be punished by law, which is a principle applied in every country and region under the rule of law," Wang said, comparing the actions of Hong Kong demonstrator to those of pro-Trump rioters. Wang argued that if the U.S. believes those who attacked the Capitol should be punished, then it should change its perspective when it comes to China's decision to crackdown on Hong Kong demonstrators.
Newsweek reached out to the State Department for further comment but did not immediately receive a response.
While China has attempted to draw parallels between the pro-Trump mob and Hong Kong protesters, there are key differences. The demonstrators in Hong Kong protested against China's efforts to curb freedom of speech and democracy in the semi-autonomous region. Those who stormed the Capitol on January 6 were fighting in opposition to the legitimate democratic process in the U.S., attempting to overturn the results of Biden's election.
Although former President Donald Trump and Republicans attempted to argue that Biden would be weak in response to China ahead of the November election, his administration has signaled it plans to maintain a tough posture toward the East Asian nation. However, the Biden administration is expected to adjust tactics as many see the Trump administration's policies as having been largely unsuccessful at curbing China's growing influence and malign activity.
"President Trump was right in taking a tougher approach to China. I disagree very much with the way that he went about it in a number of areas, but the basic principle was the right one, and I think that's actually helpful to our foreign policy," Blinken told senators last month during his confirmation hearings.